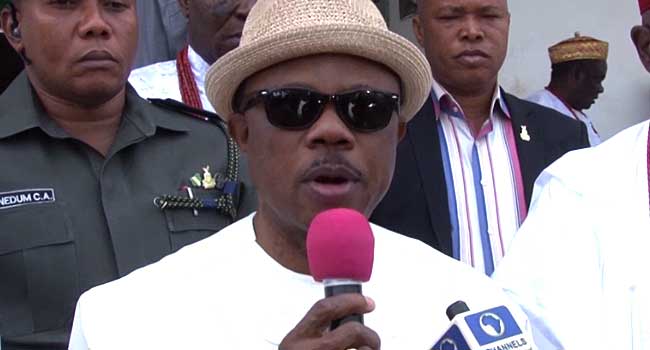 Imo State governor, Owelle Rochas Okorocha has finally nailed his Anambra State counterpart, Willie Obiano, exposing why the latter has been recently attacking him incessantly.
Responding to Obiano's attacks, Okorocha said his angst is because he was denied automatic ticket into the All Progressives Congress (APC) for this year's governorship election in Anambra State.
Okorocha said verbatim in a press statement issued by his SA on online media, Hon Abel Ibe: 
"You are attacking me, because you offered five billion naira to join APC and get automatic ticket but we rejected it".
Earlier, reports had gone round the media that Obiano, trying to join APC, offered 5 billion naira to the party, a report he instantly denied.
Today, Rochas has revealed the behind the scene attempt made by Obiano to defect to APC.
Hear him: "When other governors are talking, Obiano should not even talk. 
"He is not happy because after approaching Sen. Chris Ngige and Rochas Okorocha to be allowed to enter APC and get automatic ticket, they told him it was not possible, since it will bring confusion in Anambra State among other older members of the party.
"He has been attacking Okorocha, meanwhile, the same man secretly met the SGF and offered to donate N5 billion of Anambra money and be allowed to enter the APC".
The revelation which came in a post made by Abel Ibe, Okorocha's online media aide, is coming ahead of another challenge by the Imo governor to Obiano.
Okorocha had dared him to publish his achievements instead of making noise.
Okorocha's challenge came via a statement from Sam Onwuameodo, his spokesman, said: 
"The first attack was when he took on the Imo State governor over his claim that two governors in the Southeast would soon join APC. 
"Obiano said the Imo governor was not what a good leader should be.
"To us in Imo, we saw that statement as callous, especially when it was from a governor. 
"We had no option than to react to it, to prove that such careless statement was uncalled for. 
"We then challenged Obiano to publish his achievements in Anambra State for four years and let Okorocha publish his in Imo for five years, since leadership is about service to God and humanity.
"But instead of doing that, Obiano used the opportunity he would have appropriated to display his achievements in Anambra, if any, to call Okorocha names; that is neither here nor there. 
"We still maintain our challenge to Governor Obiano to publish his achievements as Anambra State governor and let Okorocha also do the same.
"Leveraging on his hard-earned popularity, Okorocha defeated an incumbent governor in 2011 on the platform of the All Progressives Grand Alliance (APGA), which had no structure before he came on board and with the incumbent then enjoying massive federal might.
"In 2015, he joined the merger from a zone that could be regarded as the 'headquarters' of the Peoples Democratic Party (PDP). He resisted all the storms, including the federal might that was deployed against him and was elected for second term. They could only give him the name 'Alhaji in Douglas House'.
"Obiano is a governor; Okorocha is also a governor. Let them begin the contest by publishing their achievements in their states for Nigerians to see.
"It is not a noise-making venture or name-calling enterprise.
"Anambra State has remained as Obiano met it. Awka, the state capital, has remained as Obiano met it. 
"The Government House in Awka has remained like that. Let him prove us wrong. That is what we want to achieve.
"Owerri, the Imo State capital, today has eight-lane roads, courtesy of Okorocha in his urban renewal programme. 
"Douglas (Government) House has been remodeled and given a facelift; two fly-over bridges, three tunnels, 500 kilometres of urban roads, International Convention Centre (IICC) and remodelling of premier schools, all in Owerri.
"Okorocha has built new universities, including Eastern Palm University at Ogboko as well as Aboh Mbaise/Ngor-Okpala University of Agriculture and Veterinary Medicine, Ihitte Uboma College of Education, Imo College of Advanced Studies, 800 kilometres of rural roads, 305 storey-building schools in the 305 wards across the state and 27 general hospitals.
"Sam Mbakwe Airport is today an international cargo airport, the free education programme in Imo State has remained productive.
"The state has maintained its lead in the Joint Admissions and Matriculation (JAMB) applications and admissions since 2012. The record is there for verification.
"The school enrolment has gone from 280,000 in 2011 to 800,000 in 2015 because of the free education. 
"The poverty level in the state in 2011 was 57 per cent but in 2015, it came down to 19 per cent, according to United Nations (UN) report, because parents now channel the money they would have used to pay fees into other economic ventures."
The online attack, also traced Obiano's ascendency to power, riding on the back of his predecessor, Peter Obi, and how he allegedly bit the same finger that fed him.

That was after getting to the office he did neither worked for nor deserved.

It said: "We have followed the politics of Anambra State. 

"We all are aware how Obi bled himself to impose Gov. Willie Obiano on the people of Anambra State against all opposition. 

"Even Chief Victor Umeh opposed that and had to be paid close to 1 Billion Naira to accept. 

"Even before he was sworn in, Obiano had already started attacking Mr. Peter Obi.

"We see daily how his aides and those of Victor Umeh attack Obi. 

"Their latest falsehood was the claim that Obi said he would remove President Buhari and that he donated 25 hectares of land to a religious group. 

"This is the fruit Obi is reaping for making him Governor.

"Not used to fighting dirty, Obi kept his cool. Even his fighter, Mr. Valentine Obienyem only put up sporadic defenses, we later understood that Obi directed him not to attack Obiano.

Now election is approaching, Obiano, a fool thinking himself wise, is making moves to deceive Obi through false repentance.

"In his folly, he thinks everybody is Obi. After Gov. Rochas Okorocha made a harmless statement about Governors of the South East joining the APC, almost all the Governors reacted. 

"But it was only Obiano that spoke like a motor park tout. Where can you compare Obiano and Rochas to warrant Obiano attacking Rochas?

"If not for being Governor, will Obiano ordinarily sit in meeting with Okorocha? 

"We blame Obi for foisting a man who did not have kobo on the people of Anambra State. 

"Today they tell us he was a wealthy man before he became Governor, yet he could not pay his ticket from the USA to Nigeria.

"How can you compare the two in terms of governance? In spite meeting empty treasury and debt when he became Governor, Okorocha is performing above average. 

"Obiano is the only Governor in Nigeria that met no debt and inherited over 100 Billion Naira from Obi and yet under him Anambra State is now owing over 60 Billion Naira. 

"Is street light he is mounting a justification for over 100 Billion he inherited and over 60 Billion Naira he has borrowed?

"In Imo, Rochas takes less than 250 Million as security vote, but Obiano takes 1.2 Billion and his wife 2.5 Million monthly. Who between the two is lacking in leadership?

Rochas has less than 100 aides, while Obiano has over 600, between the two, who is lacking in leadership?

"Rochas has signed less than 20 MoUs and they are being implemented, while Obiano has signed over 100 out of which not more than 3 are being implemented, who is lacking in leadership?

"Morally, have you heard Rochas messing up with women, he is happily and responsibly married, but we hear Obiano dancing around with women. 

"What are they hiding about the Miss ABS, Chidimma? 

"How many girls that attended to him in hotels where he stayed before being sworn in did he make aides? How many people did his wife slap?

"How many children does he have outside marriage? 

"We heard that his latest appointee, Chinwe Iwuchukwu who worked with him in Fidelity Bank bore him a child? 

"While Rochas is a moral example, Obiano is a moral misfit.

"Today, it was due to Gov. Willie Obiano that South-East Governors are not meeting. This is a revelation for another day.

"How many people or relations of Rochas have you heard are among political appointees? Under Obiano, over 200 of his over 600  appointees are from his town. 

"All his brothers and sisters are either SA or SSA. Among the two who has inspired leadership? 

"The man talking about inspiration in leadership cannot boast of any completed project in 3 years.

"It is only in Anambra that a leader is building three bridges to a place that has a population of less than 5,000 because it passed through his town. 

"It is only in Anambra that a man can award three roads to the airport that is yet to be built and call all these inspirational leadership.

"The moment Obiano engaged in EXPO during Governorship debate in spite of warnings by the organizers that we know Anambra State has entered the hands of a crook. 

"See what he is doing in the State. He goes about presenting Obi's projects to newspaper houses and bribing them to be named their man of the year.  

"We heard he is claiming to have done Head bridge road and other critical roads long completed before he became Governor. 

"Is this inspirational leadership. We shall stop here for now and will do thorough comparison in due time."

© Copyright 2017 www.elombah.com; send eyewitness accounts/reports/articles to This email address is being protected from spambots. You need JavaScript enabled to view it.; follow us on twitter handle @Elombah; like our Facebook page: "Elombah.com"; call us on +447460770987, +2349050382526