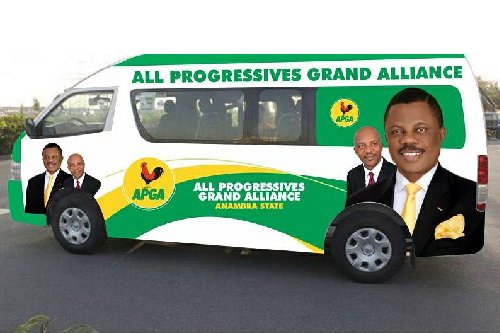 Elombah.com has stumbled on the bitter facts underling the reason Anambra State governor, Chief Willie Obiano has adamantly refused to patronise the indigenous Innoson Vehicles Motors [IVM] made in Nnewi, Anambra State.
First and foremost, it will be recalled that early into his administration, Governor Obiano had neglected Innoson products made right in a state where he is the governor.
Obiano went and purchased assortment of TATA vehicles products which he distributed statewide, including Nnewi, the home of Innoson Motors.
On a separate occasion, Obiano purchased a set of Toyota cars which he distributed to the state police command and stations across the state.
On another occasion, during the Launch of OCHA Brigade, ATMA and the Anambra State City Cab Scheme, Obiano presented them with made-in-Japan vehicles.
On yet another occasion, he purchased another set of Japanese pick-ups and bikes which he also distributed to the state police command.
Last but not the least, Governor Obiano recently purchased series of Japan-made Toyota vehicles for his 2017 election campaign [see below], a time he needs the support of his state indigenes mostly!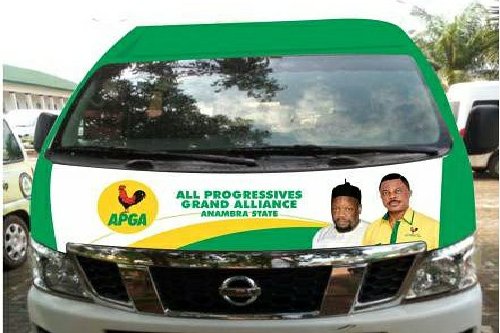 Observers were left to wonder why a "working" governor will undermine the classic quality of products manufactured right at his backyard and travel thousands of kilometers to Asia to make purchases.
However, at least two African countries – Ghana and Mali – have, on several occasions happily purchased Innoson Motors and shipped them back home.
Recently, Elombah.com  reported that Innoson exported vehicles to Mali.
To present a balanced picture of this report, Elombah.com held a telephone interview with the Executive Chairman of Innoson Vehicles Motors, Chief Innocent Chukwuma.
Chief Chukwuma, while not denying that Obiano had in the past ignored his products for reasons best known to him, said that things had changed of recent.
He stated that the state government is now patronizing his products though on a low scale, saying that Obiano bought five vehicles from him just last week.
The vehicle manufacturer also admitted that the state have been acquiring some products in recent times.
He reasoned that he does not expect every governor in the state to be behaving like the former governor, Mr Peter Obi.
Mr Obi, it could be noted, was very instrumental in the development of the vehicle plant in Nnewi, offering various sorts of assistance, in terms of finance, patronage, and otherwise to see the plant through.
He ensured that the commissioning of the plant went down hitch-free.
Chief Chukwuma lamented that were Peter Obi still in government, he would have completed the second phase of the company.
He said, however, that he holds no grudge against Governor Obiano  and is currently canvassing for his second tenure.
He pledged to do everything humanly possible to ensure that Obiano wins the forthcoming Anambra State governorship election coming up on November 18, 2017.
During a little more behind the scene investigation, a source close to Innoson Company revealed to Elombah.com that Governor Obiano refused to patronize because the car manufacturer "refused to play ball".
Upon further prodding, he explained that Chief Chukwuma refused to falsify purchase invoices according to the dictates of Governor Obiano, hence the cold shoulder.
Commenting on the refusal to patronage, a concerned citizen of Anambra State said that he is 'feeling ashamed for Obiano since the Government has no sense of shame'.
—
Would you like to be receiving ALL Elombah.com news links 'On The Go' on WhatsApp?  If yes, please provide us your WhatsApp number via publisher@elombah.com or inbox +2349050382526 and you are ready to go!
© Copyright 2017 www.elombah.com; unless otherwise indicated, all images are courtesy of Twitter; send eyewitness accounts/reports/articles to publisher@elombah.com; follow us on twitter @Elombah; like our Facebook page: Elombah.com; join us on WhatsApp HERE
For advert placement call us on +447460770987, +2349050382526