Buhari is bent on destroying Nigeria – Mbazuluike Amaechi [must watch]
Chief Mbazulike Amaechi has declared that President Muhammadu Buhari will, barring any change of policy, destroy Nigeria out of his unbridled hatred for the Igbos.
Chief Mbazulike Amaechi is one of the few surviving nationalists and former Minister of Aviation in the first republic.
During an interview with Elombah.com crew, yesterday at his County home in Ukpor, Nnewi South Local Government Area of Anambra State, Chief Amaechi said that President Buhari has exhibited the tendencies of a dictator and that Nigeria might "evaporate" under his watch.
In this encounter, he talks about Nigeria and how things have degenerated from bad to worse under Buhari's watch.
He said the country is currently in a state where 'things are falling apart and the centre can no longer hold'.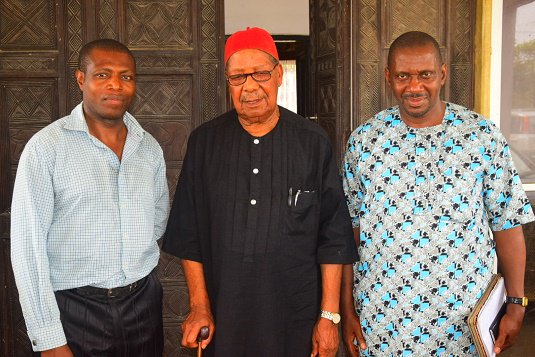 The nationalist was worried and uncomfortable that for 56 years Nigeria has faltered up and down, saying that military rule displaced Nigeria.
Mr Amaechi hailed the stability that trailed the return of civilian rule with former President Olusegun Obasanjo but lamented the dull moments associated with the tenure of former President Goodluck Jonathan.
He, however, vehemently condemned the locust years associated with the present Buhari administration which he described as "gravely and dangerously" dictatorial.
Chief Amaechi further lamented the violence unleashed against agitators for an independent Biafran State, particularly, the Indigenous People of Biafra [IPOB]  and the Movement of the Sovereign State of Biafra [MOSSOB].
He also condemned the intimidation and harassment meted out on the judiciary by the Buhari administration.
He asked the president to dialogue with the Niger Delta militants.
Watch out for the full video coverage tomorrow here on Elombah.com…
© Copyright 2016 www.elombah.com; Send eyewitness accounts/reports/articles to publisher@elombah.com; follow us on twitter handle @Elombah; like our Facebook page: "Elombah.com"