The Managing Director and chief executive officer of Innoson group, Chief Innocent Ifediaso Chukwuma has declared that his company is set to rule the automobile industry in Africa.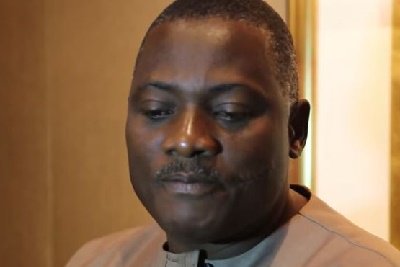 Chief Chukwuma [pictured] said this on Tuesday when a group of journalists from Elombah.com visited his office in Enugu city.
The soft spoken business guru, who seemed undaunted in the face of the current economic recession, said his company is mowing down all visible challenges to excel.
He, however, denied reports that Innoson is facing closure due to paucity of foreign exchange [Forex], saying that he has devised a means to counter the challenge.
He made mincemeat of other players in the automobile industry saying they are merely showcasing other people's products unlike Innoson that does the real manufacturing job.
He dared any player to prove him wrong.
When asked what his secret is, he simply said in soft tone: EXPORTATION.
Mr. Chukwuma said that to counter the scarcity of forex, Innoson Group has expanded their horizon and is now exporting their products.
With that move, they thus generate the necessary forex to import the necessary materials to keep the manufacturing sector of the company afloat.
Our guide, Mr. Amara Ojukwu during our Nnewi tour of the site
Elombah.com later visited the car manufacturing industry located in Nnewi in Anambra State and was awed with the level of advancement made by the company.
The company showcased their factory as well as the showroom where the Nigerian only indigenous car manufacturing industry is making waves.
Notwithstanding the present economic quagmire facing the country, the Nnewi business mogul is full of expectation that with his humble input, Nigeria will experience a turnaround economically.
He also expressed appreciation first for the Bank of Industry which, he claimed has done much to sustain him financially when in need of help.
Chief Chukwuma also was full of praises for the federal government for their effort to revamp the economy and keep the nation from going under.
He, however, tasked governments at all levels to invest heavily in locally made products to ensure a quick and steady recovery of the economy.
When asked why he prefers foreign cars to his own locally made vehicles, he retorted sharply that the allegation is a figment of the imagination of the fabricators. 
He stated that he has four Innoson vehicles in his fleet of cars, one of them being the latest of his products, the G6 which he said can compete with any foreign vehicle anytime.
He admitted, though, that he still uses his Range Rover SUV to which he has been addicted to for eleven years long before he ventured into car manufacturing.
To buttress his point, he stated emphatically that he uses Made-In-Aba shoes in order to promote locally manufactured products which he assures will sustain and stabilise the country.
The full documentary of the adventure will follow soon.
Meanwhile, attached are some of the pictures captured by our crew on site:
© Copyright 2016 www.elombah.com; Send eyewitness accounts/reports/articles to publisher@elombah.com; follow us on twitter handle @Elombah; like our Facebook page: "Elombah.com"