In what could best be described as the epitome of hypocrisy, President Muhammadu Buhari says that he will stand with the Sahrawi Arab Democratic Republic (SADR) for self-determination and, eventually, independence.
Photo: President Buhari playing host Sahrawian envoys
According to president Buhari, this is in line with several resolutions of the African Union (AU) on the right of the Sahrawi people to self-determination and independence.
Buhari made the pronouncement while receiving Mohammed Salem Ould Salek, Minister of Foreign Affairs of SADR in State House, Abuja, on Friday.
During the meeting, President Buhari assured him that outstanding issues on self-determination for the country would be scrupulously attended to.
Buhari said: "The issue first came up when I was in office as military head of state. After I left government, Nigeria remained steadfast on it. 
"In my maiden outing at the UN General Assembly last September, the issue of Sahrawi was in my speech. You have no cause to doubt our commitment. We stand with our African Union colleagues on this issue.
"Nigeria will maintain focus till everything is finally resolved positively," President Buhari told Salek, who visited Abuja as Special Envoy of President Mohammed Abdelaziz of SADR. 
Salek said his country would never forget the role Nigeria and its then military head of state, General Muhammadu Buhari played in recognizing his country in 1984, when it sought self-determination from Morocco.
"It paved the way for the UN to adopt several key resolutions on Western Sahara, elaborating a peace plan. History is now repeating itself, as you are the President of Nigeria at a time the Sahrawi issue is being put on the front burner again.''
The Special Envoy told the President that his country needed a special push from Nigeria again, as it received in 1984, "to accelerate matters". 
He stressed that Nigeria helped a lot of African countries achieve independence, noting that SADR is the only pending matter on the continent.
Observers have, however, faulted President Buhari's stance on his tacit support for the Sahrawians to the letter.
Some have argued that it is absurdly hypocritical that Buhari will be inciting a people to self-determination while his military goons are killing harmless, unarmed Biafrans seeking same self-determination for over forty years.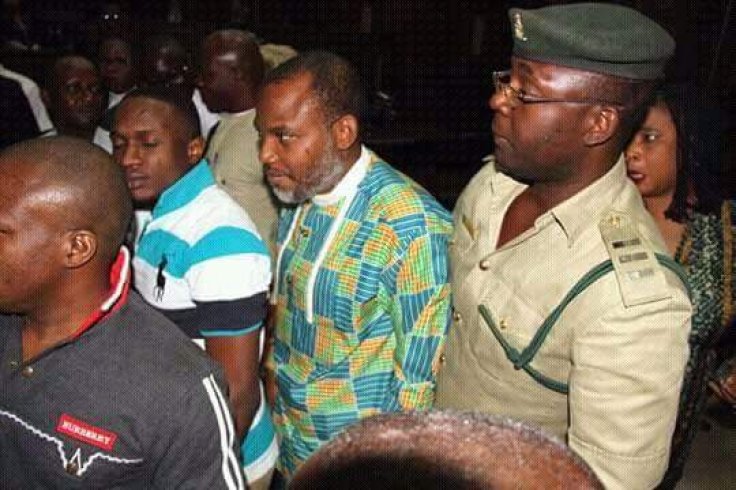 It is on record that operatives of the Nigerian military and people have killed more than fifty pro-Biafra agitators, some during prayers.
Pro-Biafran Nnamdi Kanu has been kept in detention despite court orders for his immediate release
Recently, a burrow pit was discovered in Aba, Abia State of Southeastern Nigeria where dead bodies of alleged Biafra supporters were embalmed with acid and dumped.
When the residents of surrounding environs discovered them and raised alarm, they hush-hush went and set them ablaze and roasted them to ashes.
Interestingly, the issue was broached before Buhari recently at an interviewed by Martine Dennis on Al Jazeera during one of his numerous visits abroad.
He was asked about the shooting of unarmed pro-Biafran protesters in Aba on 9 February this year and Dennis suggested he could watch the video. 
President Buhari, not only indigently refused to watch the video, but threatened more harm and ruination to Biafran agitators.
In his words, the pro-Biafrans "should not be joking with Nigerian security".
Ironically, the same Nigerian president is throwing his weight behind Sahrawians to break away from their host nation, Morocco.
Moreover, Buhari has held in detention, using the department of State Security [DSS], a leader of the Indigenous People of Biafra [IPOB], Nnamdi Kanu.
This despite the fact that three courts of competent jurisdiction have granted Mr. Kanu bails and unconditional release respectively.
In the words of a Biafran apologist, "the world is watching".
—
© Copyright 2015 www.elombah.com. Send eyewitness accounts/reports/articles to publisher@elombah.com; follow us on twitter handle @Elombah; like our Facebook page: "Elombah.com"
---
---
DISCLAIMER

: Opinion articles are solely the responsibility of the author and does not necessarily reflect the views of the publishers of ElombahNews!
---
Would you like to be receiving ALL ElombahNews links 'On The Go' on WhatsApp Or Telegram? If yes, join us here on WhatsApp or Telegram, or provide us your Telephone number via publisher@elombah.com or sms/inbox +2349050382526 and you are good to go!
---
DOWNLOAD ElombahNews mobile app here
---
Send eyewitness accounts/ reports/ articles  to publisher@elombah.com; follow us on twitter @ElombahNews; like our Facebook page ElombahNews 
---
For adverts & inquiries, call +447460770987, +2349050382526