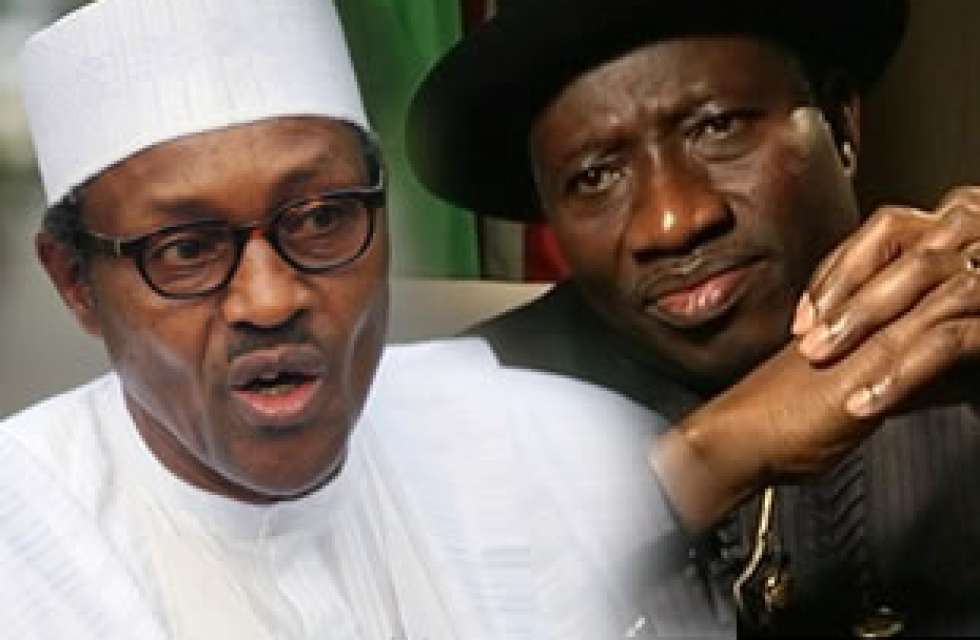 In a article I wrote in 2010, I referred to the administration of Mr Goodluck Jonathan as a government of squander-mania after the Federal Government approved the purchase of three new presidential jets, comprising two Falcon 7X aircraft from France's Dassault Aviation, and one Gulfstream G550 from the United States at a cost of $150 million in August 2010. 
NOW I don't know what to call the government of Mr Muhammadu Buhari after analyzing his 2016 budget and his 2015 supplementary budget, together with the amount of money so far spent on the presidential fleet, presidency budget, the president's feeding, animal zoos and foreign travels.
Budget Of Change vs Budgets of Transformation
Budget Of Change vs Budgets of Transformation. Which is profligate/prodigious/Spend-The-Money?
Table 1:  Comparisons of 2016 and 2015 Budget Bills and 2015 Budget Act
Unit/Ministry/Head

2016 Total Expenditure

(Bill)  – President Buhari

2015 Total Expenditure

(Act) – Jonathan Administration

2015 Total Expenditure

(Bill) – President Jonathan

Presidency

39,124,978,811

24,473,865,117

26,663,050,469

Office of SGF

62,358,813,315

58,013,699,584

52,782,859,141

Agric

76,753,672,273

40,621,020,717

40,151,988,128

ICPC

4,618,378,795

4,910,936,843

5,051,408,637

Defence

429,098,182,742

375,497,219,431

358,466,078,637

Education

406,556,376,895

415,883,784,654

419,854,986,591

FCT

37,756,697,983

13,500,000,000

12,000,000,000

Foreign Affairs

49,526,208,900

48,149,382,166

47,495,358,240

Finance

11,192,101,558

18,873,401,022

11,100,949,474

Health

76,333,193,241

259,751,742,847

252,543,773,757

Information (& Culture)

45,162,778,886

24,132,420,241

10,092,743,679

Communication Technology

15,997,128,516

11,592,048,380

11,106,611,116

Interior

198,352,766,543

156,220,022,460

156,557,006,561

Office of HCSF

8,042,152,611

7,090,556,728

7,296,828,934

Justice

18,836,291,016

19,944,638,350

20,095,917,474

Power (Housing & Works)

467,645,043,369

9,606,813,831

8,811,633,477

Petroleum Resources

62,115,123,639

59,774,429,975

59,051,178,741

Works

0

44,985,916,543

39,579,312,175

Mines & Steel Development

18,625,703,622

11,031,109,540

10,436,482,841

Transportation/Aviation

215,797,393,980

17,560,812,531

10,856,830,076

Environment

19,678,214,892

17,499,334,341

15,646,485,175

Office of NSA

90,350,068,052

88,726,771,998

84,128,320,723

Niger-Delta

26,332,596,554

10,434,200,737

8,293,205,819

All Other MDAs

705,001,195,996

534,703,640,112

542,518,166,359

SUB-TOTAL Executive MDAs

3,085,255,062,189

2,272,977,768,148

2,210,581,176,224

 

 

 

 

SUB-TOTAL Executive Bodies

20,501,937,811

19,964,683,643

19,351,311,691

SUB-TOTAL Pensions and Gratuities

200,170,000,000

375,478,494,343

231,408,494,338

SUB-TOTAL Service-Wide Votes (Including  Capital Supplementation)

945,063,000,000

640,127,011,023

541,779,017,746

TOTAL  Expenditure (Non-Debt + Capital)

4,250,990,000,000

 3,164,127,957,157

3,003,120,000,000

 

 

 

 

Statutory Transfers

351,370,000,000

375,616,000,000

411,840,000,000

Debt Service

1,475,320,000,000

953,620,000,000

943,000,000,000

GRAND TOTAL

6,077,680,000,000

4,493,363,957,157

4,357,960,000,000

 

 

 

 

 
Presidency votes N3.6b for BMW cars in Budget 2016…Foodstuff, others to get N427.5m including A FLEET of new exotic cars on the way for the Presidency.
The BMW salon cars for principal officers are likley to cost N3,630,000,000, going by the 2016 budget for the Presidency. The number of the cars is not specified.
Besides, N189.1m is voted for tyres for various vehicles, including the bulletproof and plain Mercedes Benz cars being used in the Presidency.
The expenditure on tyres is to cover other brands of vehicles, including Toyota cars, trucks, Land Cruiser Sport Utility Vehicles (SUVs), Prado SUVs, Hilux pick-up vans, Peugeot 607 and 406 cars, ambulances and others broadly described as " utility and operational vehicles".
President Muhammadu Buhari will, in the next fiscal year, likely spend N1,415,706,197 on both local and international travels and transportation, as against the N944,672,109 spent in 2015 by him and his predecessor, Dr. Goodluck Jonathan, on travels and transportation.
As against this year's N24.4 billion allocation, the Presidency, voted N39 billion in the 2016 national budget.
Details of the 2016 budget breakdown for the Presidency indicate that in place of the N24. 6 million voted for Wildlife Conservation, including the purchase of exotic animals last year, N326m is allocated for next year.
Also, acquisition of presidential canteen materials and kitchen equipment has increased from N83.1m this year to N89m in 2016.
There is also a marginal increase in the N11m voted for supply of foodstuff and catering services in the Vice President's office in 2015 to N16.6m.
A breakdown of the 2016 budget for the Presidency includes: general renovation of the Guest House (N387m); complete furnishing of the Guest House (N45m); purchase of computers (27.5m) and construction and provision of recreational facilities (764m).
Recreational materials totalling N12m are to be procured.
Other expenditures on the Presidency's vehicles include N39.8m for the purchase of an unspecified number of 200 amps, 100 amps and 60 amps Mercedes Benz batteries for bulletproof vehicles.
Also N30m is to be expended on the purchase of tool boxes, car jacks, and diagnostic machines for the Presidency's bulletproof cars.
The purchase of C-Caution triangles, fire-extinguishers and cables is to cost N27m.
While there is no indication of the number or condition of items procured by the Presidency in 2015, N114.4m is to be expended on the upgrade of internet infrastructure in the State House; N22.5 is to be spent on purchasing internet servers.
The purchase of what is described as "Active Devices for State House Network" is to cost N100m and N35m is to be expended on the purchase of security appliances and licences, including computer anti-virus software.
Under the Office of the National Security Adviser's N90.3 billion budget for 2016, N8.7 billion is to be expended to develop the ONSA's "All-Eye" surveillance project and N9 billion to construct an esoterically-named "Stravinsky Project".
The ONSA's security vote, including funds for operations, is pegged at N576m.
The Department of State Security Service (DSS) has N2.2 billion for its 2016 security vote. The Presidential Air Fleet is to spend N262.4m on Air Navigation equipment.
Under the 2016 budget, State House Headquarters is to spend N104.7m on refreshments and meals. Foodstuff and catering materials worth N102.9m are to be supplied.
There is provision for N99m as grants to local councils.
Other items under the Presidency's 2016 budget include : N55,670,000 for installation or budget planning software; N272,646,891 for Upgrading of mechanical and electrical power line (underground) supplies to the State House; N322,421,971 for linking of cable to drivers' rest room at Villa Admin and N213,873,953 for linking of cable from House No 9 Generator House to the gate.
Others are: N618,604,265 for installation of electrical lightings & fittings; N191,592,132 for electrical installation of distribution boards & other cables; N22,861,449 for provision of stage curtains & electrical drive; N10,416,146 for installations of electrical materials and luminaries.
FG allocates N6.9bn for Villa zoo, presidential fleet, others
The Presidency is to spend a total sum of N6.94bn on wildlife conservation, fuel and lubricants, purchase of C-Caution triangles for vehicles, fire extinguishers, construction of recreational facilities at the State House and maintain the presidential fleet.
Details of the spending are contained in the 2016 budget, which President Muhammadu Buhari presented to a joint session of the National last week.
A copy of the budget for the State House was obtained by our correspondent on Wednesday in Abuja.
It states that while the sum of N3.65bn is allocated for the presidential fleet of the State House alone, the balance of N3.27bn is proposed for items such as furniture, electricity, wildlife conservation, fuel and kitchen equipment among others.
For instance, it states that the Presidency is planning to spend a total sum of N326.08m on wildlife conservation.
The budget document also makes a provision of N387.98m for general renovation of the guest house at the State House while additional amount of N45m is budgeted for "complete furnishing of the entire guest house."
It also indicates that the sum of N764.67m is proposed for "construction and provision of recreational facilities", while N322.4m is allocated for the linking of cable for the driver's restroom at the State House.
Installation of electrical lightings and fittings, according to the budget document, is estimated to gulp N618.6m; linking of cable from the generator house of the guest house to the gate, N213.87m; while the sum of N189.17m is being proposed for a bulletproof ambulance as well as other operational vehicles.
In the same vein, the purchase of C-caution (triangles), fire extinguishers and towing ropes of booster cable have a budget of N27m; upgrade of Internet infrastructure, N111.4m; purchase of canteen/kitchen equipment, N89.17m; fuel and lubricants for motor vehicles and generators, N90.49m; and welfare packages, N107.25m.
For the presidential air fleet of the State House, the budget document states that out of the sum of N3.65bn, about N3.275bn would be spent for recurrent items while the balance of N376.78m has been proposed for capital expenditure.
Some of the expenditure items listed for the presidential fleet are maintenance of aircraft, N1.05bn; aircraft fuel, N582.48m; cleaning and fumigation services, N4m; insurance premium, N320m; miscellaneous such as refreshment and meals, N40m; and security vote, N183m.
Similarly, purchase of fire fighting equipment for the presidential air fleet is to cost N7.9m; purchase of navigational instrument, N262.4m; medical expenses, N7.4m; and loss of foreign exchange, N8.7m.
Also, the sum of N28.7m is budgeted for purchase of motor vehicles; computers, N6.7m; gaming equipment, N20.26m; security equipment, N15.4m; industrial equipment, N3.7m; and provision of fire fighting station N9.43m among others, which include newspapers, periodical, printing of security and non security documents, instructional materials, stationery and computer consumables.
The Senior Special Assistant to the President on Media and Publicity, Garba Shehu, had in November put the number of aircraft in the Presidential fleet at 10.
He had said in a statement that between May and November this year, the sum of N2.1bn had been spent on the presidential fleet.
Buhari had, while presenting the budget to the lawmakers, said he would ensure that the nation's resources were prudently managed for the public good.
Recall that the supplementary appropriation bill of N465.64 billion, which the president submitted to the National Assembly, on November 8 for consideration, was passed by the latter on Tuesday, December 22,  before it embarked on the on-going break.
It will be recalled that Buhari had submitted the appropriation  bill along with a request to borrow N2.103 trillion for the financial year, 2015. He expected that a deficit arising from the above would be financed by additional borrowing of N1.601trillion through the debt management office.
In a letter to Senate President, Dr Bukola Saraki, President Muhammadu Buhari had said the supplementary budget would be predicated on oil production of 2.2003 million barrels per day, with benchmark price of $48 per barrel and an exchange rate of N190 to $1.
The breakdown of the supplementary budget shows that N413.36 billion would be for fuel subsidy payment while N10.62 billion was earmarked for the payment of outstanding severance gratuity and allowances of outgone and incoming legislators and legislative aides.
President Buhari, in the letter, recalled that the 2015 budget was predicated on oil production of 2.2782million barrels per day, benchmark oil price of $53 per barrel and an exchange rate of 190 to $1.
"Given this new level of expenditure and revenue constraint, the 2015 budget, which has a projected fiscal deficit of N1.041 trillion or 1.09 per cent in GDP, with the deficit largely financed by the domestic borrowing of N502.1 billion and foreign borrowing of N380 billion, making a total borrowing amounting to N882.12 billion."
According to President Buhari, the expected deficit arising from the above is projected at N2.103 trillion or 2.19 per cent of GDP would be financed by additional borrowing of N1.601 trillion through the Debt Management Office. -Vanguard.