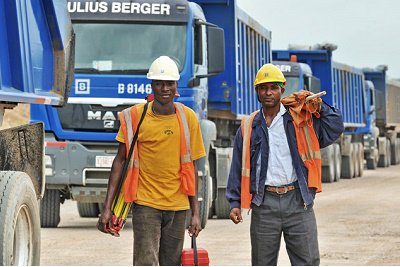 Construction giant, Julius Berger has come under the scrutiny of the House of Representatives after petitions over workers' dispute were reviewed by House Committee on Petitions.
The disclosure was made Chairman of the committee, Mr Edward Pwajok on Monday.
Pwajok made the statement after members of the committee visited Julius Berger labour camps at Kubwa and Life Camp in Abuja.
The Julius Berger's workers had dragged it to National Assembly over the sack of more than 7, 200 of them in 1999 without benefits.
The workers sought the assembly's intervention in the matter to prevent the company from evicting them from their apartments in the camps.
The committee members went round the workers quarters at Kubwa, which appeared neglected, desolate and unfit for human habitation.
The House Committee sought to find out why the apartments were in a poor state during the fact-finding exercise.
Responding, the Camp Manager, Mr. Udeme Umoh said he had been reporting to the management to effect repairs at the facility.
According to Mr. Udeme, however, after repairs were effected the structures were vandalised.
The property, which was constructed in 1989, has been in very poor state.
At Life Camp, the committee was taken round the junior staff quarters but denied access to the Germans' section, regarded as no go area.
Efforts by the committee to get to the restricted area were frustrated by a member of the company's Board of Directors, Jafaru Damulak, and some management staff.
Addressing newsmen after the visit, Pwajok said: "We have to go back and report to the house.
"We have no conclusion, we found out nothing, we looked at the premises, looked at the areas and so on. So, we will sit down and do our own analysis.''
He expressed regret that the committee was not allowed access to the Germans' section of the camp but noted that the firm was notified of the visit.
Julius Berger workers had won the case against the firm at the High Court and Court of Appeal.
The construction firm, however, had appealed to the Supreme Court against judgment but the court's decision on the appeal had yet to be delivered.
He said Julius Berger, on June 13, had approached a Wuse Magistrates' Court to evict the workers but that the court ordered the company to maintain the status quo.
The workers were also at the National Human Rights Commission to file a petition on Nov. 23, the same day Pwajok and members of the committee visited the commission on the matter.
© Copyright 2016 www.elombah.com; Send eyewitness accounts/reports/articles to publisher@elombah.com; follow us on twitter handle @Elombah; like our Facebook page: "Elombah.com"