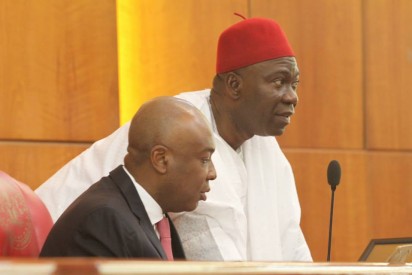 In the picture: Senate president Bukola Saraki and his deputy Ike Ekweremadu
The Senate president, Senator Bukola Saraki has just sworn-in Alhaji Babakaka Garbai, the winner of Borno Central senatorial by-election held on Saturday as Senator.
The Independent National Electoral Commission [INEC] had declared that Alhaji Garbai polled 75 per cent of the total votes cast
PDP National Publicity Secretary, Chief Olisa Metuh in a statement on Monday said that "the bye-election falls short of all acceptable standards and was characterized by high-level manipulations by the APC, which used compromised electoral officers and security forces to muscle votes in its favour."
  Alhaji Babakaka Garbai, winner of the bye-election for Borno Central Senatorial district
According to him, "Last Saturday's Borno Central Senatorial Bye-election, where compromised electoral officials and security forces were brazenly used to intimidate the electorate and write votes for the APC" is condemnable.
"This barefaced rape on our democracy is completely unacceptable and must not be allowed to continue in the country," he added.
The closest rival, Kaka Bolori, of the Peoples Democratic party [PDP] polled 20 per cent of the total votes cast.
The total number of votes cast in the election held on Saturday was 159,998.
Mr. Garbai was declared to have won with 120,639 votes, while Mr. Bolori of the PDP scored 32,346 votes.
The Kowa Party candidate got 1042 votes; APGA scored 334; NCP got 207; PPA got 136; PPN 79; while SDP scored 660 votes.
Professor Muhammed Fannami, who was the Senatorial Returning officer for the bye-election declared Mr. Garbai winner having polled majority of the votes cast.
—
© Copyright 2015 www.elombah.com
Send eyewitness accounts/reports/articles to publisher@elombah.com
Follow us on twitter handle @Elombah; Like our Facebook page: "Elombah.com"