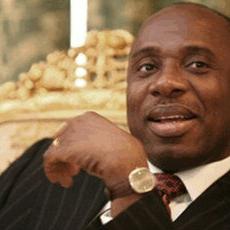 Justice of the supreme court, Nwali Sylvester Ngwuta has blamed his ordeal on the former governor of Rivers State and now, Minister of Transport, Chibuike Rotimi Amaechi.
Justice Ngwuta, in a letter he  addressed to the Chief Justice of Nigeria, Mahmud Mohammed, had explained that his problem dated back to 2014 when Amaechi approached him to set aside Ayo Fayose's election in order to make way for the former governor of Ekiti State and now Minister of Solid Mineral, Kayode Fayemi.
Ngwuta is one of the two Supreme Court justices arrested recently by the Department of State Services (DSS) for alleged corrupt practices. His allegation came barely three days after another embattled justice of the Supreme Court, John Inyang Okoro alleged that his travails was his refusal to do the bidding of Amaechi.
Ngwuta said: "My present plight started sometime between 2013 and 2014. I represented the then Chief Justice of Nigeria in an event organised in the International Conference Centre.
"Rotimi Amaechi came in late and sat next to me at the high table. He introduced himself to me and we exchanged contacts. A few weeks after, Fayose's case was determined in the Court of Appeal.
"Amaechi called me by 6:45 a.m. He said he had come to see me but was told I had left for my office. When he said he would return in the evening, I demanded to know what he wanted but he would not tell me.
"He did not come that evening but came the following morning when I was already prepared to go to work. He begged me to ensure that Fayose's election was set aside and another election ordered for his friend Fayemi to contest. I told him I would not help him and that even if I was on the panel, I had only my one vote.
"After the Rivers State governorship election was determined by the Court of Appeal, he called to tell me his ears were full and he would like to tell me what he heard.
"I told him I was out of Abuja at the time. On my return, he came in the evening and even before he sat down he barked 'You have seen Wike.'
"I asked him whether that was a question or a statement. Then he made a call and asked me to speak with someone.
"The man he called said he was a DSS man. We exchanged greetings and I handed the phone to him. Next, he said 'Oga is not happy'. I asked him who was the unhappy 'Oga' and he answered 'Buhari'.
"I retorted 'go and talk to his wife'. He got very angry and left, remarking 'we shall see' several times." The justice added that he was a victim of his resolve not to violate his oath of office.
"My Noble Lord, I am a victim of my own resolve never to violate my sacred oath of office as a judicial officer. "Politicians and their collaborators have been hunting me on that account. It started in Ebonyi State, where I was falsely accused before a panel set up by NJC in August 2000. It was replicated in 2009 when I was pulled from my Division, Calabar, to preside over a motion filed by Senator Andy Uba, seeking to be a governor without going through the process of election. In each case, I was exonerated.
"Your Lordship may recall one morning, when I pleaded not to be on the panel for Rivers Appeal.
"Your Lordship said I was already on the panel and asked me to explain why I made the request to be excluded. When I explained what transpired the previous night, Your Lordship told me Amaechi had also attempted to influence other justices.
"My Lord, on the day we heard the appeal with your Lordship presiding, we were allowed lunch break at 4:20 p.m. The moment I got into my Chambers he, Amaechi, called. When he told who was calling, I said to him, 'Your Excellency, you want to issue more threats?' He replied, 'Have you been threatened before?' I replied, 'I know a threat when I hear one even if veiled. In any case, I will not talk to you' and I switched off my phone.
This infuriated him and as he stormed out he said he would deal with the situation."Justice Ngwuta also narrated how a former governor of Abia State, Dr. Ogbonnaya Onu allegedly pleaded that he (Ngwuta) should help to speak to the President of the Court of Appeal in his (Onu) bid to influence the verdict in an appeal.
Justice Ngwuta also denied knowledge of the amount said to have been found in his house."The only bag that contained money was the small bag I locked with a padlock which I unlocked when ordered to do so. The bag contained the sum of $25,000, £10 and a brown envelope containing the sum of N710,000 which was a monthly allowance paid to me for September 2016.
"In the brief case, which I carry to my office daily, I had the sum of N300,000 and some loose change. The above are the only sums of money taken from me along with my phones, papers and other household items."
However, Amaechi's media aide, David Iyofor said Justice Ngwuta's allegation is nothing but pure fiction, a dubious diversionary tale concocted to muddle the very serious issues of his arrest and investigation by the Department of State Services (DSS).
He said: "For emphasis, we want to state categorically that Amaechi did not and has never tried to lobby, induce or make the Hon. Justice Ngwuta to influence the outcome of any matter before the Supreme Court or any other court. The Hon. Justice Ngwuta's narrative as it concerns Amaechi is simply not true, an unadulterated fallacy design to deceive and distract from the real issues of DSS investigation of acts of corruption against him.
"It's indeed very sad and most unfortunate that the Hon. Justice Ngwuta had decided to drag the name of the Honourable Chief Justice of Nigeria (CJN), into his fabricated allegations. Again, We make bold to state that Amaechi did not and has never lobbied, approached or attempted to make the CJN or any other Justice of the apex court to influence the Supreme Court judgment on the Rivers State and Ekiti State Governorship Elections petition appeals or any other matter before the apex court or any other court.
"Within a space of 48 hours, we have observed a carefully planned and coordinated political attempt to drag Amaechi into the DSS arrest and investigation of judges in Nigeria. The aim of the plot is two-fold: to smear and politically destroy the image and reputation of Amaechi, and deceitfully portray him as the person behind the arrest of judges. This is indeed most ridiculous and callous."
According to him, there is a well timed, heavily funded plot to "take out" Amaechi politically, and "it appears that Justice Ngwuta and Justice Inyang Okoro (of the Supreme Court, who had also made similar made-up allegations against Amaechi), have wittingly or unwittingly been conscripted into this devious politics of "destroy Amaechi by all means."
He insisted that Amaechi is not and cannot be behind the arrest and investigation of Justice Ngwuta. "Amaechi is talking with his lawyers and will explore lawful channels to seek redress for this gross defamation against his character and person," he declared. Large selection of girls sex dating in Kharkiv with beautiful girls.
 Attempts to reach Onu for comments were unsuccessful as his telephone line was in forwarding mode. When contacted, his Personal Assistant, Mr. Sonni Onyeukwu, promised to get back to The Guardian but did not at the time of filing this report. Turistines ir palapines prekybai internetu
•Sourced from The Guardian.