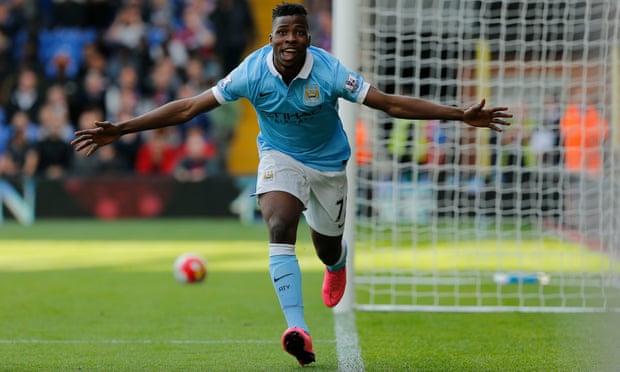 Photo shows Kelechi Iheanacho as he celebrates scoring the winner for Manchester City
"Remember my name" – that was the headline for the interview he gave after helping Manchester City FC demolish Crystal Park Palace yesterday. Kele-Chi – Ihe-ana-cho, loosely translated into English, would read thus: "Thank God – What we look for" or "The thing we are searching for". A true and typical Igbo name; a true son of the Igbo nation – "Nwa Afor Igbo!
He is just but one of so many true sons and daughters of the Igbo nation who are shining the light of the rising Sun home and in the diaspora. He is one among the multitudes who are bracing up and never letting the wicked crushing weight of injustice, marginalization, inequality, uninclusiveness, discrimination and other ill vices of the Nigerian State, affect their mental disposition, nor to dim the beam of their torch.
Yes, he is one of the kinds, who are silently telling aloud the benefits therein of letting each people develop according to their pace; instead of the crippling, stagnating policy of "let's all grow together".
If Manchester City bought into that retrogressive principle of all growing at the same time, they won't be reaping the profits of such ones as Kelechi Iheanacho, who grows at his own pace, by improving in his capacity within an open environment that provides a healthy competition.
Anytime he is called into the field, or giving the opportunity to do so, Kelechi Iheanacho gives the whole of Manchester City the audacious reason to "Thank God for getting what they're looking for". And when he does that, he delivers with the needed agility, dedication and that unflinching disposition of oneness and togetherness. The result? All involved in the entity – the manager, the team-mates, the board, the management and the fans – benefits. Everyone becomes happy!
The question is: Is Nigeria missing something that others faraway are reaping of its benefits? Can our country borrow a leaf from other alien institutes who are immensely profiting from the fruit- tree of the Igbo nation? Why do we deliberately ignore our access? Why do we not cherish the treasure in our disposal? Why do we let unneeded hate and nepotism blind us from the glorious illumination naturally giving us to ignite our path to greatness and loftiness?
If a policy has been there for half a century and is not producing any positive results to the visible advantage of the people, then, it would be prudent to start reviewing such a policy. The recent reopening of diplomatic relationship between the US and Cuba; and the recently reached Nuclear agreement between the US and Iran, are contemporary evidences testifying that archaic policies that were hinged on hate, were unreasonable; are unproductive, retrogressive, and therefore ultimately needs to be traded with some better alternatives.
Nigeria's Igbo-hate policy, is one such policy that, not just ultimately, but urgently, needs to be revisited, reviewed and redressed. Time and visible events have revealed that this crafty policy has expired, and its perceived, hoped-for results doesn't apply in a 21st century realities.
Like Manchester City has it in Iheanacho, so Nigeria as a nation has it in the sons and daughters of the Igbo nation; and of course, in other nations that make up the Nigerian entity. Our diversity should be processed the way crude oil is processed, and if we do so, we shall discover the other rich products derived from crude. The components that form Nigeria are like that found in crude oil – all the derivative products from crude – are revenue generating. So, why do we seek to waste the human "crude" so abundant in Nigeria?
If Nigeria would reconsider her conservative stand, but elect to address the burning issues affecting her stability, we would have discovered that, like Manchester City, Nigeria has gotten what we're looking for, and every Nigerian would be moved to Thank God!
Bernard Ezenagu Anyiam – (c) 2015
pevics2007@gmail.com
---
---
DISCLAIMER

: Opinion articles are solely the responsibility of the author and does not necessarily reflect the views of the publishers of ElombahNews!
---
Would you like to be receiving ALL ElombahNews links 'On The Go' on WhatsApp Or Telegram? If yes, join us here on WhatsApp or Telegram, or provide us your Telephone number via publisher@elombah.com or sms/inbox +2349050382526 and you are good to go!
---
DOWNLOAD ElombahNews mobile app here
---
Send eyewitness accounts/ reports/ articles  to publisher@elombah.com; follow us on twitter @ElombahNews; like our Facebook page ElombahNews 
---
For adverts & inquiries, call +447460770987, +2349050382526