The Governor Of Kogi State, Alhaji Yahaya Bello has masterminded the arrest of a fundamental critic of his government, the convener of PDP National Youth Frontier [PDP NYF], Mr Austin Okai.
Mr Okai was arrested on Sunday in Abuja by security operatives of the Special Anti-Robbery Squad [SARS].
Okai was reportedly arrested after he was trailed to a food joint on Abacha Barrack road in Abuja.
According to eyewitnesses, the Security forces bundled him into their vehicle when he demanded to make call to his people to inform them.
He, however, was able to quickly send an SOS to one of his friend via sms which then sent the message to social media.
Austin is an indigene of Kogi State and almost always promptly provides opposition to the governor and constantly demands for good governance for the Kogi people. 
The Governor who was generally accepted as a representative of youth in government has now joined the old politicians in their tyrannical attitude of clamping down on critics and opposition.
One of the pressure group where Austin belongs, The Nigerian Wailers has taken to social media to alert Nigerians and the whole world of his arrest.
The group has started online campaign with the hashtag #FreeAustinOkai to secure his release below: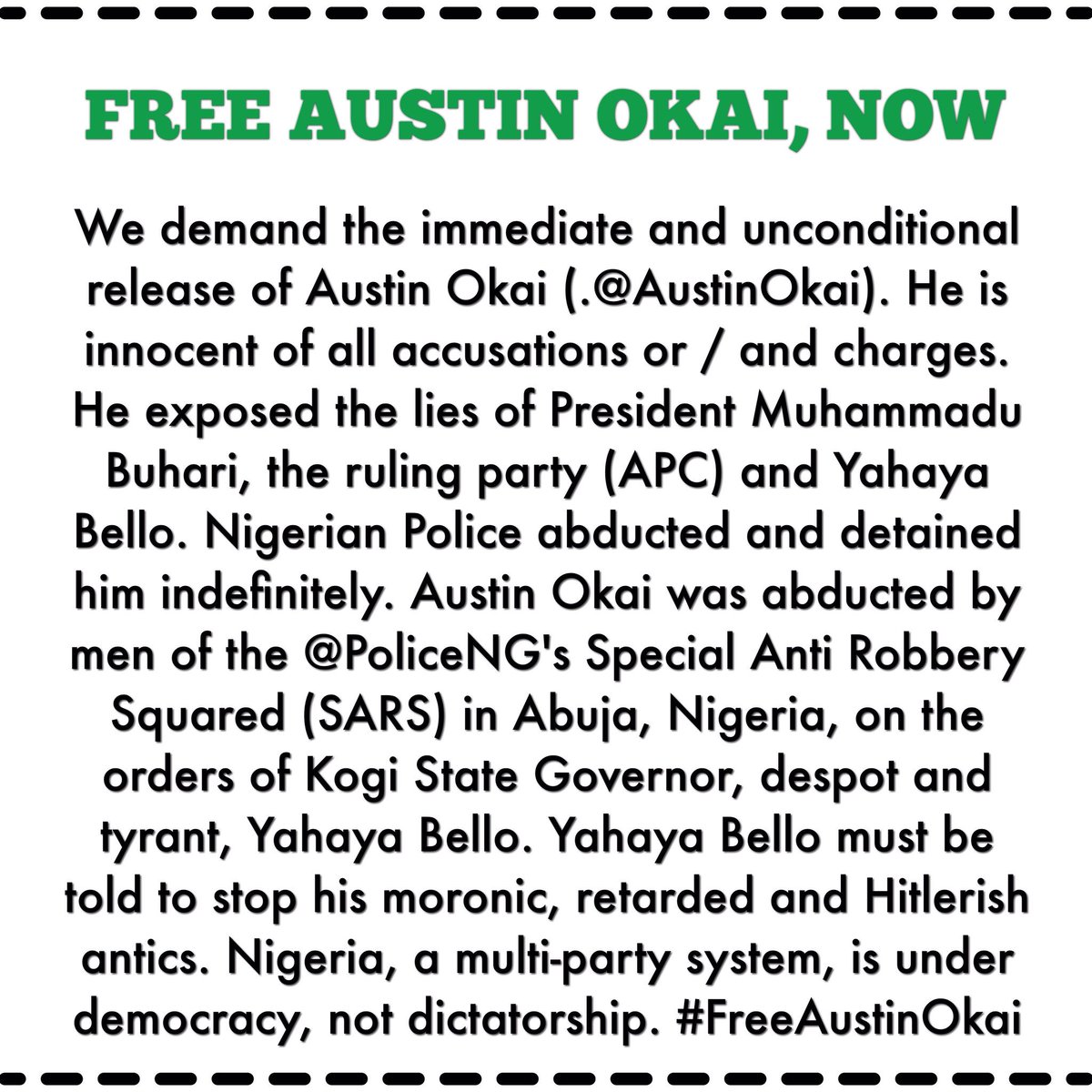 SA Media to Ekiti State governor, Lere Olayinka also wrote concerning the arrest:
"CONFIRMED: Okai is with SARS Lokoja. One ACP Kolo signed entry at SARS Abuja releasing him to the Police men who came from Lokoja.
"According to the Information we have, he was arrested based on report from Kogi Government.
"It seems this was done without the CP's knowledge."
An observer, who spoke to Elombah.com on conditions of anonymity, wondered why Mr Okai has to be arrested by the notorious SARS even though no robbery activity was identified with him.
© Copyright 2017 www.elombah.com; send eyewitness accounts/reports/articles to publisher@elombah.com; follow us on twitter @Elombah; like our Facebook page: Elombah.com; join us on WhatsApp HERE
For advert placement call us on +447460770987, +2349050382526