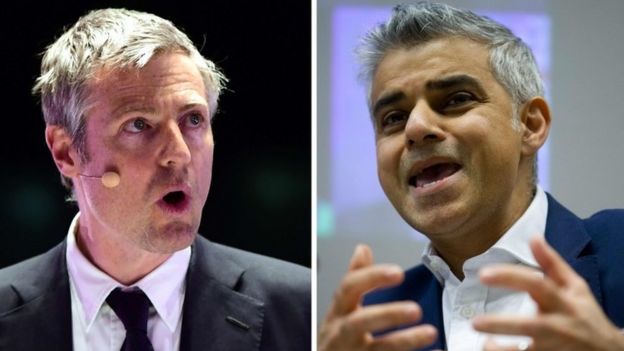 Labour candidate Sadiq Khan [Right] has won the London mayoral elections race, electionl counting shows.
London Elects has the Labour candidate ahead of his closest rival, Conservative Zac Goldsmith, with the final result due to be announced later.
So far, four out of 14 London Assembly seats have been declared.
BBC London's political editor Tim Donovan tweeted: "Looking like close to 80% of votes scanned and read. Khan ahead 44% – 35% on 1st preferences".
The voter turnout at this election appears "higher" than in 2012, he added.
The Conservatives have held Bexley and Bromley as well as West Central, while Labour hold Merton and Wandsworth plus Lambeth and Southwark.
As the counting got under way, Mr Khan said "I am always nervous".
"I am the least complacent person you will find but I also enjoy good weather, so I'm enjoying the good weather today," he said.
"I loved the campaign. I have always enjoyed talking to Londoners and the last 24 hours have been fantastic."
Voters were able to choose first and second preferences for mayor, and two types of London Assembly member – one for their area and one for the city.
Whoever becomes the new mayor holds the largest personal mandate for any political office in the UK. The victor will succeed Boris Johnson who defeated Ken Livingstone.
The mayor has control over four major policy areas in London – transport, policing, environment, and housing and planning – and the London Assembly scrutinises the mayor's policies.
The assembly must also be consulted over the Greater London Authority budget. It can reject mayoral policies or amend the draft budget if two-thirds of its members agree to do so.
Speaking in Sheffield, Labour leader Jeremy Corbyn said Tory candidate Mr Goldsmith's had engaged in a "smear" campaign in trying to link Mr Khan to "extremists" and this had helped Labour.
"This vile campaign run by the Tories, the way they've tried to smear Sadiq Khan, the methods they've used and the language they've used, has had a very big effect in exactly the way they didn't want.
"So many people are just revolted by what was said about Sadiq yesterday they came out and voted for us."
His comments come after senior Conservative London politician Andrew Boff criticised the party's mayoral campaign for seeking to link Mr Khan to "extremists".
"I was supportive of the whole campaign apart from one element and that one was where it seemed to attribute radical tendencies to people of orthodox religious views.
"I think that is a complete misunderstanding of the patchwork of faiths there are in London, and has the potential to alienate people."