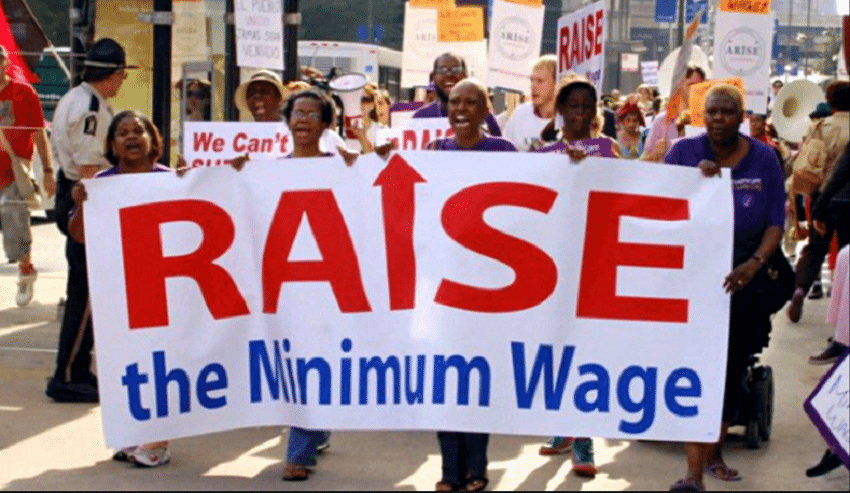 The Nigeria Labour Congress, (NLC) has described as laughable the fact that the national minimum wage could no longer buy a bag of rice, the staple food in the country.
The Anambra state chapter Chairman of the congress, Mr Jerry Nnubia, stated this during a solidarity rally in support of Nassarawa state workers.
The workers were allegedly killed and injured by the police while protesting against the heavy cut in their wages by the state government on July 29, 2016.
Nnubia said it was wicked and inhuman for any government to consider cutting workers' pay at this time of economic recession.
He also asked that any state governor who cannot pay workers' salary to resign his appointment and go home.
According to him, "We are here today to show solidarity with our members in Nassarawa state who were killed and injured by overzealous policemen at the gate of government House, Nassarawa for protesting the governor's cut in their salary.
"Why should workers be victims of every economic doom? When we have economic boom nobody remembers workers.
"A bag of rice today is above N23,000 and their minimum wage is N18,000. This is laughable.
"Why haven't the governors sliced their own wages and those of their aides? 
"Our position is that any governor that can't pay workers' salaries should resign.
"Is it not laughable that the same salary paid when a bag of rice was sold for N9, 000 is the same salary that is paid when a bag of rice is sold for N23, 000 or more?"
Slicing of anybody's salary now is not only wicked; it's criminal, the NLC boss emphasized.
The congress maintained that NLC would not relent until justice was done in Nassarawa over the killing of its members.
It also condemned the policy of the Imo state governor of cutting down working days in the state to three days without attendant leave allowances paid to its workers.
The NLC members wore black attire and marched down from the NULGE office behind the state Assembly Complex to the Freedom square at Aroma junction along the Enugu/Onitsha Expressway.
 From Chuks Collins, Awka