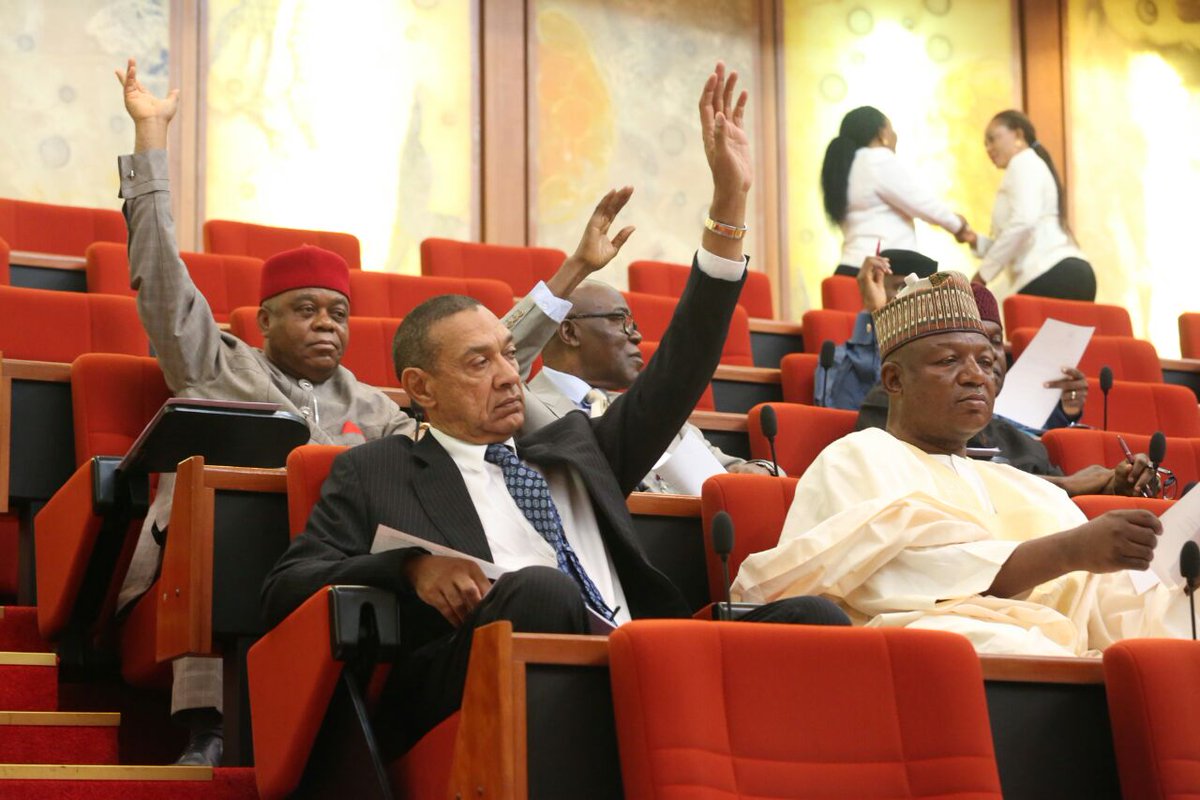 Live Reports: The Senate Today [Thursday]
It's a new legislative day in the Nigerian Senate.
Senate President Bukola Saraki leads the Senate Leadership into Plenary and takes the official prayer.
Senator Abdullah Gumel moves the motion for the approval of the Votes & Proceedings of Weds. 21st Sept., 2016. Senator J.T. Useni seconds.
Senate Leader and Clerk of the Senate moves for the presentation of bills for first reading.
1. Quantity Surveyors (Registration etc.) Amendment Act CAP Q1 LFN 2004 Bill 2016 HB. 252 by Senate Leader
2. Builder (Registration etc.) Act (Amendment) Act CAP B13 LFN 2004 Bill 2016 HB. 255 by Senate Leader
3. Town Planners Registration etc Act (Amendment) Act CAP T7 LFN 2004 Bill 2016 HB 256 by Senate Leader
4. Small and Medium Scale Enterprises Development Agency Act (Amendment) Act CAP. 919 LFN 2004 Bill 2016 HB. 259 by Senate Leader
5. University of Abuja Act (Amendment) Act CAP U2 LFN 2004 Bill 2016 HB. 262 by Senate Leader
Senator Dino Melaye earlier raised a Point of Order on some fraudulent activities by MTN Nigeria. He is to discuss it via subsequent motion.
Senate moves to resumes the debate on the State of the Economy #SenatePlans
Senator Jibrin Barau opens the Floor on #SenatePlans. He points out that it's time to solve the issues and crises in the Niger Delta.
Senator Wamakko Aliyu now speaks on #SenatePlans. He proffers fiscal and monetary solutions.
Senator Kabiru Gaya commends President Muhammadu Buhari on peace in the Country and says Money need to be pumped into the Economy.
Senator Gaya further suggests that the Government should come up with a policy on land availability.
Senator Ovie Omo-Agege says it's not Nigeria alone that's in recession and if we now sell assets now; what do we sell/use later.
Senator Omo-Agege adds that there should be a dialogue with Niger Delta Militants and that Central Bank of Nigeria [CBN] should push for a lower interest rate.
Senator Mustapha Bukar says power and agriculture needs to be seriously addressed. He charges the Legislature on oversight.
Senator Bukar further asks for policies that will allow local and foreign investors invest in the economy and look internally.
Senator Bukar concludes that 'we don't need to borrow; we need to restructure our laws to strengthen our economy'
Senator Andy Uba now takes the floor. He says all we hear is discordant tunes from CBN, Budget Office and Finance Ministry.
Senator Uba charges President Buhari to ensure portfolios are attached to Ministerial Lists so that Senators will know what to focus on.
Senator Abdullahi Adamu now takes the floor. He says Agriculture should be given the right place in the scheme things.
Senator Adamu says the fundamental responsibility of a responsible Government is the preservation of lives and property. 
Senator Adamu asks 'how can we match our priorities with action' & speaks against the sale of Govt. assets to 'enrich 1% of the population'.
Senator Emmanuel Paulker now takes the floor. He says 'No money, Inflation is increasing, Global prices dwindling; How do we solve this?'
Senator Paulker says there's no need to divert from upstream to downstream and speaks on need to refine crude locally.
Senator Paulker also asks for consistent monetary and fiscal policies, commends CBN for reviewing interest rates & says no to asset sales.
Senate Chief Whip, Senator Olusola Adeyeye now speaks on #SenatePlan. He speaks on the fact Nigeria should not forget what brought us here.
Senator Adeyeye says superficial solutions are not needed and politicians should not do any grandstanding but deep analysis and solutions.
Senator Adeyeye speaks on the procurement act that there's actually no money to give for contract mobilization. 
He says it's the misuse of mobilization funds which contractors run away with and abandon projects that led to the Procurement Act amendment to peg the Fee.
Senator Olusola Adeyeye further charges his distinguished colleagues on their responsibilities and speaks in need for restructuring.
Senator Adeyeye says it's time to stop over-burdening the Federal Government as 'we cannot kill the goose that lays the golden egg'.
Senator Adeyeye says Nigeria should follow the example of Norway regarding the National Sovereign Wealth Fund.