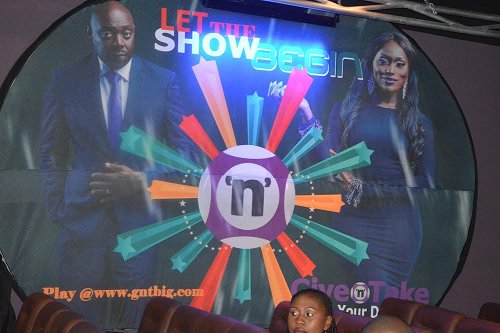 The Executive Director of Administration and Marketing, Give and Take Lottery Limited Mr Faith Robert had said that lottery was a tool for social re-engineering of the society.
He made this known at the company's jackpot game played at its Corporate Headquarters in Abuja.
According to Dr Robert, Lottery is not only a business but is a social re-engineering project that one invests in.
"Whatever percentage of profit made is used to support sporting activities and social development projects especially in sports.
"Sports and lottery go hand in hand. If you will recall, the London Olympics of 2012 was majorly sponsored by the UK National Lottery, chunk of the money that was used to build the stadia and run all of the facilities came from the UK National Lottery.
"We in Give and Take are looking at been able to do what the UK National Lottery did. 
"It will come to a time when Nigeria is probably hosting some significant sporting event that we will be in a position to support that event," he said.
According to the executive director, supporting Nigeria is not just give and take it makes every Nigerian who is keying into this project to be directly or indirectly sponsor of such project like the financing of sports.
"This is why we are calling on all Nigerians to key into this project and help evolve our communities through supports.
"Our system is transparent and it is built on integrity and that is why we decided to run it on national television so that the entire process is brought to the doorstep of every Nigerian.
"We have the resources to be able to pay whoever emerges as jackpot winner and the lottery regulatory commission has given us the mandate and the license because they know that we have the capacity otherwise they would not have licensed us to run a lottery," he said.
He said so far, the company had series of winners in the consolation prize categories of the first draw on 25th June.
"We had about 362 consolation prize winners and we are sure there is going to be much more consolation prize winners and someone winning the jackpot at this second edition of the game show.
"A lot of Nigerians are keying into this innovative project and we encourage more Nigerians to join in.
"The more people who key into this project, the better for everybody because we want everybody to be able to have access to this epoch making project irrespective of status and will have equal chance of winning the jackpot.
On challenges, Robert said that as a new platform which was unique in this part of the world naturally; as they evolve we will be able to deal with the little challenges that arise.
"There is no system that is perfect. We are getting better by the weeks, he said.
On his part, Mr Robert Bolokor acting Director Administration and Finance National Lottery Regulatory Commission who was present to inspect the facilities said that the company was backed by law.
"We have inspected the machines. We have seen integrity and transparency at play.
"I advise Nigerians to key into this. When you play this game, even if you don't win, 20 per cent of whatever you play goes to good causes such as sports, hospitals, schools, roads among others."
Similarly, a renowned Nollywood actor, Mr Francis Duru said he identified with Give and Take because the management had  "meticulously thought out a way to build an enterprise that touches humanity.
"It is a worthwhile investment. Everything speaks volumes of excellence, hard work, diligence put in place so that it has no other choice but to be as good as the effort put in place".
He further said that improvement would come when one did not dwell on initial success.
"Life is a course of continuous improvement and that is the only way you sustain success.
"The runners of this game, their personality happens to be that which, if you identify with it and they stretch into any positive endeavour, it yields up good interest.
"The worth of a person getting to any level in life, it's not about money but the worth of your character.
Integrity and character in itself is wealth. They have been able to put this in place," he said.
The event also had a seasoned movie producer, Mr Fred Amata and a popular Nigerian rapper simply known as Phyno in attendance.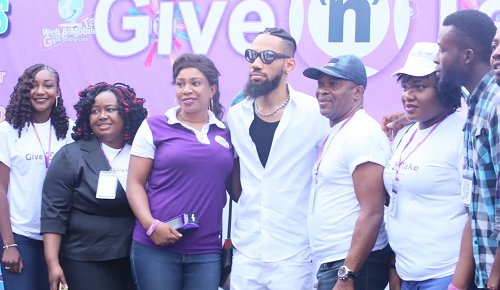 Would you like to be receiving ALL Elombah.com news links 'On The Go' on WhatsApp?  If yes, please provide us your WhatsApp number via publisher@elombah.com or inbox +2349050382526 and you are ready to go!
© Copyright 2017 www.elombah.com; unless otherwise indicated, all images are courtesy of Twitter; send eyewitness accounts/reports/articles to publisher@elombah.com; follow us on twitter @Elombah; like our Facebook page: Elombah.com; join us on WhatsApp HERE
For advert placement call us on +447460770987, +2349050382526