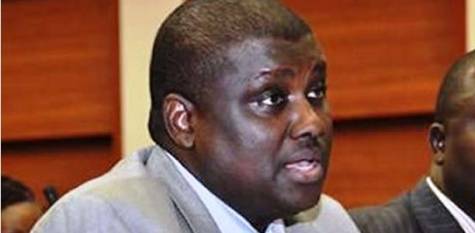 I knew from Monday morning that I was not going to write this week; not only because I feel mentally exhausted but also because the issues dominating the headlines are not particularly of interest to me. 
Unfortunately, when I asked Dr Chidi Amuta whether he would help fill this space today by writing, he was non-committal; and when by last night I got no feedback from him, I concluded that this is just one of those weeks. 
But to put my dilemma in perspective, let us look at some of the issues that I would have commented on, assuming I felt compelled to write this column today.
On Monday, the Bayelsa Police Command paraded before newsmen in Yenogoa the National Association of Nigerian Students (NANS) state chapter chairman (I never heard about such office before) and seven other undergraduates of the Niger Delta University, Amassoma in connection with alleged cultism, armed robbery and murder. 
According to the State Commissioner of Police, Mr Asuquo Amba, some of the recovered arms and ammunition from these students included two locally-made single barrelled pistol, two live ammunition, five .9mm live ammunition and some charms.
The question is: Why would undergraduates need guns and charms?
Well, it had to do with the bid to hold student union positions which, like all political aspiration in our country, is always at all cost. 
The tragic incident in question occurred at the Zone B election for NANS coordinators which took place at the Federal University, Otuoke, Bayelsa State, between November 25 and November 26. 
"It was a situation whereby students representing universities and higher institutions in the South-South zone degenerated to the use of firearms that led to the death of a student" said Amba who explained the desperation with which the election (for NANS coordinators!) was fought by undergraduates.
However, as shocking as that may be to some people, those who follow the news are quite aware that campus politics these days mirrors that of the larger society where dirty money, violence and diabolical means are weapons of choice. 
While in the past those who seek to be student leaders would memorise all the quotes from Aristotle to Plato, it is incantations that most student union leaders now chant because such positions have become avenues to stupendous wealth and political powers.
That then explains why two months ago, the Obafemi Awolowo University (OAU) Students' Union Vice President and the Director of Socials engaged in a serious fight with one breaking a bottle to stab the other in the course of an ex-co meeting. Not surprisingly, it was over money. 
A few weeks before that, the student union president of the University of Nigeria, Nsukka and two members of his cabinet were impeached for allegedly helping themselves to the sum of N4 million. 
From the University of Abuja to the Usmanu Danfodiyo University, Sokoto to University of Calabar and other campuses across the country, the stories are the same: student unionism is now mostly about self-enrichment.
While the decadence that pervades our campuses is an issue we may have to address one day, I still do not see how such intervention can be considered important, especially in a season where the never-ending saga of the former Chairman of the defunct Pension Reform Task Team, Abdulrasheed Maina, keeps throwing up interesting revelations. 
For those who may still not know him, we are talking about a civil servant who absconded from duty when the heat was turned on him and his enablers, eventually got dismissed following public outcry and a Senate ultimatum, reinstated after two years under a dirty deal by a government supposedly fighting corruption, promoted by two ranks in the process, dismissed again after another public outcry and yet still earning some jumbo salaries from the treasury, according to his lawyer!
In the home video he released last weekend, Maina claimed that President Muhammadu Buhari was aware of, and gave approval for, his recent meeting in Dubai with the Attorney General of the Federation and Minister of Justice, Abubakar Malami. 
"When this government came in, the President [Buhari Muhammadu] gave the nod that 'go and sit down with Maina, I've given you the approval'. They sat down with me after the security agencies had cleared me", said Maina who has exposed the hypocrisy of this government and the joke called war against corruption.
Quite typical, the presidency has not reacted to the claim by Maina, just as it is still mute about the statement by the Head of the Civil Service of the Federation, Mrs Winifred Oyo-Ita that President Buhari cannot feign ignorance about the whole saga. 
"I sought audience with His Excellency, Mr. President on Wednesday, 11th October, 2017 after the FEC meeting where I briefed His Excellency verbally on the wide-ranging implications of the reinstatement of Mr. A. A. Maina, especially the damaging impact on the anti-corruption stance of this administration," she wrote in a recently leaked memo whose veracity has not been disputed.
However, since the Maina drama is still playing out, and he has promised to release more salacious details, we may have to wait to get the full picture before we can make sense of the whole ugly episode. 
The challenge, however, is that it is not only the Maina scandal that raises questions about the anti-corruption war of this government, there is also the reported mismanagement of the forfeited assets from proceeds of corruption. 
On Tuesday, Senate President, Dr Bukola Saraki spoke about "the opacity shrouding the management of recovered funds, which in many cases get re-looted by the agencies that investigated and recovered them" before he added: 
"An ad hoc committee of the Senate, which is investigating some administrative infractions in the Executive, has discovered that many properties recovered from a fugitive from the law have not been accounted for by the investigating agency".
Coming from the Number Three Citizen, and a member of the ruling All Progressives Congress (APC), no allegation can be weightier but before somebody says "it is corruption fighting back" which is the only defence by this administration for every infraction, let us leave that matter and look at a few other issues that Nigerians are talking about. 
I know someone will suggest I comment on the resignation from the APC by former Vice President Atiku Abubakar but how can I do that without hearing from 'Mama Taraba'? 
We must never forget that it was the Women Affairs Minister, Mrs Aisha Alhassan, who sensationally declared a few weeks ago: 
"We hope he (Atiku) will contest in 2019, that's why I said so. Once he declares, I'll do just what I said (resign). If Atiku comes out to contest and I remain part of Baba Buhari's cabinet at the same time, then I become a hypocrite."
If the minister chooses to be silent at this moment in time, why should I dabble into what does not concern me? 
Okay, as someone also suggested yesterday, I could write on the coming wedding between Prince Harry and his African-American actress, Meghan Merkle. While I hope my friend, Ebuka has already alerted his tailor to start making a special wear for the big-do, I honestly fail to understand why a wedding between two people should attract such global attention.
Meanwhile, there is this story of different persons laying claim to being the genuine whistleblowers that gave information which led to the recovery of about N13billion belonging to the National Intelligence Agency (NIA) recovered from Flat 7 Osborne Towers, Ikoyi. 
Even when whistle blowing is supposed to be a secret business, no fewer than four men are already in court asking the federal government to pay them their cut of the loot. While we wait to see how the whole controversy will be resolved, that some Nigerians are candidates for Aro mental hospital is no longer in doubt. 
Who will not run mad if you pin your hope 'for making it in life' on acquiring such enormous wealth for 'blowing whistle' only to end up being short-changed by a policy clearly lacking in integrity?
While the whistle blowers continue their battle in court, I am sure there are readers interested in the drama in Harare. 
When I wrote last week that "the military commanders and their political collaborators, led by the man who has now inherited power, merely used the people to achieve a predetermined end", I got some harsh reactions. 
With reports that former President Robert Mugabe may get a golden handshake of $10 million aside having his birthday become a national holiday, it is now evident that the whole coup was designed only to checkmate the inordinate ambition of Mrs Grace Mugabe. But let us leave Zimbabwe for Zimbabweans.
Incidentally, it is a sign of the time that Nigerians are practically cut out from the rest of the world in the current campaign to end violence against women and girls. But from last Friday night, when I was a guest of the Abuja Literary Society (ALS) Book Jam, I knew this would happen. 
Along with Mr. Ikeogu Ike, the 2017 NLNG Nigeria Prize for Literature winner, who gave a commanding performance by singing his poems, it was an enjoyable night made more fun by the inimitable spoken word and performance poetry artist and rave of the moment, Dike Chukwumerije, who anchored proceedings. 
But shortly before the whole session ended, a lady reminded us of the significance of the next day (November 25): the United Nations International Day for the elimination of violence against women.
It is instructive that this year's campaign is to last 16 days till 10th December, the United Nations Human Rights Day, with the overall objective of galvanizing action to end violence against women and girls. And the lady made that point. 
Not surprisingly, there were murmurs from many of the men in the audience that perhaps the thrust of the campaign in Nigeria this year should be the protection of husbands from their wives. In the past three weeks, there have been several social media memes on that and perhaps, justifiably so too.
With the sentence, on Monday, to seven years in prison of an Ibadan based lawyer who stabbed her husband to death against the background of the ongoing murder trial in Abuja of a wife who also allegedly stabbed to death her husband amid another case in Gusau, Zamfara State (where a man is similarly battling for his life after being stabbed by his wife) there are reports that the fear of knives in the hands of wives has become the beginning of wisdom for all husbands in Nigeria.
From the foregoing, I hope readers can understand my dilemma and why I chose not to write today. Sometimes, the burden of journalism in a society like this can be very tough. In the absence of a clear national direction to meaningfully engage, our diversity throws up conflicting signals and issues. 
For instance, each of the subjects that have come up in the course of this week testifies to the confusion we find ourselves in. Some of them, like Saraki's lament about the looting of previous loots or the audacious claims by serial fugitive, Maina touch on the very credibility of the current administration.
The silence around these issues from the very top further confounds an already cynical public. In our new normal, we have gone beyond shock. Yet, who knows what heavier matters the coming week will bring up?
• You can follow me on my Twitter handle, @Olusegunverdict and on www.olusegunadeniyi.com
— 
Would you like to be receiving ALL Elombah.com news links 'On The Go' on WhatsApp Or Telegram?  If yes, please provide us your Telephone number via publisher@elombah.com or sms/inbox +2349050382526 and you are ready to go!
© Copyright 2017 www.elombah.com; unless otherwise indicated, all images are courtesy of Twitter; send eyewitness accounts/reports/articles to publisher@elombah.com; follow us on twitter @Elombah; like our Facebook page: Elombah.com; join us on WhatsApp HERE
For adverts & inquiries, call +447460770987, +2349050382526