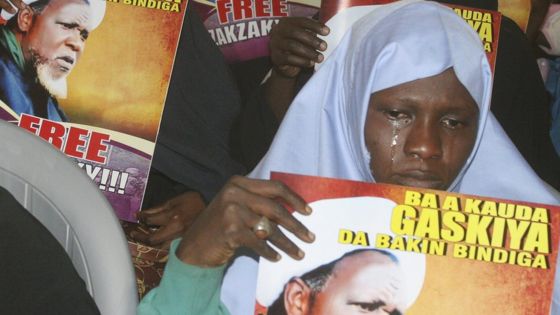 President of Ogoni Central Indigenous Authority, OCIA, Dr. Goodluck Diigbo has reacted and called for urgent action over mass graves.
He raised concerns over the uncovering of mass graves of victims of the military massacre in northern Nigeria.
The reactions by OCIA President came on Tuesday, April 12, 2016, while he was addressing the Ogoni National Legislative Assembly, ONLA.
ONLA is a body responsible for reviewing the documentation obtained on the recent killings by the Nigerian army in Yeghe, Bori, and other places in Ogoniland.
He urged the ONLA review committee not to overlook the role of their fellow Ogonis in the killings, if any.
According to him, rights violation is a violation, no matter who commits the act.
He was reacting to a disclosure by Balarabe Lawal, secretary to the Kaduna State government, during an official inquiry on Monday, April 11, 2106.
Photo: The mass grave is located in Mando Kaduma cemetery along the Birnin Gwari road near Hajj camp in Kaduna state and over 1,000 Shiites Muslims of Nigeria were reportedly killed
Lawal said that the corpses of Shiites massacred in Kaduna were taken from an army depot and buried in mass graves.
He said urgent international action should pave way for broader investigations.
OCIA President said the admission coming from another official source, and not the army; creates room for broader suspicion; means that independent eyes are necessary.
According to him, the manner in which the corpses were moved from the hospital to army depot without the knowledge of relatives and families leaves room for mistrust.
And the question of whether or not, it is a systemic pattern.
Diigbo said the Nigerian authorities need a lot of explaining to do, about the secret mass graves, if the motive was not to cover-up the Shiite Massacre.
He said the account so far fits the description of crimes against humanity.
The acts arise from acts that might suggest an attempt to exterminate a civilian population in peace time, on political and religious grounds.
Diigbo notes that Nigeria has an obligation.
That is because it formally agreed to abide by, and consented to respect, ensure, and enforce measures for achievement of the Universal Declaration on Human Rights, and other International covenants. 
He said it is also obligatory on the part of the international community not to be unworried.
"The relevant United Nations human rights organs have to recognize the need to deal urgently with the Kaduna mass graves. 
"The mission should be accountability, and preventing chain-repercussions that might have international implications, because of the dysfunctional climate," Diigbo remarked.
Tambari Deekor
OGECO EDITOR – tdeekor88@gmail.com