Olusegun Adeniyi has done a fascinating work in documenting and spotlighting the predicaments of people of Africa caught in the web of unsafe migration and human trafficking. He exposes the travails of those who attempt to access Europe by road through the Sahara Desert before crossing the Mediterranean Sea. This book is also touchingly personal to the author who shared an extraordinary life story of Agboola, his younger brother, who for six years was caught in irregular migration web in the hands of both migrant smugglers and human traffickers. The story is like a fiction that could have been a Hollywood, Bollywood or Nollywood movie thriller but unfortunately it is a lived reality for not just Agboola, a survivor, but for many victims of this shameful modern trade in human beings that disturbingly gets re-victimized, re-trafficked, re-smuggled several times over whilst in search of livelihood and supposedly better life outside their country that they think holds not much future for them…
—Professor Joy Ngozi Ezeilo, OON, Dean of Law, University of Nigeria, Nsukka and former United Nations Special Rapporteur on Human Trafficking
– – –
I have excerpted the foregoing from the foreword to my coming book on 'irregular migration' against the background of the wasted opportunities by President Muhammadu Buhari to speak forcefully to one of the most depressing challenges confronting the continent and perhaps the number one issue on the global agenda today.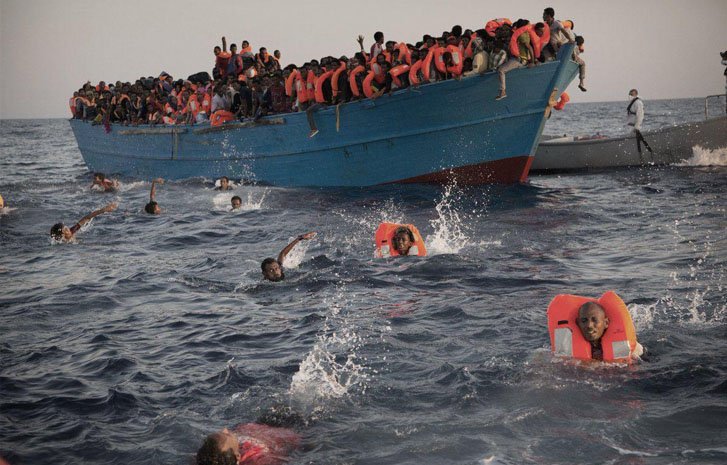 Both British Prime Minister Theresa May and German Chancellor Angela Merkel, two European leaders with contrasting positions on migration, were in Nigeria last week but unfortunately, President Buhari did not prepare ahead for an appropriate response to their messages.
It is instructive that on the eve of her arrival in Nigeria, a press statement from the British Prime Minister's office had stated that "Nigeria is the fifth-largest country of origin of modern slavery in Britain. Men, women and children are tricked into journeys to Europe that can lead to abuse, prostitution, forced labour and death."
Quoting May, the statement said further that the UK is stepping up its partnership with the Nigerian authorities "to find traffickers and bring them to justice. And because this is an international problem which needs international response, we are also launching a new project with France to strengthen border co-operation to prevent trafficking along key migration routes towards Libya and Europe."
Modern slavery and human trafficking are problems the authorities in Nigeria are yet to come to terms with and I believe President Buhari needs around him people who understand all these associated issues, especially as they relate to migration, so that he can appreciate the challenges and show more empathy whenever he needs to talk about the young men and women who risk their lives across the desert and the Mediterranean Sea. During the joint press conference he had with Mrs Merkel, the German leader who has shown a far more humane disposition to the underlining issues, even at great political cost both at home and in Europe, President Buhari repeated his unhelpful but rather familiar lines.
After restating his opposition to "those my countrymen and women that illegally travel to Europe", the president added, "as an administration, agreeing with those who continue to defy the Sahara Desert and the Mediterranean because they feel there are greener pastures there, whether they are prepared for it or not…anybody who feels this country does not offer him what he should be offered as a citizen, and decides to defy the desert and the Mediterranean, is doing it at his own risk."
What the president has failed to understand is that the migration issue goes beyond the desperation of the young men and women who travel through those treacherous routes. Besides, we can also not discount the poverty that is driving the desperation because people do not just wake up to risk their lives in the desert. Most of the migrants move mostly for economic reasons and it is not peculiar to our country or continent. For instance, with falling oil prices, plummeting currency rates and acute food shortages, Venezuela (another mismanaged oil producing country with the largest proven reserves in the world) is now engulfed in a serious economic crisis that has turned hundreds of thousands of their nationals into migrants. "The migratory wave in Roraima (a region in Brazil) is the result of the terrible living conditions to which the Venezuelan people have been subjected," Brazilian President Michel Temer said last week while signing a decree to deploy the armed forces to the border town to protect the Venezuelan migrants who were being maltreated by Brazilians.
From the Middle East to Africa to Latin America, migration is driven principally by the quest for better life on the other shores. If we will be honest, it is no surprise that many of our nationals are voting with their feet out of the country and the authorities will do well to look beyond the Sahara Desert and the Mediterranean Sea. When a population is growing at an alarming rate while economic development stagnates and both physical and social infrastructures are in total decay, it is natural for people to gravitate towards an environment they believe would offer a more secure future for themselves and their families. That explains the growing pattern of many members of the Nigerian middle class moving abroad, mostly to Canada. These are mostly skilled professionals who seek a saner environment to live in and the best possible public education for their children but nobody seems to be paying attention to this new wave of brain drain, a consequence of the way we have mismanaged our country.
We may continue to live in denial but the fact remains that we are breeding a generation that believes there is not much future for them in this country. The fact that a loan of N10,000, which by the way is a laudable initiative, is now considered a big deal only reinforces that perception as it speaks to the level of poverty and deprivation in the country. We are talking of an amount that is less than 30 dollars! That is aside the security challenges, including the contrived ones. Just yesterday, the Inspector-General of Police, Mr Ibrahim Idris, had to send a delegation to apologise to First Republic Information Minister, Chief Edwin Clark over an "unauthorised" raid that speaks to how rogue elements within the security agencies have rendered our country unsafe. Based on an unprocessed hearsay from a taxi driver that Clark was stockpiling arms and ammunitions, four police officers invaded the house of the nonagenarian for what turned out a wild goose chase. But we hear about the case only because Clark is a prominent politician as hundreds of our citizens daily go through such harassment for which many are roped.
Meanwhile, it is the same desire for a better life in societies where the right to meaningful existence is guaranteed that is pushing the 'irregular migrants' who risk their lives in the desert and on the sea and as I stated earlier, it is a global challenge. Together with Pius Adesanmi, I watched a chilling documentary last Thursday on 'France 24' channel titled "From Brazil to Canada: the new odyssey for African migrants" in which for five months, some reporters followed a family from Democratic Republic of Congo on a journey by road across ten countries, including through a vast stretch of jungle called the Darien Gap that was littered with dead bodies. "During the five months that we spent with Rosette, her husband Godet and their daughters Maria and Pauline, we saw many other migrants heading north to Canada. On this route, where a human life is worth just a few handfuls of dollars, Congolese, Malians, Senegalese, Nepalese and Bangladeshis try to blend in with the flow of South American and Caribbean migrants. But some will never reach their destination", said the narrator.
However, beyond the pathetic stories of the desperation, ignorance and criminality pushing many of our young men and women on the continent into perilous journeys, there is also the issue of a not-so-subtle attempt at denying mobility to a certain people which is what the current global debate about immigration is all about. Incidentally, the British Prime Minister who was grandstanding in Abuja is one of the European leaders who believe in criminalising the mobility of people, especially from our continent. Yet, we still don't know who gave visa to Mr Mungo Park and all those do-gooders from her country that 'discovered' all the rivers from which our great grandparents used to fetch water.
On my flight from the United States yesterday, I read "Can we solve the migration crisis?" a fascinating new book by Harvard Professor, Jacqueline Bahbha, where she borrowed from the famous thesis of Benedict Anderson to argue on why nations are "imagined communities". As the author stated, many of the countries in the world today are "cultural products of individual human endeavor and collective organizing rather than about any inherent or permanent link between place and people. They are also recent inventions, as are the borders that define them."
In that 1983 book, "Imagined Communities: Reflections on the Origin and Spread of Nationalism" that has in recent years become topical for obvious reasons, Anderson introduced the concept that is now being used to challenge the ultra-nationalists who seek to criminalise immigration. But Bhabha's book went further to provide interesting insights. "Our species, Homo sapiens, first emerged from Africa about 150-200,000 years ago. Genetic and archaeological scholarship now confirms that an 'African Eve' was the 'mother of all humanity'. The movements of early human groups were determined by the evolving ability to exploit two large clusters of natural resources, those generated by water (lakes, rivers, seas, oceans) and those generated by soil. The imperative to secure means of survival and to adapt to changes and opportunities in one's environment has always been a fundamental driver of human mobility" she wrote.
As I highlighted in my coming book, perhaps the only African leader who has shown a serious appreciation of the migration issue is the President of Ghana, Mr Nana Akufo-Addo. In his Kukah Centre Lecture delivered in Abuja in February this year, the Ghanaian leader argued that many European and American politicians have temporary amnesia, "for they appear to have conveniently forgotten that 19th century European history was marked, largely, by the large flow of European migrants, particularly Irish and Italian, into the Eldorado of America's green pastures, at a time when the political economies of Ireland and Italy were in dire straits. Significant improvements in their economies have put an end to the emigration of their nationals."
Akufo-Addo's intervention, which I referenced in my book, is particularly important because he is not in denial about the challenge we face on the continent for which leaders must accept responsibility. "Anyone, everybody, in a position of leadership in Africa today has his work cut out. I do not suggest that we lock up our young people to prevent them from embarking on these hazardous journeys. The urgent responsibility we face is to make our countries, our continent attractive for our youth to see as places of opportunities. It means we must provide education, education and education. It means our young people must acquire the skills that run modern economies", said the Ghanaian President who then added: "There will always be those amongst our young people, who would want to try their luck in foreign countries. When they are skilled, they would not have to risk drowning in the Mediterranean Sea, they would be head hunted and treated with dignity."
NOTE: I must express my appreciation to Ford Foundation for providing the research grant that facilitated my trips both to Europe and across the continent. Specifically, I must thank my brother, Innocent Chukwuma, Director of their West African Office and his assistant, Ms Chidinma Ayaku as well as Ms Tamila Vatcharadze, the Global Portfolio Advisor, Institute of International Education (IIE). Regrettably, much as I tried to rush the publication, Mr Bankole Olayebi of Bookcraft, a very meticulous publisher, says the book will not be out until mid-November. But I can assure readers that it is a book worth waiting for.
You can follow me on my Twitter handle, @Olusegunverdict and on www.olusegunadeniyi.com