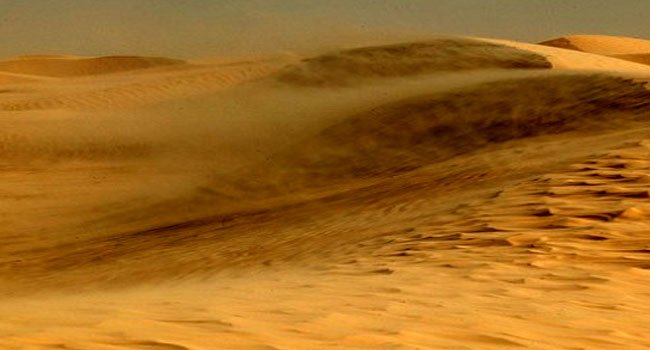 Desert encroachment is a condition in which more areas of land are being turned into a condition favourable to the development of a desert. A desert is a vast land area of sand. Sands lack nutrients and water that are essential for plant life. Therefore plants generally do not survive in a dessert. For this reason also, animal life generally does not survive in a desert.
Presently no part of Nigeria is a desert. The nearest desert to Nigeria is the Sahara Desert. It is located in the northern part of Africa and covering an area of more than 3 million square miles, from longitude 35 degrees west to 15 degrees east and latitude 15 degrees north to 35 degrees north. Its land mass can be found in Mauritania, Western Sahara, Algeria, Libya, Egypt, Niger Republic, Tunisia, Mali, Chad and Sudan. Areas in a desert where water and a little vegetation can be found is called an oasis.
The southernmost parts of Nigeria are the sea coast and border the Atlantic Ocean. Northwards from this region is the rain forest. Further north are the grasslands. All these regions favour the growth of plants and animals and hence human settlement. North of the grasslands is found the desert. This means that after desert, the next area of land to develop into sands is the grassland. An increase in grassland area means desert encroachment.
One of the factors that encourage desert encroachment is over-cultivation. If an area of land is cultivated too continuously, year after year, the soil will lose its nutrients and become impoverished. Then it will tend to grow grasses instead of a forest when it is eventually left fallow.
Another practice that can favour desert encroachment is the building of too many houses and development of towns and cities. This development does not leave enough land area for the growth of trees and forests.
Bush burning is still prevalent in Nigeria despite State edicts to the contrary. Bush burning destroys trees, gets the soil heated up for plants and soil organisms and impoverishes the soil. It also turns soot into the air thereby polluting the environment.
Also over-grazing and felling of trees too continually remove more trees than nature can regenerate.
Many tree planting campaigns have been initiated in Nigeria. But it seems that these efforts fall short of what is needed. They lack continuity. By and large, they fail to mobilise the masses. And more areas of land get turned into grasslands. The grasses grow tall during the rainy season but wither and die off during the dry season. This situation is obvious to travellers along the length and breath of the country.
Something should be done and quickly too to put an end to situations that lead to desert encroachment in Nigeria and to stop existing condition from being aggravated.
Government efforts should reach the grassroots. Nigerians should be trained to embrace moral virtues. This should lead them to abstain from spoiling conditions for themselves and other people especially when they are hampered by conditions. Grassroots sensitisation will make every Tom and Harry aware of government initiatives in which they can participate. Poverty and hunger as well as ignorance drive otherwise sincere people into conditions they did not intend.
Over-population tends to reduce land that can be left fallow. It equally leads to social vices. Too many human activities lead to the degradation of the environment.
Setting out game reserve is a practice that reduces desert encroachment. It preserves both plants and animal species. Similar practices should be adopted and increased.
Sensitization should not start and end in the classroom theory or a little spur of the moment announcement in the radio. The whole masses should be mobilised.
 — 
Would you like to be receiving ALL Elombah.com news links 'On The Go' on WhatsApp Or Telegram?  If yes, please provide us your Telephone number via publisher@elombah.com or sms/inbox +2349050382526 and you are ready to go!
© Copyright 2017 www.elombah.com; unless otherwise indicated, all images are courtesy of Twitter; send eyewitness accounts/reports/articles to publisher@elombah.com; follow us on twitter @Elombah; like our Facebook page: Elombah.com; join us on WhatsApp HERE
For adverts & inquiries, call +447460770987, +2349050382526