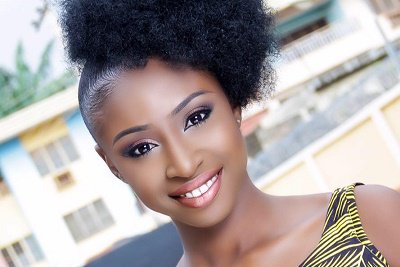 *Update on Former Miss Anambra Obtained from a Source in Awka
First, this is an investment gone wrong. Chief (name not disclosed) sponsored Chidinma Okeke to win the pageant. 
Chief paid the organisers N2 million to ensure she emerged as the winner against other beautiful contestants. 
Chief also budgeted N5 million for her wardrobe and makeover pre and post beauty contest. The money was released in trenches to Miss Anambra. 
Chief also took her to various countries including Germany where she met other models based on the contract terms which Miss Chidinma signed with Chief.
Part of the agreement stipulates that Chief will make her a big model and whatever proceeds that come during her reign would be shared as specified in the contract terms. 
Chidinma consented and signed the deal.
However, due to the double standard noticed during the early phase of this deal, Chief needed a guarantee that would prohibit Chidinma from dishonouring the terms of the contract and requested for security. 
Information available is that Chidinma was not forced to participate, but she is not a lesbian. 
This is only a guarantee, and if she obeys contract terms, the little video would never see the daylight.
Chidinma emerged as the winner of Miss Anambra, got higher connections and wanted to opt out from the contract without repaying all the expenses Chief incurred. 
Chief warned of the consequences, but she remained adamant. 
Chief released a picture to her requesting she comply with the payment and remit the money she is holding before her tenure comes to an end. 
Chidinma feigned ignorance and even boasted that Chief cannot do anything. 
It was alleged that she disclosed to a close friend that if chief tries to do anything, they will get him arrested. 
That was the beginning of the leak. Information available also claimed that the current trending video online is mild. 
That Chidinma also engaged in anal sex and the length of the original video is above an hour. (SIGH)
Based on the above information, and the fact that Chidinma was a consenting adult as at the time the contract was signed, which reasonably supports the logic behind Chidinma's silence towards naming the perpetrators, I will advise the family to quit the threat they are making to the man and settle this amicably off the media to avoid further embarrassment for my state, other 'responsible' beauty pageants because this is seriously casting them in bad light and putting several demeaning opinions in most people's head.
By J Duke Anago