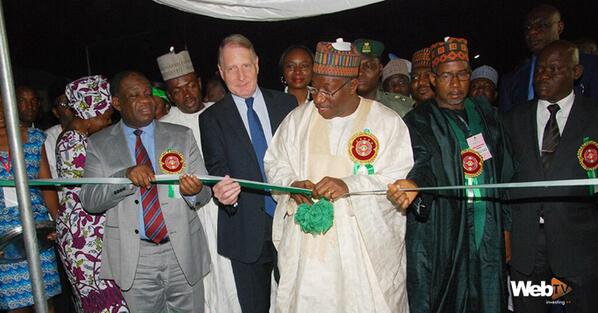 For the records, Elombah.com went into our archives and dug out two articles written on the Durumi Solar Project showing the original claim that the project cost N5.5 million per house which we hereby reproduce.
This will convince our readers that we have always been in the know concerning the Durumi Solar Project from the onset up till when the project was commissioned. 
Elombah.com insists the figures were badly altered to reflect the so-called N228 million while the original figure presented by the former President Goodluck Ebele Jonathan administration was N8.2 billion.
The first article was published on Tuesday, 17 December, 2013, 00:18, and was written by Tim Elombah, titled "Living off the Sun!"
Read:
Living off the Sun!
We thought it was a joke when on Saturday 15 November, 2013, Minister of Power, Prof. Chinedu Nebo commissioned the first rural solar electricity at Durumi-Mpape village in Abuja to flag off its 'Operation Light-up Rural Nigeria' renewable energy initiative. But now, I really do think Goodluck Ebele Jonathan's administration is the best thing ever in Nigeria. Imagine this:
For several years we have been living on generators in my area in Abuja, then this year we embarked on communal effort to install electricity when suddenly the Federal Government came and installed solar powered electricity in every home free of charge! Now we're proud to be the first community ever to be living off solar-powered electricity in Abuja thanks to FGN, isn't that amazing?
It all started with wiring up the whole house; then installing the accumulator and regulator; lastly, the photovoltaic (PV) receptor. And finally today, the connection of various components. Then bang! solar electricity.
The remarkable and unique thing about the power supply is that every house has its individual power source: PV, ACCUMULATOR, REGULATOR, etc, hence independent of each other. No NEPA, PHCN, NAPEP, MAMSER, or whatever any name one choose to call it!
On Saturday, 15 November 2013, Prof. Nebo, who was accompanied by the Permanent Secretary, Dr Godknows Igali, said: "We have come here to officially flag off a special initiative of the Ministry of Power Operation Light Up Rural Nigeria. We wanted to start somewhere, and we have chosen Durumi Community and this lighting of the village square is just the beginning." 
He said, "This is just flagging it off, we are also beginning to light up the entire village. We will do everything possible to make sure that every house here in Durumi gets this light."
[The attached photo showed Nebo commissioning new Photovoltaic Solar Power Systems for generating electricity in some villages of the Area Council as part of the Light-Up Nigeria, Access-to-Power for rural areas of Nigeria.]
Durumi-Mpape is a rural community under Bwari Area Council of the FCT and is about 15 kilometres from Maitama, Abuja. It is one of the places in FCT not presently connected to the national grid.
The 3kilowatts solar electricity is capable of lighting up the 1,050 households on connection. It also consists of solar street lights, and kiosk with a switch network that could charge over 20 cell phones, and refrigeration outlets to store vaccines for the community health centre. The maiden off grid rural electrification project was executed in collaboration with Schneider Electrics of Germany and Philips of Netherland.
Nebo, while tasking the people on the security of the solar facilities, stated: "You will help us to protect all of these because it is not good for anybody to come and damage them".
"In addition, we will train some of you who will help us to be maintaining the light so that if there is any problem they will fix it. That is why you will be required to pay a little amount of money so that it can be maintained," he explained.
In his remarks, the Chief of the community Ibrahim Dauda Jarumi commended federal government's effort in the effort to electrify rural areas noting that, the initiative would expose the community to development. [Ends]
Then on Thursday, December 26, 2013, 11:20 AM, Elombah.com wrote another article titled "Attention: Federal Ministry Of Power And Schneider Electric" as follows:
ATTENTION: FEDERAL MINISTRY OF POWER AND SCHNEIDER ELECTRIC
There is this local parlance that says "awuf dey purge belle".  Awuf is what Americans will call "freebies". Freebies normally go as they come possibly because they tend to get exploited because of the free nomenclature. That seems to be the case with the solar-powered electricity introduced in an Abuja suburb of Durumi village, Mpape; except that in this case the exploitation is coming, not from the consumers, but from the retailers. 
There is no doubting it that apprehension is gripping individuals and communities over the fact that of all places in Abuja, it's only in this seemingly insignificant piece of Abuja that solar energy is being harnessed. But before those grumpy fellas start writing 'open letters' to President Ebele Goodluck Jonathan, may I extinguish the smoke from their fire by affirming that the project is a white elephant.
Just like any thing that is 'awufish' by nature, this Trojan horse was given grumpily. Worse yet when discovery was made over the abracadabra of expenditure bamboozled over the white elephant: A WHOOPING FIVE AND A HALF MILLION NAIRA IN EACH HOUSE! To some I'm already sounding like a retrogressionist, but nah! That's hardly the case. The truth, rather being that as a live witness, the end insidiously seems not to justify the means. 
One will expect that haven made such a sumptuous yak-it-yak of expenditure, the consumers will be smiling with both ends of their mouth stretching from the easternmost to the westernmost tips of the jaws. But hardly, as the power trips off before I type the period at the end of this sentence. (In fact I'm now completing it with saved energy on my laptop!)
I won't consider myself a novice in this field as it's the same venture that took me to China in 2008. Therein I got offers as low as $3, 000 for bungalows, transportation and duty of course excluded. What I found rather dubious is that the said solar stuff of N5 ½ million can't uphold the electrical integrity of my 3-bedroom bungalow. 
One would expect that since the less than one million stuff is designed to power bungalow, the N5 ½ million stuff, or about $30,000(!), will power the whole village, but alas! My home still yearns for the good old NEPA which guarantees that at least all the bulbs, refrigerators, air conditioners, televisions, etc., will contribute their little quota to make my life a whoosh cozier. 
Ironically, the vendors of this white elephant ensured that each house precariously receives no more than five specialized LED bulbs, to be supplemented by one low-voltage TV set, without refrigerator, not even an electric iron, haba! Even more taunting is the fact I gathered from a reliable source that the whole system was just for ONE POINT i.e. one bulb and may be one low-voltage TV set, that's all…as if Durumi residents don't know good life!
I hereby use this medium to beseech the Federal Ministry of Power and the contractor, Messrs. Schneider Electric, to make good this project and do the needful. We still crave a status upgrade whereby our fridges and possibly air conditioners will be put into commensurate use. 
We might be down but not out. We might be low but not off. We still crave those things that make life yummy for our senators and chief executives. We are Nigeria, ain't we? 
The Igbo man sums it up in this beautiful catchphrase: "ka eji nwa mkpi ma atu, asi ekperima buru?" which could interpret: does the fact that we begged warrant half-done food? Call me Oliver Twist if you like but let those concerned, be it the Federal Government or the contractor, Schneider Electric, do the right thing, please!
(Attached: 4 on-site pictures) [Ends]
———-
One of the engineers on ground disclosed that the cost of installing the solar-powered electricity in each house in Durumi is about NGN5.5 million. In China I was given an offer of USD3,000 for normal size bungalow designed to power every apparatus in the house even air conditioners, of course excluding transportation and duty charges.
Ironically, even the outrageous amount of NGN5.5 million could not power refrigerator, electric iron, etc., thereby raising serious doubt over the actual amount. 
Hence, the questions on all reasonable lips are: 
(1.) Was the amount simply over-inflated? Or,
(2.) Are the materials below standard of what was actually budgeted by the FGN? 
Meanwhile, the gist in the air is the intended visit by Goodluck Jonathan on or before 25th, December, 2013. Even more stupendously ironic was when I was told that the electric bulbs cost about 12 to 13, 000 each, wao! I will later find out that the figure is also over-inflated as the real price of the bulbs is N3,000.
With this in mind, Elombah.com insists that the Goodluck Jonathan administration owes Nigerians a whole lot of explanation over how they came about the disparitous N228 million and N8.2 billion.
—
Would you like to be receiving ALL Elombah.com news links 'On The Go' on WhatsApp?  If yes, please provide us your WhatsApp number via publisher@elombah.com or sms/inbox +2349050382526 and you are ready to go!
© Copyright 2017 www.elombah.com; unless otherwise indicated, all images are courtesy of Twitter; send eyewitness accounts/reports/articles to publisher@elombah.com; follow us on twitter @Elombah; like our Facebook page: Elombah.com; join us on WhatsApp HERE
For adverts & inquiries, call +447460770987, +2349050382526