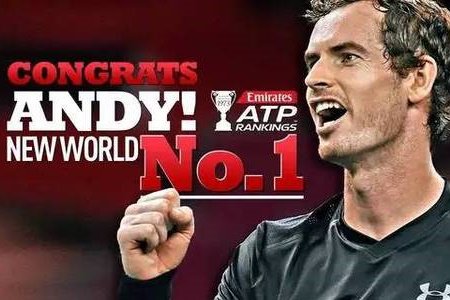 Andy Murray will finally reach the pinnacle of his career on Monday when he takes over from Novak Djokovic as world number one Tennis player when the rankings are updated.
Andy Murray stands on top of the mountain, the 26th player to rise to No. 1 in the Emirates ATP Rankings.
He is the oldest first-time No. 1 since 30-year-old John Newcombe in June 1974.
More than seven years after he first ranked No. 2 on 17 August 2009, Murray's seven stints in second position have totaled 76 weeks. 
Yesterday, in reaching the BNP Paribas Masters final in Paris, the 29 year old has fulfilled a richly deserved long-term goal.
This was after his Paris Masters semi-final opponent Milos Raonic withdrew with a leg injury on Saturday.
"I have a grade one tear on my right quad and unfortunately won't be able to face Murray in the semi-final," Canadian Raonic told a news conference.
Now every member of the 'Big Four' – Federer (302 weeks), Djokovic (223 weeks), Nadal (141 weeks) and Murray – has attained the top spot in the Emirates ATP Rankings. 
Murray's march to No. 1 over the past 12 months has encompassed a 76-11 match record and seven titles from 11 finals.
The Lendl Factor, first forged in 2012, has been an important part of Murray's transformation to consistently challenge his rivals. 
The setting up of regular training blocks, with up to six players of specialised skills, aided technical improvements – most notably his second serve and forehand, and also moved him away from a passive to aggressive game. 
Murray's on-court behaviour also improved, and, in wearing his heart on his sleeve, the British public began to warm, empathise and learn more about the sacrifices he has made to be a world-beater.
As a player, former World No. 1 Ivan Lendl was always looking for an edge, whether from nutrition, fitness or psychological strength. 
When he joined Murray's team on 31 December 2011, he did everything he could to give Murray an advantage. 
In their 26 months together, Murray went 113-28, with seven titles – including the 2012 Olympic Games gold, US Open and 2013 Wimbledon crowns – from 12 finals.
But by the time they reunited at the Aegon Championships on 12 June this year, the seeds were sown to end Djokovic's domination and make an assault on No. 1. 
As Lendl commented, "Until you win, you never know if you have it in you. We know now, he does have it in him. 
"So the question is: can he do it again? That is an easier question to answer, than can he do it at all. 
"There's quite a bit of difference."
The record four-time champion Djokovic arrived in Paris to reach the final to ensure he remained ahead of a rapidly approaching Murray.
But the Serb's bid to register a fourth straight title in the French capital ended abruptly as an improbable escape act fizzled out against an in-form Marin Cilic.
The ninth seed, Cilic dumped a struggling Djokovic out of the Paris Masters quarter-finals on Friday to pave the way for Andy Murray to become the new world number one.
Cilic had lost all 14 previous meetings with Djokovic but cast the Serb's 122-week reign at the top of the rankings into serious doubt with a 6-4, 7-6 (7/2) victory.
Second seed Murray on his part, beat Czech's Tomas Berdych 7-6 (11-9) 7-5 to book a semi-finals berth later and came just two wins from supplanting long-time rival Djokovic at the summit.
The Briton was expected to take on Raonic who defeated Jo-Wilfried Tsonga for a chance to claim the Number one ranking.
But the game could not take place as Raonic was walked over due to an injury.
This paved the way for Murray to become Tennis World one for the first time ever in his career.
© Copyright 2016 www.elombah.com; Send eyewitness accounts/reports/articles to publisher@elombah.com; follow us on twitter handle @Elombah; like our Facebook page: "Elombah.com"