Nigeria's central bank had sold $3.5 billion on the forward market after it auctioned $532 million and intervened on the interbank market on Monday to clear backlog of currency demand as it lifted its peg on the currency.
Nigeria's currency, Naira gained on the second day of trading without a peg after the central bank spent more than $4 billion on Monday to clear pent-up demand for foreign currency. 
The naira opened 1.4 percent weaker at 286 to the dollar on Tuesday, with $2 million traded. It had tumbled 30 percent to 282 naira on Monday.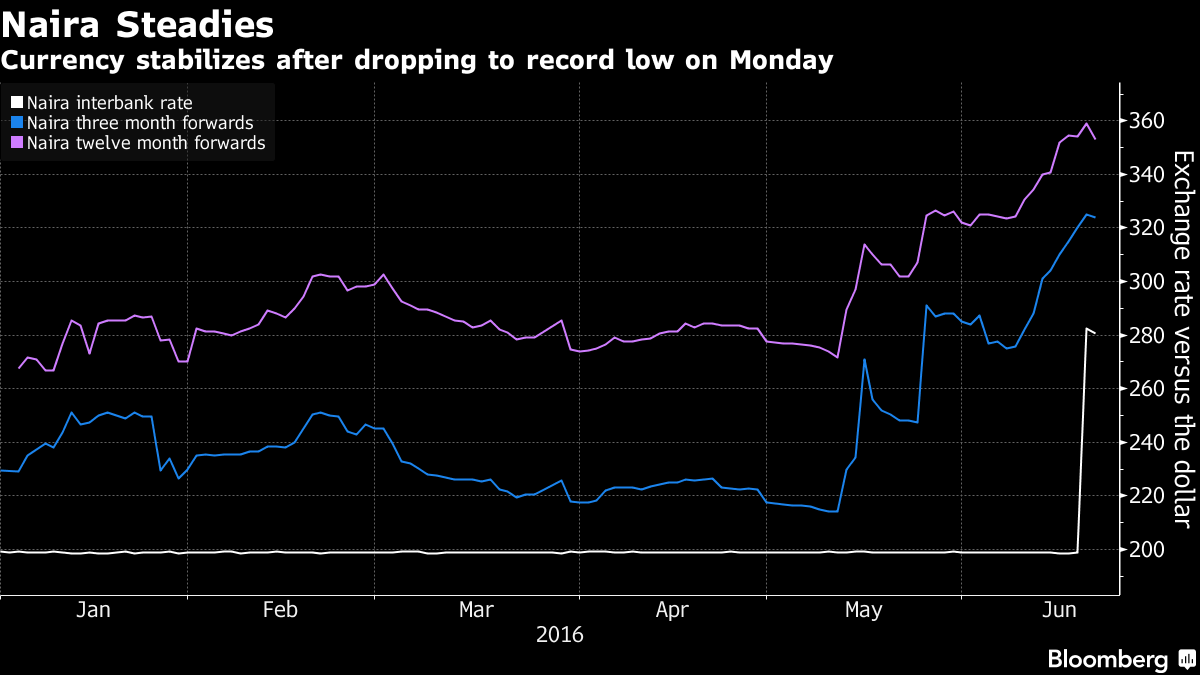 The bank sold $697 million in one-month forward, $1.22 billion in two-month contract and $1.57 billion due in three months, in order to clear a backlog of $4.02 billion of demand, market operator FMDQ Securities Exchange said.
Traders are betting the naira will further depreciate by more than 10 percent by September. Three-month naira non-deliverable forward contracts rose 1.6 percent to 325 against the dollar on Monday, a record on a closing basis, while one-year contracts climbed 1.4 percent to 359. They were trading lower at 324 and 354, respectively, on Tuesday.
Governor Godwin Emefiele said when he announced a float of the currency on June 15 that the monetary authority would intervene when necessary even though it was allowing the exchange rate to be "market-driven."
The CBN introduced capital controls to stem an outflow of dollars after the naira crashed to a then-record of 206.32 in February 2015 as oil prices slumped. While stabilizing the naira, the controls deterred foreign investors and starved manufacturers of hard currency needed to pay for raw materials and equipment. Nigeria's gross domestic product contracted in the three months through March for the first time since 2004 and inflation accelerated to an almost six-year high of 15.6 percent in May.