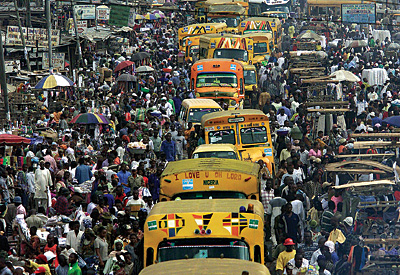 Original English Language Speakers may have several semantic relationships with most of us who are indigenous Africans especially here in Nigeria especially in terms of similarity in proverbs and idiomatic expressions.  
The English have a particular saying that 'there is strength in Numbers '. In the traditional Igbo speaking setting the speakers often say 'IGWE BU IKE' which is synonymous to saying there's strength in Numbers. Realistically, the abovementioned proverb touches on a very salient issue of the conversations going on around the linkage between population and human rights. 
Indeed, scholars believe that knowing   the exact projection of the population and demographics of a country like Nigeria is a basic human right because these are essential ingredients for redistribution of national wealth equitably and also the spread of developments especially in a country like Nigeria whereby poverty and lack of access to basic social services are scarce. 
National planning is made much more scientific and evidence based if the correct statistics of a given population of a country like Nigeria is determined.  How else can the government determine the nature of health, educational and road infrastructures to site in a given place without ascertaining the appropriate demographics? There is the need to ascertain statistically how many babies for instance are born in a given place and time and how many that there are amongst the elderly population. 
Speaking of population and its merits will logically remind us of the global positions of pride currently occupied by India and China. Both nations hold the records as the nations with the largest concentration of human population Worldwide. 
The Indians and Chinese are respected internationally because their respective home governments have over the last many years invested substantial amount of money in human capacity development which enabled both countries to dominate the World in the areas of manufacturing of computer software and military hardware. 
These nations were able to galvanize their populations to become productive members of the international community because they also put measures in place for accurate determination of their demographics without necessarily playing politics. 
These two population giants achieved these global successes because they put the basic institutional and policy frameworks in place which meticulously invested in human capital development.  They discovered early in their political evolutionary processes that the best way to maximize the benefits inherent in their huge numbers/populations is to develop local manpower and position for the eventual technology transfers from the Western World which they successfully undertook. 
In the coming days till the end of the year, yours faithfully will develop a template for constructively engaging in conversations around the issues of making our Nigerian local population to become productive global players in all fields of human endeavours and in fact the beginning point is ascertaining how best to partner with the National Population Commission of Nigeria headed by a versatile Nigerian Senior Litigation Lawyer Chief Eze Duruiheoma who is also a Senior Advocates of Nigeria and a patriotic Nigerian to build the needed civil society support base to enable the commission actualise the statutory mandate for which it was set up.  
Nearly ten years ago Nigeria had a national headcount and it has become imperative that Nigeria must maintain consistency in complying with our national population policy of conducting at every ten year interval an acceptable census of Nigerians because that way National planning would be seamlessly implemented for greater national productivity and economic growth.  It is hoped that President Muhammadu Buhari will do the needful to enhance the functions of the National Population Commission of Nigeria and as a government that has professed change and human capital development it is hoped that this agency of government will more adequately be empowered to implement its mandate to the Nigerian people.
Again, let me say that population census is an essential human right issue. Before exploring our National population policy it would be wise to also note that population plays a role in fighting hunger and poverty. From the website of triple-pundit we gained comprehensive knowledge of the nexus between population and human rights and from a piece published in this website during last year's World's Population Day the writer made us understand some real statistical facts regarding human development index.  
Stating that during last year's celebration of the global population the planet celebrated by registering 165 new births every minute.  Global population is currently 7.2 billion and counting, and projected to grow to 10.9 billion by 2100, triple pundit. Com stated.
If that sounds like a lot, consider this:   Those estimates are only valid if fertility rates, which have declined in recent decades, continue to drop.   That's a big "if."   If fertility rates fail to decline further, the world population could soar to 27 billion!  Here is a new set of shareable infographics and short information that explains this, so says the writer of the referenced material posted last year in triple-pundit website. 
The infographics make it clear that there's a vital link between keeping birth rates falling and fighting hunger, poverty and environmental damage.  Rapid population growth has already complicated efforts to reduce poverty and eliminate hunger in Africa, whose population of 1.1 billion is expected to more than double by 2050. These informations are from triple pundit.com. 
As stated by the writer being referenced, the United Nations has already crafted its post 2015 development agenda. The seven millennium development goals have been succeeded by the sustainable Development Goals.    
The post 2015 development plan will decide where the world commits its resources, so reasoned the writer of the piece in the website cited. After a broad appreciation of what linkages that there are between knowledge of our population and human rights let's now settle down and appraise the Nigerian population policy. From the official website of the National population commission we learnt that the national Policy on Population for Sustainable Development of 2004 outlines a multi-sectorial strategy for the challenges posed by rapid population growth. 
The policy strives to inform all stakeholders about the linkages between population and developmental issues like housing, health, education, agriculture, food, economy, energy, environment, transportation, security, employment, urbanization and so forth. This in effect means the effect of population on the well-being and quality of life of all Nigerians. Nigerians needs to be adequately informed and educated about the essential benefits of accurate census figures.
Basically the Nigerian national population policy aims:
"To achieve sustainable development and a higher quality of life for all people, Nigeria shall promote appropriate policies including population-related policies, to meet the needs of current generations, without compromising the ability of future generation to meet their own needs".
Conversely, the guiding principles of the National policy on Population for Sustainable Development are in accordance with the Constitution of the Federal Republic of Nigeria which provides that Nigerians are entitled to all rights, privileges and provisions that should enhance their full and equal participation in all national development efforts. The Chapter two and four of the Nigerian Constitution are replete with these provisions on the fundamental rights of Nigerians. 
As earlier observed the policy on Population is specifically meant to achieve sustained economic growth, poverty eradication, protection of the         environment and provision of quality of social services.
Others goals are;
*To achieve a balance between population growth rate and available resources;
*To improve the productive health of all Nigerians at every stage of the life cycle;
*To accelerate the response to HIV/AIDS epidemics and other related health issues and
*To achieve a balanced and integrated urban and rural development.
Established in 1988 the National Population Commission of Nigeria is at the threshold of galvanising Nigeria's huge population to more meaningfully and constructively become global economic players. The Chief Eze Duru Iheoma -led board needs our support.
*Emmanuel Onwubiko is Head of Human rights Writers association of Nigeria and blogs @www.huriwa.blogspot.com, www.rightsassociationngr.com, www.huriwa.org.