Coronavirus (COVID-19) Total Cases and Deaths
Location             Confirmed Cases               Deaths
Nigeria                95,934                                    1,330
Global                 87,392,300                      1,890,472
The Nigeria Centre for Disease Control (NCDC) has recorded 1565 new cases of COVID19 in Nigeria on Thursday.
See breakdown of the 1565 new cases of COVID19 as confirmed by NCDC below:
Lagos-807
FCT-236
Kaduna-79
Oyo-57
Plateau-47
Rivers-37
Katsina-35
Edo-30
Sokoto-30
Delta-26
Kebbi-23
Ondo-20
Enugu-18
Abia-17
Ogun-17
Benue-16
Bayelsa-15
Bauchi-14
Niger-13
Kano-10
Borno-6
Imo-5
Ekiti-4
Osun-2
Jigawa-1
See banner below: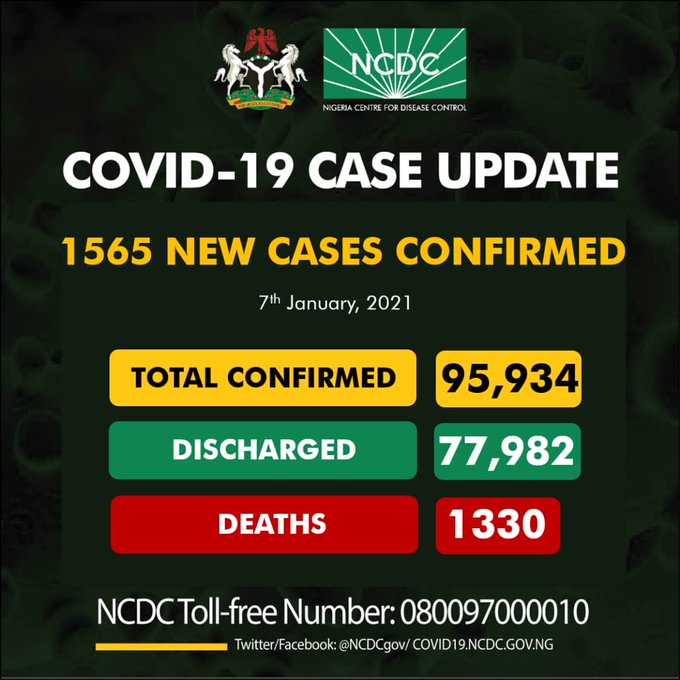 The patients discharged on Thursday include 314 community recoveries in Lagos State, 158 in Kaduna State and 84 in Plateau State managed in line with NCDC guidelines.
A breakdown of cases by state can be found here.
Confirmed Cases by State
| States Affected | No. of Cases (Lab Confirmed) | No. of Cases (on admission) | No. Discharged | No. of Deaths |
| --- | --- | --- | --- | --- |
| Lagos | 34,136 | 5,847 | 28,039 | 250 |
| FCT | 13,071 | 5,216 | 7,749 | 106 |
| Kaduna | 5,717 | 437 | 5,226 | 54 |
| Plateau | 5,381 | 433 | 4,903 | 45 |
| Oyo | 4,157 | 673 | 3,431 | 53 |
| Rivers | 3,738 | 377 | 3,297 | 64 |
| Edo | 2,996 | 159 | 2,720 | 117 |
| Ogun | 2,605 | 231 | 2,340 | 34 |
| Kano | 2,389 | 316 | 2,005 | 68 |
| Delta | 1,944 | 155 | 1,737 | 52 |
| Ondo | 1,863 | 59 | 1,763 | 41 |
| Katsina | 1,671 | 57 | 1,587 | 27 |
| Kwara | 1,495 | 370 | 1,094 | 31 |
| Enugu | 1,445 | 61 | 1,363 | 21 |
| Gombe | 1,359 | 321 | 1,001 | 37 |
| Ebonyi | 1,120 | 18 | 1,072 | 30 |
| Abia | 1,082 | 85 | 986 | 11 |
| Bauchi | 1,071 | 175 | 879 | 17 |
| Osun | 1,036 | 41 | 971 | 24 |
| Nasarawa | 961 | 623 | 325 | 13 |
| Borno | 823 | 49 | 738 | 36 |
| Imo | 789 | 30 | 743 | 16 |
| Bayelsa | 560 | 74 | 465 | 21 |
| Benue | 553 | 73 | 469 | 11 |
| Adamawa | 471 | 208 | 238 | 25 |
| Akwa Ibom | 465 | 66 | 390 | 9 |
| Sokoto | 455 | 137 | 298 | 20 |
| Niger | 454 | 72 | 369 | 13 |
| Ekiti | 426 | 16 | 403 | 7 |
| Jigawa | 410 | 31 | 368 | 11 |
| Anambra | 364 | 70 | 274 | 20 |
| Taraba | 225 | 28 | 190 | 7 |
| Kebbi | 215 | 40 | 163 | 12 |
| Yobe | 201 | 49 | 144 | 8 |
| Cross River | 169 | 0 | 157 | 12 |
| Zamfara | 112 | 25 | 82 | 5 |
| Kogi | 5 | 0 | 3 | 2 |
Highlights
On the 7th of January 2021, 1565 new confirmed cases and 6 deaths were recorded in Nigeria
Till date, 95934 cases have been confirmed, 77982 cases have been discharged and 1330 deaths have been recorded in 36 states and the Federal Capital Territory
The 1565 new cases are reported from 25 states- Lagos (807), FCT (236), Kaduna (79), Oyo (57), Plateau (47), Rivers (37), Katsina (35), Edo (30), Sokoto (30), Delta (26), Kebbi (23), Ondo (20), Enugu (18), Abia (17), Ogun(17), Benue(16), Bayelsa (15), Bauchi (14), Niger (13), Kano (10), Borno (6), Imo (5), Ekiti (4), Osun (2) and Jigawa (1)
A multi-sectoral national emergency operations centre (EOC), activated at Level 3, continues to coordinate the national response activities
See graph below: