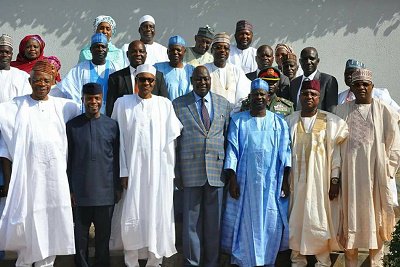 President Muhammadu Buhari said that the newly inaugurated Presidential Committee on the North East Initiative (PCNI) will be funded through collective efforts of Federal, State and Local Government appropriation.
President Buhari made the clarification, on Wednesday, during the inauguration ceremony of PNCI.
In the inauguration speech, Buhari said: "PCNI will be funded through Federal, State and Local Government appropriation, as well as funds from the private sector and international development partners.
He also said that the initiative "will exist for a period of 3 years, whereafter it is envisaged that a long-term regional development framework or entity may be established."
PCNI was inaugurated at State House, Presidential Villa, Abuja in an occasion that saw the presence of Vice President Yemi Osinbajo, northeastern governors, as well as other dignitaries.
The aim of the initiative is to providing effective coordination and guidance towards addressing the humanitarian crisis in the North East region.
Other are the resettlement and reconstruction of damaged facilities across the North East while the insurgency lasted.
"The Committee should take a quick look at the conditions of the IDPs and take urgent remedial measures to alleviate these conditions," Buhari had said.
The Presidential thereafter entrusted the initiative under the Chairmanship of General T.Y. Danjuma (Rtd).
© Copyright 2016 www.elombah.com; Send eyewitness accounts/reports/articles to publisher@elombah.com; follow us on twitter handle @Elombah; like our Facebook page: "Elombah.com"
Share your thoughts in the comment box below: