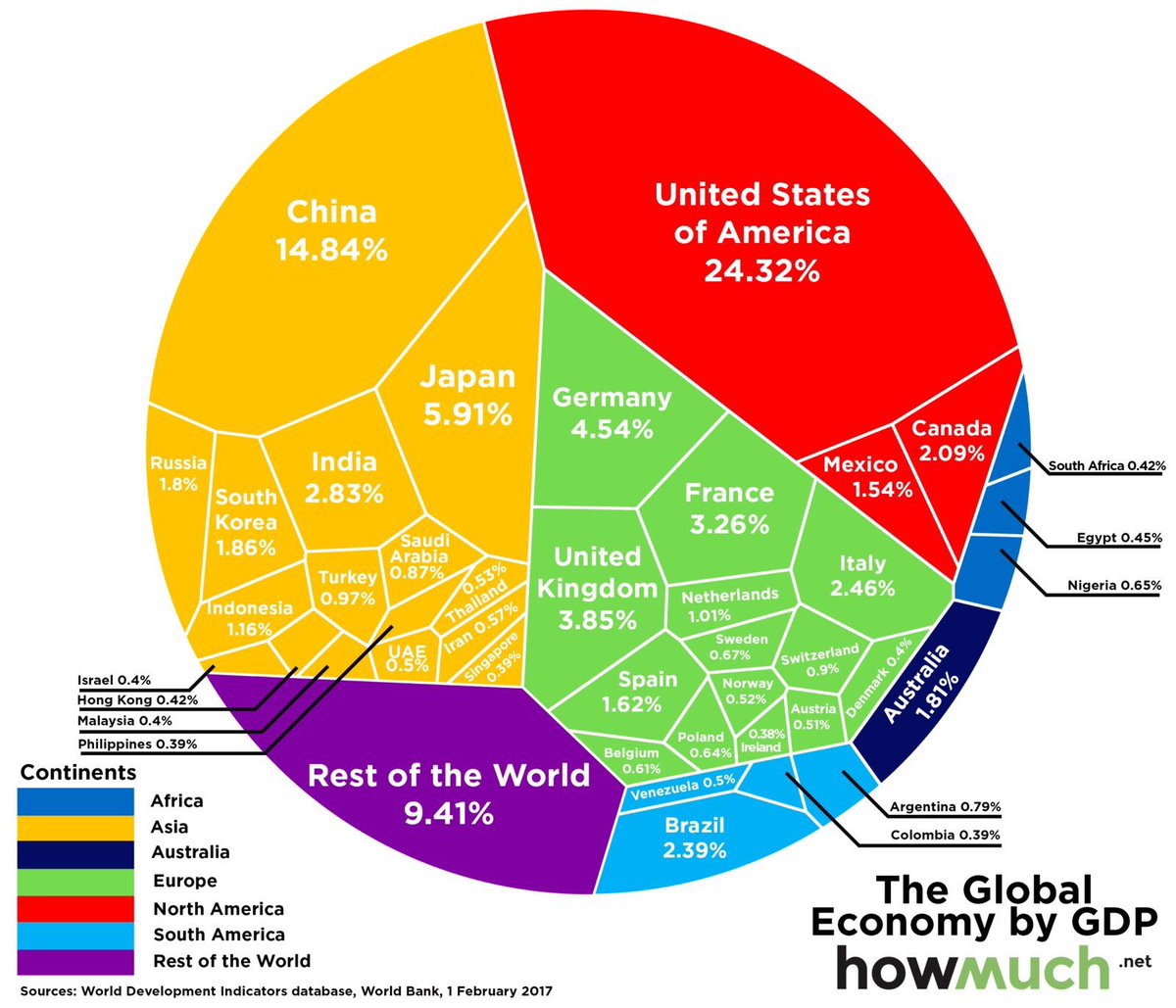 Let me quote what Chris Brown says "America possesses preponderant power, power which is increasingly regarded as illegitimate in many part of the world which is difficult to challenge". (USA, 2005)
But this writing argue that the US power (26% of global economy—GDP belongs to USA and 2% of global population) is not difficult to challenge, only no one single nation can challenge at the moment. \
But an alliance of nations can challenge the US's global economic monopoly; China, Russia and India could do that, especially in term of military power or even economic strength.
But in term of economic power the only block that can collectively challenge US is 27 EU nations. Daniel Drezner says "If there is a recurring theme that runs through the literature on globalization and global governance, it is that economic globalization attenuates state power." 
Although 98% of global territorial Waters are under the watch of USA and over 20,000 nuclear capacity compared to Russia and China with less than 3000 and about  80 or so war carriers and compared to only one owned by China (F. Zakaria GPS) still what that bubbling in the mind of experts has been that; should USA continue to be a global leader up till the end of the 21s century? 
UK, Portugal, Holland, France and  Spain each spent 50-50 years as global leaders (UK two times 50 years) in the last 500 years during global colonization. 
This writing view that US did not fulfill all the necessary elements needed in global leadership, especially such requirements of diplomatic approaches (considering the current Donald Trump's  leadership with the policy of America first) to tackle the world crises such as terrorism and eradications of poverty in the world especially Southern parts of the world. 
The inability of US to solve many problems (sub Saharan nations do not contribute up to 1% of global economy and the FDI has not being up to $60 in Africa—although China will be investing up to $300 billion in Africa soon) confronting human family; from wars, hunger, diseases, illiteracy, poverty, climate change, and human rights as well as nuclear threat especially in the Southern parts of the world. 
Because of the above mentioned reasons, USA could and should not be commended as global leader. 
Economic power alone (especially at this time of globalization era)will not qualify US for the requirements needed in global leadership. 
Even the US economic approaches are too egocentric and self-centered for America and Americans benefit only, not for universal benefit and general benefit for the global families world over. 
"Governance first and last is about the exercise of power to achieve political, social, and other objectives". 
Every scheme to govern economy therefore, must confront the fundamental question; Governance for what? 
The primary purpose to be served by the proposed mechanisms for governance of the global economy is the first issue that must be resolved" . 
The probable solution to global leadership at this crucial time is when the EU (BRIEXIT is another contentious issue) becomes one nation and takes over the mantle of global leadership; Europeans had enough experience and know-how to tackle every problem through diplomatic means. 
Finally, this writing argue that, US did not fulfill the requirements for global leadership; the current aggressive behavior in approaching global issues will not qualify US to fulfill the requirements for global leadership up to the end of 21s century. 
On the other nations as global leaders?
To be continued…
Abbati Bako
References
• Brown Chris , Understanding International Relations, (New York, Palgrave Macmillan 2005) 
• Drezner Daniel W. , All Politics in Globe ( New Jersey, Princeton University Press) 
• Friedman George , The Next 100 Years ( London, Allison &Busby Limited 2009 
• ModelskiGeorge Documenting Global Leadership,( London, Macmillan Press Limited, 1988) 
• Belis John , Globalization of World Politics, ( New York, Oxford University Press Inc. 2008) 
• Gilpin Robert , Global Political Economy ( New Jersey, Princeton University Press, 2001) 
• Paterson G.Thomas, American Foreign Relations, ( New York, Palgrve Macmillan, 2005)
Tatah Mentan, USA, 2007
—
Would you like to be receiving ALL Elombah.com news links 'On The Go' on WhatsApp?  If yes, please provide us your WhatsApp number via publisher@elombah.com or inbox +2349050382526 and you are ready to go!
© Copyright 2017 www.elombah.com; unless otherwise indicated, all images are courtesy of Twitter; send eyewitness accounts/reports/articles to publisher@elombah.com; follow us on twitter @Elombah; like our Facebook page: Elombah.com; join us on WhatsApp HERE
For advert placement call us on +447460770987, +2349050382526