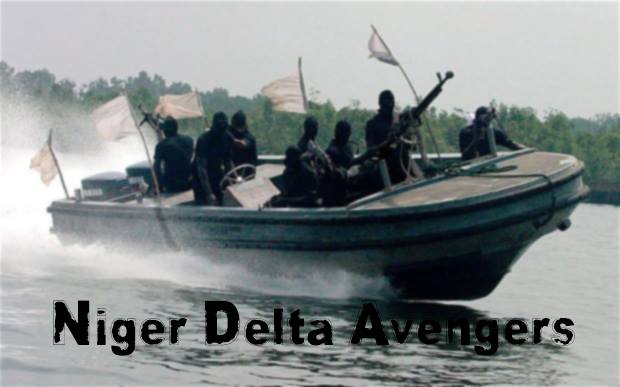 Niger Delta Avengers have continued their calculated onslaught against the federal government and the Nigerian economy.
In the latest instance, they blew up Chevron pipeline located close to Otunana flow station in Delta State.
The militants personally disclosed this on their website in a statement signed by their Spokesperson, Brig. Gen Mudoch Agbinibo.
Gen Agbinibo said: "At 10pm Niger Delta Avengers blow up Chevron Well 10 close to Otunana flow station. 
"Other attacks was carried out at 11:15pm.
"Niger Delta Avengers blow up NPDC Manifold close to Banta and two PPMC/NNPC crude oil trunk Lines."
Meanwhile, earlier in the day, Elombah.com reported that Twitter had suspended the Niger Delta Avengers' account.
It is not yet clear if the recent attack is connected to the suspension which came just few days after the militant group published their attack on multiple oil facilities in the Niger Delta region.
The group has carried out a series of attacks on oil facilities in Nigeria in the last few months which pushed the country's crude production to a 30-year low.
The Niger Delta Avengers have used a Twitter account as its main form of communication, using it to publicize claims of attacks and as a platform to criticize Nigeria's government.
The Niger Delta militant group had declared its interest in the region owing greater share of Nigeria's oil wealth.
They are demanding that 60% of Nigerian oil wells be passed on to communities in the impoverished Niger Delta region.
On Sunday, the Niger Delta Avengers had posted messages that it carried out five attacks on oil facilities
"This account has been suspended," said a statement on the account. 
"We do not comment on individual accounts for privacy and security reasons," said a spokesman for the social media site when asked about the reasons for the suspension.
© Copyright 2015 www.elombah.com. Send eyewitness accounts/reports/articles to publisher@elombah.com; follow us on twitter handle @Elombah; like our Facebook page: "Elombah.com"