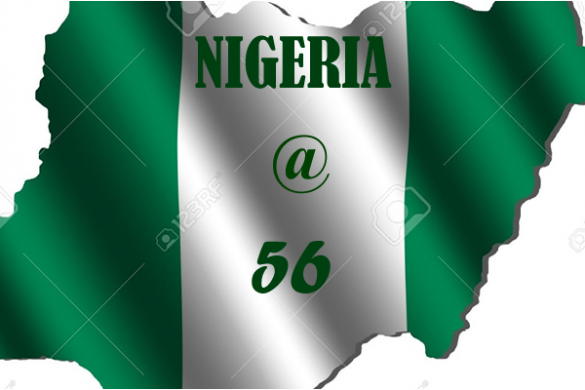 Independence day used to be one of the those public holidays when as a young boy I looked forward to marching at the local government headquarters or state stadium or selected venue in honour of our liberation from our colonial masters, with the LGA chairman or state governor taking salutes from the students. 
It's a day of hope that affords us a reaffirmation of the resolve to further the unity of the Nigerian people; towards the attainment of a nation state from the disparate ethnic nationalities that makes up this union. 
My adolescent years are full of mixed experiences. I was a secondary school student when Abacha toppled Shonekan and I remember the signature opening phrase, "fellow Nigerians", which prefixed every address delivered by Abacha on each public holiday like this independence. 
Celebrations such as this in military traditions would have been very glamorous and well celebrated.
A day such as the independence evokes patriotism and love of country. We celebrate Nigeria and remind ourselves that this is the only country we can call our own
This has been the status quo until 2014 before the 2015 elections when an unprecedented democratic transition from a ruling party to an opposition party took place. 
The PDP had been in power for an uninterrupted 16 years in which they even boasted that they will cling to power for another 50 years before the opposition would venture Aso Rock. 
However, as providence would have it, the APC won a landmark election which has been adjudged as a test case of democratic transition in modern Africa. 
If you want to know how strategic Nigeria is to Africa, extrapolate from this state of Bono, "the Irish musician and the lead singer of U2" who was in Nigeria recently to rally support for tackling the humanitarian crisis we have in North Eastern Nigeria.
As chronicled by the New York Times, he stated, "There's so much strategic importance in Nigeria — that's why it's odd that there's not more focus on what's happening." "It's pathetic," he added. 
"If Nigeria fails, Africa fails. If Africa fails, Europe fails. If Europe fails, America is no longer America."
This has been my position about Nigeria.
The 2015 peaceful democratic transition in Nigeria was the litmus test for survival of democracy in Africa. 
We surpassed expectations to the amazement of continental and global watchers and interests. This feat was greeted with rejuvenated hope and optimism. 
The current ruling party campaigned on the mantra of change. 
Nigerians expected improvements on the achievements of the last administration and the ruling party even made promise which at face value fascinated the citizens and raised their expectations.
Since inauguration day, May 29th, 2015, Nigeria has celebrated two independence anniversaries, while that of last year was greeted with a fading hope, this year's celebration can best be described as gloomy. 
In 2014, one of the gladiators who rallied, persuaded and cajoled Nigerians into voting the APC, the Asiwaju of Lagos, Bola Tinubu who has recently denounced his title because of his misgivings and no love lost relationship with the chairman of his party, stated that, there was "nothing" to celebrate. 
This position was echoed by other APC stalwarts like Raji Fashola and Aliyu Magatakarda Wamakko, all serving governors at that time.
Fast forward to 2016, and if I were to address these people, my first question would have been, is there anything to celebrate on Nigeria's 56th Independence?
I need not bore you with the state of the economy. 
Prices have skyrocketed, we are experiencing record inflation, the Naira is the worst performing currency in Africa and is currently exchanging at N490 and above to the dollar. 
The Nigerian economy had slipped into recession and we are contracting, in lay man's term, the economy is "decreasing". 
The worst state of the economy in over 30 years. The state of the country can be aptly captured with Chinua Achebe's classic line, "things fall apart, the center can no longer hold." 
The retrogression in all aspect of the polity and economy is glaring and disturbing. We are sinking at a record pace. 
Over 4.5 million Nigerians have lost their jobs in the past 16 months and many more are going to be laid off and businesses shut down in the coming weeks. 
Investors are avoiding Nigeria like a plague because of the convoluted and incoherent monetary policy which had been the norm since 2nd quarter of 2015. 
We have applied "trial and error" method to managing complex economic issues. Nigerians were not enjoying life as they would have wanted in 2014.
But today, it's no longer about 'enjoyment', people are more concerned about hunger and starvation, they have to eat so they can be alive to hope for tomorrow.
In the midst of all these travails are a president and a party which Nigerians expected to provide succour for their hopelessness but have proven that their ascendance to power was less about the Nigerian people but more about parochial interest and self-gratification. 
Continued…