The main reason that the port in Lagos is congested is because it is the only port for a country of over 150 million people — a very embarrassing reality.
The leaders of Nigeria became stupid when they abandoned the ports in Port Harcourt, Warri, and Calabar and focused only on Lagos.
It is more stupid because those ports were abandoned due to Yoroba's cunning economic plans sold to the leaders of Nigeria. 
Yoroba wanted to corner all imports into Nigeria and through it make Lagos indispensable to any economic activity in the country. Their plan has worked and has served Lagos and Yoroba land well, but it has strangulated the rest of Nigeria.
The Lagos ports cannot be decongested, even if Osinbajo performed miracles, without first putting a moratorium on ships berthing there henceforth, while ocean ship traffic is channeled to the other ports mentioned above.
That's not going to happen anytime soon because those ports have been abandoned for too long that they are not now ready to receiving any ships.
Those of you minorities who applauded the finishing off of Igbo through diabolical economic plans formulated by Yoroba and implemented by their Awusa overlords, are now realizing that when it rains, it pours also on everyone's lawn.
The poison set for Igbo, which you all ignorantly embraced and hailed in the 1970s and 1980s, are now devastating everyone — that's why you don't keep silent when your neighbor is being unjustly oppressed.  – Nebukadineze Adiele
===========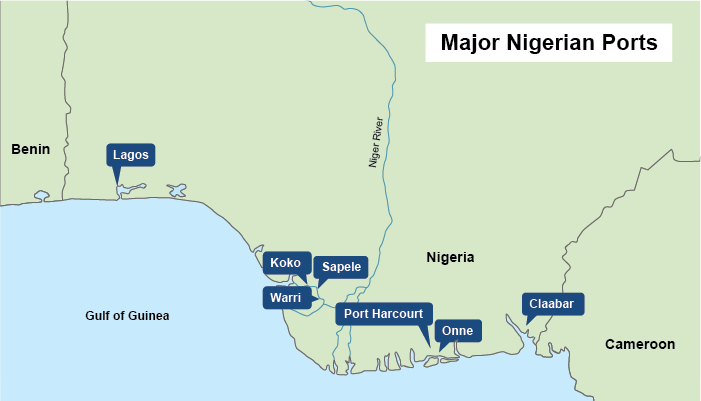 To ease congestion at the Lagos Port Complex, Nigeria should encourage shippers to use the country's underutilized eastern ports more.
Senator Idris Umar, Nigeria's minister of transport in 2004, said the country identified better use of its eastern ports as one of the quickest ways to decongest Lagos, Nigeria's largest container gateway, All Africa reports. Lagos is the second-largest manufacturing hub in the country, which is the continent's largest and fastest-growing economy. Umar in 2004 launched a committee to look at way shippers could be encouraged to use the country's six main eastern ports — Onne, Calabar,  Port Harcourt, Warri, Sapele and Koko — more.
The committee first plans to determine constraints to attracting more business at the eastern ports. The eastern ports are all accessible through the Gulf of Guinea, but have varying channel depths that can't necessarily handle larger container ships. Koko's port, for example, is on a channel that is no more than 15 feet deep and has cranes that can only support 24-ton lifts.
The Onne Port Complex, however, has larger commercial cranes and is being deepened to accommodate larger vessels. There are several other deep-sea port projects on tap in Nigeria, including two near Lagos and one in Ibaka, alongside Port Harcourt, All Africa reported.
==============
Two million containers stranded in Lagos ports – Guardian
• Over N5 trillion cargoes waiting for evacuation
• Vessels queue to berth in Apapa, TinCan
No fewer than two million containers laden with various cargoes worth over N5 trillion are currently stranded at the Lagos port complex, due to the inability of importers to evacuate them.
The Guardian's investigations showed that many of the cargoes are now incurring demurrage after enjoying three rent-free days from the day of discharge. The containers continue to accumulate due to the blockade of ports' access roads for repairs.
This situation, according to experts, portends grave danger for the Nigerian economy, as it will trigger inflation and further discourage importers from choosing Nigeria as the port of destination. The situation may linger for the next one year that has been earmarked for the repairs of the 20Km Apapa Wharf road.
It was also discovered that the situation has affected the berthing of ships at Tin Can and Apapa ports as no fewer than 20 vessels were seen queuing up to berth as a result of the slow discharge of containers which are needed to be carefully stacked at the terminals.
The shutting of the ports' access roads precipitated a pandemonium last week after a truck driver was shot and killed by a policeman for parking in front of a bank on Creek road, Apapa.
It is so bad that trucks can no longer go in and out of the various terminals inside the port, without huge efforts at traffic control.
A clearing agent, Alade Omolaja said t "this is the first time in 11 years that congestion is happening and vessel queue is forming at the ports."
The situation, according to him, has invalidated Executive Order on port decongestion and government's initiative on Ease of Doing Business in Nigeria.
The Chairman, Seaport Terminal Operators Association Of Nigeria (Stoan), Princess Vicky Haastrup, lamented:.
"While we commend the Nigerian Ports Authority (NPA) and other arms of government for taking necessary steps to repair the badly damaged roads leading into and out of the ports, it is important at this stage to institute measures to ensure a free flow of traffic.
"At present, we have a lockdown in the system with trucks, which should come into the ports to evacuate cargoes, not being able to access the ports because they are trapped on the road. This is dangerous for port business and for the economy. And we are beginning to see the consequences of this as vessels are beginning to queue on our waters again. This is something that has not happened in more than 11 years of port concession.
"Government should, as a matter of urgency, deploy traffic and security personnel in a large number to Apapa to ensure a free flow of traffic. The traffic officials should work in shifts so that they can have 24 hours a day presence on the road.
"Once they're on the road and necessary checks and balances are created to ensure that they do their work in an appropriate manner, there will be a free flow of traffic and full blown congestion will be averted," she said.
"Without a free flow of traffic, congestion is inevitable with dire consequences for the Nigerian economy," she added.
An operator, APM Terminals Apapa said: "In the last 24 hours, we have gated out about 1,000 trucks, this is the reason for the movement of the trucks on the queue waiting to enter the port. Like we always say, if we do not gate out trucks, it is almost impossible to gate in new trucks."
In a letter to its customers, copy of which was obtained by The Guardian, the company said its employees, service providers, contractors and customers have to go through the harrowing traffic experience everyday, like every other person.
"We are aware APM Terminals is being accused as the cause of the traffic gridlock in the Apapa area and we would like to set the record straight.
"APM Terminals Apapa is as much a victim of the traffic gridlock as everyone else. Our employees, service providers, contractors and customers have to go through the harrowing traffic experience everyday.
"These employees are the ones that operate the equipment that service the trucks and would not by any means delay or stop servicing trucks unnecessarily as it would equate to 'shooting ourselves in the foot'.
"We have always updated our stakeholders on the traffic situation in the Apapa area and it amazes us that APM Terminals is tagged as the cause of the situation. We will not be deterred from doing what is right, and would always communicate the true position of things to you our esteemed customers," it stated.
Other operators said this could lead to higher inflation and shipping companies might slam congestion surcharge on Nigerian ports.
Congestion surcharge slammed on the ports by multinational shipping companies before port concession amounted to about $100million yearly.
Ogbuefi Blogs