Nigerian Army has accused of Nigerian Police of making inciting comments on social media following the killing of Policeman in Taraba by soldiers.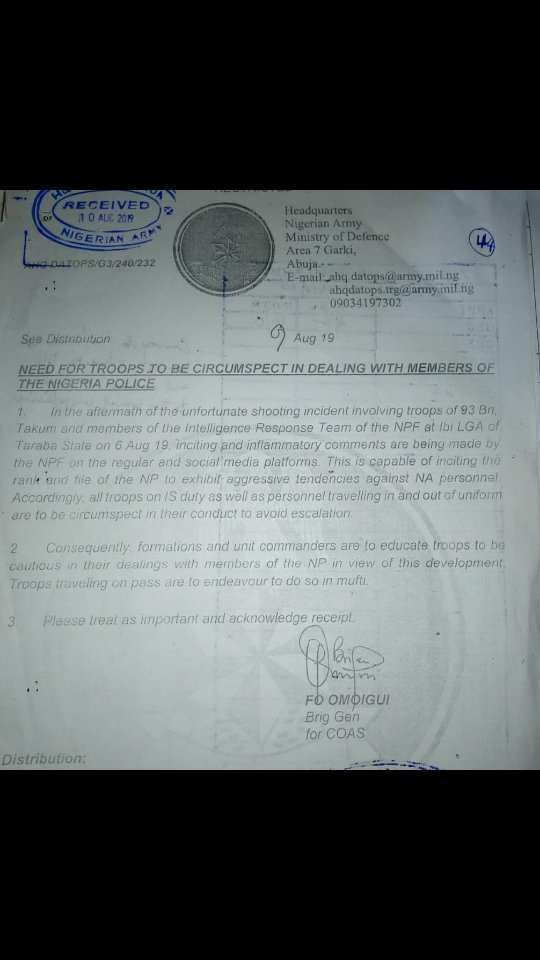 The Army in a letter dated 9, August asked the troops to be circumspect in dealing with Nigerian Police in order not to avoid escalation of the issue.
According to the letter signed by Brig. General, FD Omoigui on behalf of Chief of Army Staff, in the aftermath of the shooting incident involving 93 Bn, Takum and members of Intelligence Response Team of Nigerian Police at Ibi Local government of Taraba state on August 6, inciting and inflammatory comments are being made by the Nigerian Police on the regular and social media platform.
The statement added," This is capable of inciting rank and file of Nigerian Police to exhibit aggressive tendencies against Nigerian Army Personnel. accordingly all troops on IS duty as well as personnel travelling in and out uniform are to be circumspect in their conduct to avoid escalation.