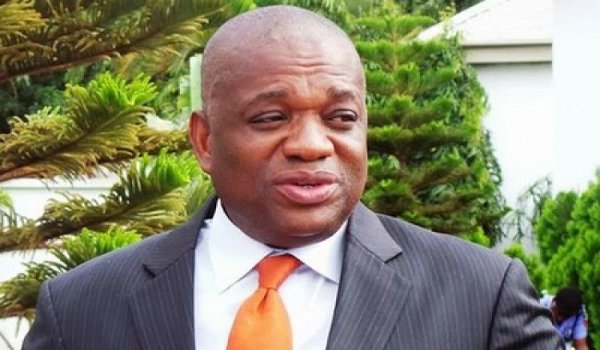 The Indigenous People of Biafra [IPOB] has threatened to drag the former governor of Abia State, Orji Uzor Kalu and the Chief of Army Staff, Lt. Gen. Tukur Buratai to court over their missing leader, Mr Nnamdi Kanu.
IPOB said this in a statement issued on Sunday by its spokesperson, Emma Powerful.
IPOB said it will "compel Orji Uzor Kalu to appear in court alongside Buratai on the October 17, 2017 to tell the world, under oath, what he claims to know about the whereabouts of Mazi Nnamdi Kanu".
Recall that Nnamdi Kanu has not been seen or heard from since men of Operation Python Dance invaded his home last month and whisked away his father and other family members.
They also reportedly killed dozens of people including guard dogs during the raid.
Following the invasion, the former governor, Orji Uzor Kalu has quoted to have said:
""Kanu was not taken away by the military. Kanu went to Malaysia from where he travelled to the United Kingdom. Nnamdi Kanu is in London right now as we speak.
"He was not arrested by anybody. He left the country on his own.
"One of his relations has spoken to me and explained everything because I wanted to see him and talk to him wherever he was and see how I could meet some Federal Government officials on his issue. 
"I also wanted to see ways of talking to the President about him, and find common ground but his family told me that he has left the country, unless they are lying to me. 
"I believe, whether he had left the country or not, he is not with the military because I asked the Commander of the 14 Brigade, Brigadier General A.K Ibrahim, who is a very fine and good soldier, well-educated and dedicated, and he told me that they don't know his whereabouts and I am sure, the Department of State Services have the same information. 
"I also visited the Commissioner of Police and he said he didn't know his whereabouts and that they are also looking for him."
Consequent upon this statement, IPOB said they will drag him to court, alongside Buratai, to tell the court all they know about Kanu's disappearance.
The IPOB statement reads:
"IPOB through her lawyers will compel Orji Uzor Kalu to appear in court alongside Buratai on the October 17, 2017 to tell the world, under oath, what he claims to know about the whereabouts of Mazi Nnamdi Kanu.
"His laughable assertion that the IPOB leader is in London is confirmation that all along he has been working in tandem with Gov. Okezie Ikpeazu, Willie Obiano, Rochas Okorocha and others to slaughter as many IPOB family members as possible in order to please the core North.
"Any right thinking person, aware of the dubious upbringing of Orji Uzor Kalu and his fraudulent paternity claim against the famous businessman Nnanna Kalu, a man that publicly denied him, should dismiss his latest antics as another calculated attempt to endear himself more to his Hausa Fulani Islamic handlers.
"The question Orji Uzor Kalu must answer is this, if indeed you are Nnanna Kalu's son, why do you tell people you come from Igbere when the man you fraudulently claim is your father is not from there.
"Our leader Mazi Nnamdi Kanu before his abduction by Nigerian Army has brought an end to the era of cash and carry politics of subservience to Hausa Fulani to the detriment of Biafra. 
"That was why he flatly rejected your monetary offer to him to compromise his uncompromising stance on Biafra restoration.
"Thankfully today you have told the world that Nnamdi Kanu cannot be bought.
"The politics of selling the interest of the East to the North is why all Hausa Fulani stooges in government houses across the South East ganged up with their Hausa Fulani masters to kill Nnamdi Kanu and proscribe IPOB. 
"Their wish having come through, they are now lining up to exonerate the military because they know their names will be mentioned as accomplices to mass murder of IPOB family members.
"Orji Uzor Kalu and his co-conspirators must await the fury of the people which is slowly building up.
"The same way Romans rose against the murderous Brutus and his gang that slayed the popular Julius Caesar, so will the mob in Biafraland descend on all traitors in no distant time. 
"Planning and executing the mass murder of IPOB members including our leader and looking to cover up your complicity with bare faced lies, will expose and render Orji Uzor Kalu inconsequential and expose him for the Hausa Fulani slave he truly is. 
"The masses will set an example with the likes of Orji Uzor Kalu, Okezie Ikpeazu and Willie Obiano in no distant time that other quislings like them may learn.
"We have formally instructed our attorneys to add the name of Orji Uzor Kalu as one of those who might help in locating of our leader. 
"He should be prepared to present his evidence in a court of law and be cross examined under oath. 
"The surviving members of Kanu family have all denied ever talking to the lying Orji Uzor Kalu about the whereabouts of our leader, so he should be prepared to mount the witness box because his lies have gone on for far too long."
Mr Kanu, it could be recalled, is due to appear in court on October 17 in continuation of his treason charge trial along with 3 other defendants.
Failure to appear in court will spell doom for the IOPB leader including his sureties, among whom is Senator Enyinnaya Abaribe who took him on bail.
—
Would you like to be receiving ALL Elombah.com news links 'On The Go' on WhatsApp?  If yes, please provide us your WhatsApp number via publisher@elombah.com or sms/inbox +2349050382526 and you are ready to go!
© Copyright 2017 www.elombah.com; unless otherwise indicated, all images are courtesy of Twitter; send eyewitness accounts/reports/articles to publisher@elombah.com; follow us on twitter @Elombah; like our Facebook page: Elombah.com; join us on WhatsApp HERE
For adverts & inquiries, call +447460770987, +2349050382526