A new board for the Nigeria National Petroleum Corporation (NNPC) has been inaugurated.
The new board, ElombahNews gathered, was approved by President Muhammadu Buhari.
The new board, inaugurated on Tuesday, is as follows:
The New BoDs: (EXTERNAL)
Engr. Mohammed Lawal (NW),
Dr. Tajudeen Umar (NE),
Lami Onayi Ahmed (NC),
Sen. Magnus Abe (SS),
Dr. Stephen Dike (SE),
Chief Pius Akinyelure (SW)
Ex-Officio
1) Minister of State for Petroleum Resources – Timipre Sylva
2) Group Managing Director (GMD), Nigerian National Petroleum Corporation (NNPC) – Mallam Mele Kyari
3) Permanent Secretary, Nigeria's Ministry of Finance, Budget and National Planning – Dr. Mahmoud Isa Dutse
See photo of members of the new board below: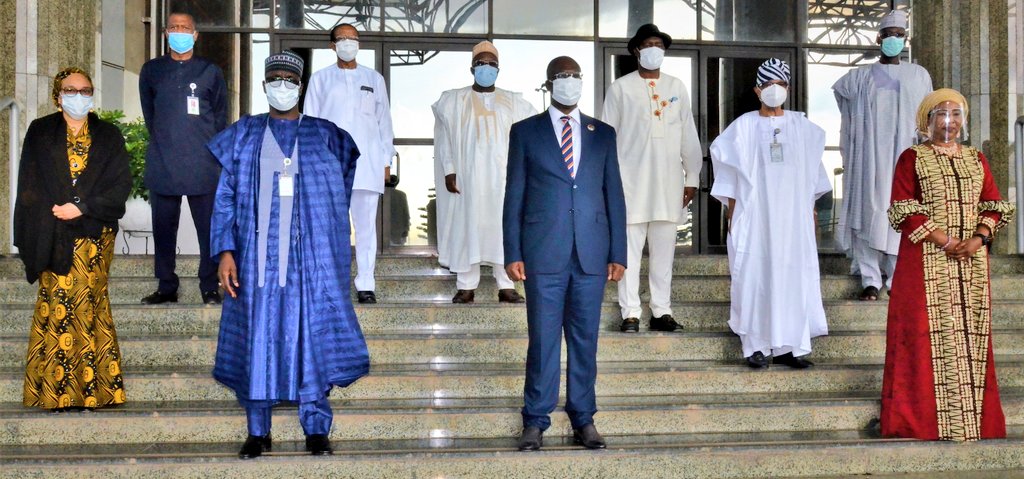 In a separate development, it could be recalled that ElombahNews reported on June 15 that NNPC published an audited financial statements online.
The move, NNPC explained, is in a bid to improve transparency around its operations.
NNPC has been criticized for years of conducting the nation's oil business in secret by publishing only unaudited financial reports.
The statements published on the company's website on June 14 were for 2018 and were signed by the Chief Executive Officer Mele Kyari.
NNPC also published audited accounts online of its 20 subsidiaries and business divisions for first time.
Disclosure "is good for transparency and accountability," Waziri Adio, executive secretary of Nigeria Extractive Industry Transparency Initiative (NEITI), said.
Adio made the statement while responding to a private message on Twitter.
"I urge them to make this a regular practice and in open data format," he added.
National Petroleum Investment Management Services is the group's most profitable division, according to the statements.
It reported revenue of 5.04 trillion naira ($13 billion) in 2018 and profit of 1.01 trillion Naira.
That compares with a loss of 1.65 trillion Naira in 2017.
The report shows total assets managed by NAPIMS at 18.6 trillion Naira, with the oil and gas components valued at 14.2 trillion Naira.