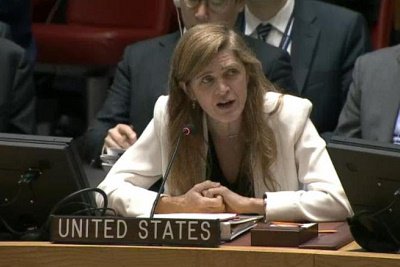 Today, the UN Security Council unanimously adopted a resolution to impose new sanctions against North Korea for its pursuit of nuclear weapons. 
During her remarks at the UN Security Council briefing, US Ambassador to the UN Samantha Power highlighted how this resolution of sanctions breaks new and important ground. 
The following is an excerpt of her remarks:
"Let me highlight three ways that this resolution breaks new and important ground. 
"First, the resolution imposes major new restrictions on the sources of hard currency – in particular coal exports – that the DPRK is using to pay for its nuclear weapons and its ballistic missiles. 
"Of course, Resolution 2270 banned coal exports not exclusively used for what this Council called "livelihood purposes." 
"But the DPRK's coal revenues have remained high – about one third of the DPRK's entire export revenue. 
"And, contrary to the letter and spirit of Resolution 2270, this coal export revenue has not been used to help the people of North Korea; it has been used to further build up the regime's illegal weapons programs. 
"So this resolution imposes a new binding cap on how much coal the DPRK can ship out of the country, cutting what the DPRK earns by approximately $700 million per year from its 2015 total, or more than 60 percent of its coal export revenue. 
"Much of this coal trade involves DPRK companies with links to the regime and its prohibited nuclear and ballistic missiles programs.
In addition, this resolution imposes a new ban on the export of copper, nickel, silver, and zinc, which will eliminate another $100 million or more in annual hard currency revenue for the regime. 
"So, in total, this resolution will slash by at least $800 million per year the hard currency that the DPRK has to fund its prohibited weapons programs, which constitutes a full 25 percent of the DPRK's entire export revenues.
But we knew going into this negotiation that the DPRK has found itself masterful at using non-traditional means to stash currency. 
"And the resolution goes after some of the less obvious ways that the DPRK makes money. We have banned the export of monuments. 
"Now, you might ask why on earth would we ban the export of monuments. 
"Well it turns out that such exports – like a statue of Laurent Kabila standing in Kinshasa today, two statues that Robert Mugabe paid $5 million to be stood up in Zimbabwe upon his passing, or countless others found around the world – generate tens of millions of dollars for the regime. 
"And we have called out countries that host DPRK laborers by urging these countries to take steps to ensure that wages are not supporting the DPRK regime's prohibited programs.
"Second, the resolution makes it much harder for the DPRK to use diplomats to advance its prohibited programs. 
"In the past, the DPRK has tried to enable nuclear and ballistic missile officials to travel by giving them phony diplomatic titles. 
"Meanwhile DPRK officials posted in embassies abroad have spent their time running businesses and brokering arms sales to fund the regime's military. 
"But an arms dealer with a diplomatic passport is still an arms dealer. 
"So from now on, states must restrict the travel of those affiliated with the DPRK's nuclear and ballistic missile programs or other prohibited activities, diplomatic passports or not.
Third, the resolution imposes unprecedented measures to restrict the flow of illicit materials into the DPRK. 
"On land, the resolution emphasizes that cargo heading into and out of the DPRK by road or rail must be inspected. 
"At sea, the DPRK will no longer be allowed to mask its ships and evade scrutiny by flying the flags of other countries or controlling other vessels with their crews. 
"And by air, Member States should inspect the baggage of anyone flying into and out of the DPRK.
"In the next 15 days, this Council's DPRK Sanctions Committee will make another important determination – publishing for the first time a list of "conventional arms dual use" items that will no longer be allowed to enter the DPRK. 
"These are commercially available components that have civilian uses, like sophisticated electronic sensors, but that the DPRK can use to build advanced military equipment like radar systems, night vision, and stealth technology."
© Copyright 2016 www.elombah.com; Send eyewitness accounts/reports/articles to publisher@elombah.com; follow us on twitter handle @Elombah; like our Facebook page: "Elombah.com"