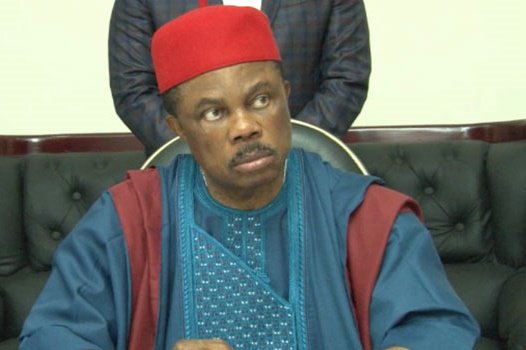 Obiano inherited over 100 billion Naira (adding set aside money), but Anambra is today owing because he has borrowed.
When people talk about comparing Obiano's first three and half years with that of Ngige or Obi, this must be the central issue: while others inherited a barbarous bedlam which Anambra was at that time, he inherited a debt- free, peaceful and stable state but  he now owes debt. 
Besides, his three and half years are structurally deficit. Apart from his home town, where he has constructed over 35 roads, other parts of the state are completely abandoned.
To tell you how callous these people are, they even called a press conference and said they inherited only 9 billion Naira. 
They introduce a strange term, "Near Cash", which by the usual odyssey that characterize philology, has entered the Nigerian lexicon to mean ingenious way of dogging acceptance of money received, by trying to confuse the people through the use of confounding language.
Attached is the Naira component of what he inherited, a whopping 35 billion Naira (excluding set aside money). It contains the banks, account Numbers, account names and amount. If they say it is not true, let them publish the correct figures.
On the dollar side, he inherited 156 million dollars. When you add interests and accruals, the money is today worth about 200 billion Naira. 
I have attached the letter from one of the banks, duly signed to show the amount saved in that particular bank. If the letter is fake, what do they do? Take me to court, but apart from the rantings of e-rats, they will, as usual, pretend they did not see it. 
The most pathetic aspect is the fact that Obiano has sold the entire savings.
The sale of this particular savings in Access bank was published in THIS NEWSPAPER, and they did not refute it.
The Access bank own was bought by Access bank.
The sorrowful part of it is that they were all undersold. As at the time the dollars was 450 Naira, they sold it at 315 Naira. 
Even when his people brought the disparity to his attention, he said they should go on. The suspicion here is that … you may wish to guess!
Upon all these, he is seeking a second tenure. The disappointing part is that no Igwe, no bishop, no stakeholder has asked him about this development. We are really in trouble.
We must all work together and vote in Mr. Oseloka Obaze to correct the mess Obiano has plunged the state into.
—
Would you like to be receiving ALL Elombah.com news links 'On The Go' on WhatsApp?  If yes, please provide us your WhatsApp number via publisher@elombah.com or sms/inbox +2349050382526 and you are ready to go!
© Copyright 2017 www.elombah.com; unless otherwise indicated, all images are courtesy of Twitter; send eyewitness accounts/reports/articles to publisher@elombah.com; follow us on twitter @Elombah; like our Facebook page: Elombah.com; join us on WhatsApp HERE
For adverts & inquiries, call +447460770987, +2349050382526