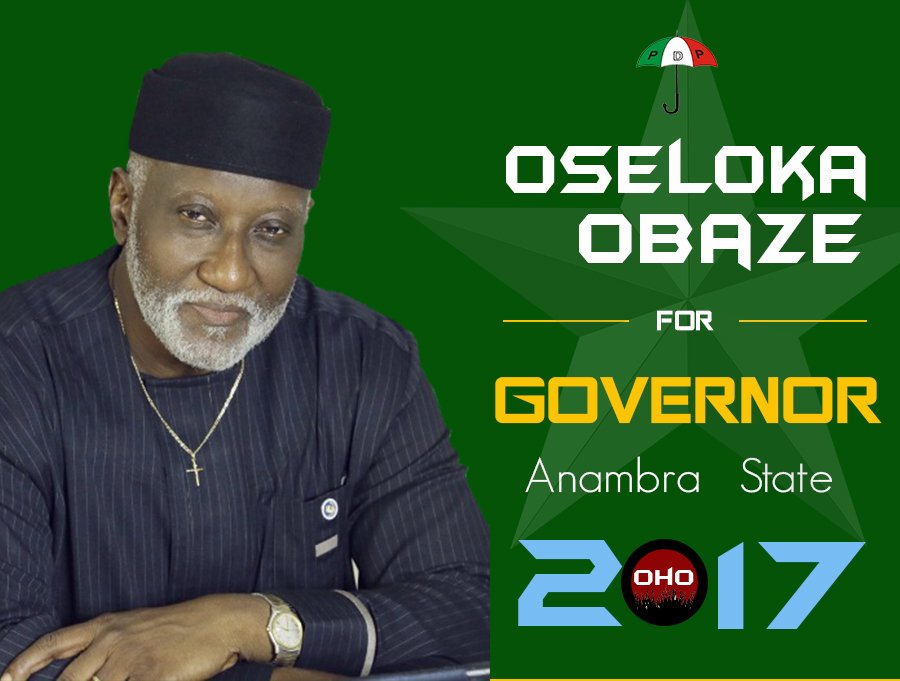 HIS Honour, Oseloka Henry Obaze, fondly called OHO is an immensely interesting individual. Somebody once described a diplomat as one who could dive into turbulent water without making a single splash.
OHO is such diplomat. I don't want to go into his trail of degrees and awards. I'm truly not interested in paper qualifications when examining one with ability to perform in public office. 
I know of professors capable of holding international audiences spell-bound with excellent paper deliveries but who would fail woefully when saddled with leading just their communities. 
Often, I wondered why such respected academics usually perform below par in public offices. My humble summation is that such revered class of people self-destruct with the assumption that they know it all. 
However, in OHO you notice the first quality of any great leader –
HUMILITY. I'm yet to meet one at his level as humble. And he has this unbelievable memory of remembering one's name after just one introduction. 
RESILIENT – You don't know anything about this word until you met OHO. I wondered if he ever sleeps and I'm still wondering. Nothing he believes in goes unattained once he is on it. And he is a perfectionist of some sort. He will continue working on it until it's perfectly executed. 
ABILITY – Now, this is the most important aspect of one interested in public service. OHO exhumes reliability. His ever amiable demeanour provides him with the exceptional charm that easily breaks barriers. 
His consistently being sent to those nations as a UN diplomat is a confirmation of one with the ability to proffer appropriate solutions. He has served Anambra State as the Secretary to the State Government for three years and significantly across two different governors.
In his book, Here To Serve, he uncannily branded the term SSG to stand for Senior ScapeGoat. Interesting but then are equally his dedication and accomplishment in those three years. 
He so redefined the office to not only stand it out as the real administrative hub of the state's governance but also infused transparent dedication and quality of delivery from the members of staff. 
So much was his impact that when he decided to resign from that position a year into the tenure of the incumbent governor, the members of staff he was leaving behind were unanimous in printing a farewell banner thus – We Lost A Saint! 
But OHO is not all about administration. He's much more of action. While in service to his state, he was directly in charge of managing very complex policy and practical issues. 
Top amongst the practical issues include the flood disaster of 2012, the illegal repatriation of Anambra indigenes from Lagos, the return and settling of Anambra IDPs from Central African Republic, the 2014 Ebola crisis, the spate of collapsed buildings in 2014 as well as handling the leadership crisis within the Anambra State Association in the United States. 
In all these, OHO exhibited a quality of leadership ability that won over keen observers.
Taking the Flood disaster issue as a reference point, one could be convinced beyond doubt that Anambra State and indeed humanity are blessed to have a man of such dedication and diligence around. OHO brought his years of experience in handling such issues in the UN to bear immediately. 
That unprecedented flood of 2012 devastated properties and farmlands worth trillions of Naira in 24 states of the nation. With 57 communities in eight local government areas adversely affected, Anambra State was not just one of the worst hit, it actually was deemed as the most acutely affected. 
Two of these LGAs, Ogbaru and Anambra West were extensively submerged. Property and business losses in the state alone were estimated at nearly N23 billion.
But under OHO in his dual capacity as the Chair, Anambra State Flood Disaster Relief Coordination Committee and Chair, Anambra State Flood Disaster Relief Trust Fund, Anambra State became the most proactive and transparent state of the 24 states in effectively managing and efficiently responding to the complex natural disaster. 
Managing 125,000 internally displaced people, IDPs was quite a task but OHO did manage admirably. An estimated 15,000 houses and businesses were fully or partially submerged. In all, four people directly lost their lives via drowning, the lowest number of human fatalities from the 24 states. 
While efficiently coordinating and involving both the State and Federal agencies responsible, the State Emergency Management Agency, SEMA and Federal Emergency Management Agency, FEMA respectively, Anambra State, under OHO's firm control, admirably dealt with the worst natural disaster the state had faced since Nigeria came to being.
Though the state government released N100 million immediately while the Federal government came later with N500 million, many well-meaning people donated cash and food items, clothing, etc. to the cause. 
These generous individuals could have been compelled to assist based on humanitarian basis but law of nature would largely revolve their encouragement to do so around the professionalism and transparency shown by the people in charge.
Concerned Anambrarians took deep interest and time to study that disaster and concluded that in OHO was one individual completely capable of replacing the man he was then serving and assisting in managing the terrible disaster. 
But those people got the disappointment of their lives. They were never given the opportunity. The very terrible politics of vendetta denied the expecting population of ndi Anambra the opportunity to cast their votes in favour of this amiable and workaholic diplomat. 
OHO's party then, All Progressives Grand Alliance, APGA disqualified him from participating in the primaries.
And many Anambrarians shed tears, tears that such individual of class was denied the opportunity to govern a state he loved so much as to resign from his plum job and very enviable position in the UN to come home to serve. 
And because of the zoning formula in Anambra they all believed the chance was lost forever.
But the poor masses counted without considering DESTINY. When OHO agreed to serve this present government of Gov. Willie Obiano, it was to show he accepted whatever God put in place in good faith. 
He decided to serve Anambra further from the number three role, despite the circumstances with which he was schemed out. His love for humanity was the deciding factor. He buried the desire to ever govern Anambra again and moved on.
OHO's new party, the Peoples Democratic Party, PDP has already elected him as their candidate. And in doing so the party has thrown up the best candidate for the November 18 election by a mile.
Already ndi Anambra are rejoicing that they will make that choice on the D-Day.
Good writers should start warming up. This is DESTINY threatening in its finest form. In OHO is a bestseller waiting to happen. 
Tai Emeka Obasi writes from Ozubulu.
—
Would you like to be receiving ALL Elombah.com news links 'On The Go' on WhatsApp?  If yes, please provide us your WhatsApp number via publisher@elombah.com or sms/inbox +2349050382526 and you are ready to go!
© Copyright 2017 www.elombah.com; unless otherwise indicated, all images are courtesy of Twitter; send eyewitness accounts/reports/articles to publisher@elombah.com; follow us on twitter @Elombah; like our Facebook page: Elombah.com; join us on WhatsApp HERE
For adverts & inquiries, call +447460770987, +2349050382526