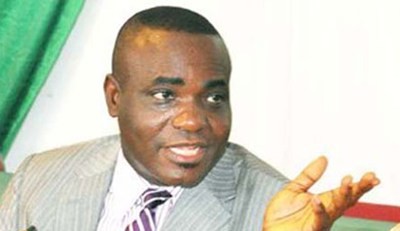 I listened to the radio interview of Senator Ita Enang who is presently the
Senior Special Assistant to the President on legislative matters and that which really caught my interest were points laid by him in support of invasion of Akwa Ibom State government house, which he preferred to use the word "The Search".
He referred to the VIP guest house (presidential lodge) as a building along Barracks road, which he identified as not being part of government House. He stressed that government house is like any other government building like the Secretariat, Ibom Le Meridian Hotel, Ibom Tropicana, or any other government property that can be searched at any time by government security agents when there is adequate information on government property like a stock pile of money or arms which may be a threat to the state.
Mr. Ita Enang [image above] berated the elders over their press release which was said to have claimed that the government house was invaded by the department of State security. He went on to state, quoting Section 308 of Nigerian 1999 constitution, reiterating that immunity was only for President, Vice President, Governors and Deputy Governors. He further said that immunity was only for (the person) governor and not the governor's official residence "The Governor's Lodge" which he referred to as the government house.
He also stressed that the search was not on the governor of the state, but a past governor of the state who had lost his immunity and could be subjected to search, arrest and sued to court. He also stated that government house was not accorded diplomatic immunity hence, can be subjected to search, in the governor's presence. The governor can be subjected to search and investigated pending termination of his tenure as a governor, when legal actions could immediately be laid against him.
Ita Enang referred to The Elders as liars who depended on falsehood, who went misleading the public on what would portray them as liars to their children. He questioned claims that it was the government house that was invaded whereas he went to see things for himself and realized that it was contrary to their press release. Ita Enang boasted that his mates and junior lawyers were judges, magistrates, senior advocates of Nigeria, etc, hence; he ensured he made policy statements. The acclaimed elders' press release was dismissed as arrant nonsense.
I took time to as much as I could review the points made by our own Senator Ita Enang and at the same time retain the context. There is need for us to understand meanings and definition of words and phrases.
Senator Ita Enang quoted section 308 of the 1999 constitution thus:
1)      Notwithstanding anything to the contrary in this constitution, but subject to subsection (2) of this section – (a) no civil or criminal proceedings shall be instituted or continued against a person to whom this section applies during his period of office; (b) a person to whom this section applies shall not be arrested or imprisoned during that period either in pursuance of the process of any court or otherwise; and (c) no process of any court requiring or compelling the appearance of a person to whom this section applies, shall be applied for or issued: Provided that in ascertaining whether any period of limitation has expired for the purpose of any proceedings against a person to whom this section applies, no account shall be taken of his period of office.
2)      The provision of subsection (1) of this section shall not apply to civil proceedings against a person to whom this section applies in his official capacity or to civil or criminal proceedings in which such a person is only a nominal party.
3)      This section applies to a person holding the office of President or Vice-President, Governor or Deputy Governor; and the reference in this section to "period of office" is a reference to the period during which the person holding such office is required to perform the functions of the office.
That Ita Enang referred to the VIP Guest House as a building along Barracks road indicates that he does not seem to understand area(s) or section(s) referred to as "The Government House". Wikipedia defines Government House as the name of many of the residences of Governors-General, Governors and Lieutenant-Governors in the Commonwealth and the remaining colonies of the British Empire. It serves as the venue for the Governor's official business, as well as the many receptions and functions hosted by the occupant.
It implies that, Akwa Ibom State government house area which is properly demarcated by boundary walls consists of the Governor's Lodge, Clinic, Chapel, Adjoining Office, A.D.C.'s House, Chief Detail's House, Guest Houses, Governor's Offices, Banquet Hall, Sports area, Technical Area etc. Incidentally, Ministry of Local Government and Chieftaincy Affairs is privileged to be located within the government house area. The buildings are known to be part of the government house which the governor may decide to occupy at any time of the day to effect official business.
Akwa Ibom State Government House is undoubtedly at Barracks Road end. The road is a cul de sac which actually terminates at government house. The V.I.P. Guest House is for visiting president(s) of the state and one of "the many residences of governor of Akwa Ibom State" which may serve as a venue for his official business. If Senator Ita Enang insists the VIP guest house is a building along Barracks road he should be kind enough to provide its contact or postal address.
Ita Enang preferred using the word 'search' in place of invasion.
a)      An invasion is a military offensive in which large parts of combatants of one geopolitical entity aggressively enter territory controlled by another such entity……..
Encarta Dictionary defines 'search' as:
a)      Examine something thoroughly: to look into, over, or through something carefully in order to find somebody or something.
b)      Examine somebody for concealed items: to examine the clothing, personal effects, or body of somebody in order to discover something such as weapons or illegal drugs that have been deliberately concealed.
We can see a distinct difference between the two words and the need to use them properly if one should be truthful to his conscience and ensure policy statements as claimed. Invasion as defined is a violent act and executed with impunity. Whereas, search is a peaceful act should follow a due process.
The office of the governor of the state is a government institution and an independent symbol of authority that should not be infringed upon by a similar entity of government. If the State Security Service understands its primary duties and is truly working for government, any threat to government should first be to knowledge of the state governor. Except where the governor who is the chief security officer of the state was aware, otherwise any act of circumvention is capable of truncating this invaluable democracy. 
Unless the state governor was aware of the action and gave his consent otherwise it was an aggression of a geopolitical entity by another. Invasion of Akwa Ibom State government house was an act by the DSS who came as combatants, armed to the teeth from federal government to aggressively occupy a territory controlled by another such entity. In case Mr. Ita Enang forgot, Akwa Ibom State is one of the federating states of Nigeria which should enjoy constitutional rights and privileges as provided.
It should not be forgotten that, His Excellency Udom Gabriel Emmanuel holds that office on oath sworn not to allow his personal interest influence his official conduct or decisions; that he will to the best of his ability preserve, protect and defend the constitution of the Federal Republic of Nigeria "and not of the state"; that he will abide by the code of conduct contained in the Fifth Schedule to the Constitution of the Federal Republic of Nigeria; that in all circumstances, he will do right to all manner of people, according to law, without fear or favour, affection or ill-will; that he will not directly or indirectly communicate or reveal to any person any matter which shall be brought under his consideration or shall become known to him as Governor of Akwa Ibom State, except as may be required for the due discharge of his duties as governor; and that he will devote himself to the service and well-being of the people… deserved to earn the trust of any agent or geopolitical section of the country in the discharge of his duties as the governor. If their presence in the state, nay, occupation of government house was not to his knowledge, then it is an act of betrayal, treachery and disloyalty. This act therefore amounts to criminal act.
Related article:
Presidency Explains DSS Invasion Of Aks Govt House
If Mr. Ita Enang's interpretation of immunity clause in the constitution means to him the person of the governor and nothing more. A probe into the legal definition of Immunity says it is exemption from performing duties that the law generally requires other citizens to perform, or from a penalty or burden that the law generally places upon other citizens.
Immunity is useless if he is not exempted from penalties or burdens that the law generally places upon other citizens nor protected from aggressions such as this, be they internal or external. Subjecting government house to invasion or governor to search, interrogation and investigation are processes that constitute burden that the law generally places upon other citizens. Immunity according to legal interpretation exempts governor from such acts. I disagree with his arguments that vehicles, buildings, etc., occupied by a governor can be accessed by government security agent because apart from being an embarrassment to the governor, fails to exempt him from duties generally required from other citizens.
He failed to make us understand if there should be a due process or not. One is then prompted to question if there was supposed to be, or there was a process followed. The process of conducting search would require warrant. Was there supposed to be a warrant before aggression in this case? Did the DSS obtain a warrant? If yes, who issued the warrant? Did they present the warrant? Absence of due process is more reason invasion is the most qualified expression of the act. This was an invasion because Senator Ita Enang who claims to be such an experienced lawyer should be conversant with the processes of search of any person or property especially in a democratic setting such as this.
If the VIP Guest House was occupied by a former governor of the state at the time of invasion, and a search is claimed to have been conducted, was the supposed occupant present when they arrived and conducted the search? If he was not present, then it would not be right conducting search in the absence of the occupant. It is required that the security agent who was to search would first subdue him/herself to search before conducting such a search. 
A search warrant was supposed to have been obtained and presented to the occupant of the building as part of due process. Without the due process for the search, whoever occupied the VIP guest house cannot be liable to whatever they would claim to have recovered. All these things should have been considered before Mr. Ita Enang declared that the action of DSS was a search and not an invasion.
I wonder if Senator Ita Enang understands that whereas hotels, recreational centers, secretariat are public places that can be accessed by members of the public, unhindered. Government House is bound to be the safest location of the state that is sacrosanct and a known security area where visitors' movements are monitored by security operatives who would not tolerate loitering.
Ita Enang's mention of diplomatic immunity is for want of expression. A diplomat is a member or employee of a government who represents his or her country in dealings with other nations, especially by working in an embassy or consulate abroad.
Diplomatic immunity is agreement between sovereign governments to exclude diplomats from local laws. The government house is not a known embassy nor is Governor Udom Emmanuel a known diplomat. The governor requires a diplomatic status only when he is on a foreign mission as defined, hence would not require diplomatic trash in his state. If the governor who could be in any building of government house at any time for business of governance happened to be at the VIP guest house at that time only to disrupted, Ita Enang said it was right.
Government house is supposed to be the safest place in the state and the "Governor" not Udom Emmanuel is covered by immunity. The office should therefore be accorded its protocol position as the number one citizen of the state.
I was further flabbergasted by his statement that the governor can be invited for questioning, searched or investigated contrary to Section 308 (1)c which states that 'no process of any court requiring or compelling the appearance of a person to whom this section applies, shall be applied for or issued'. If court which has a transcend ant power over the security agents is barred from the process of compulsion of appearance, how much less issuing a search warrant for any security agent to search the governor, an action which demeans the exalted office.
The Senior Special Assistant to President on Legislative Matters should have taken time to understand the meaning of immunity before making his policy statement. Immunity may refer to medicine, biology, law, diplomatic, war, other immunity.
Immunity as defined by Encarta Dictionary is: exemption or protection from something unpleasant, e.g. a duty or penalty, to which others are subject.
I wonder what section of the constitution has exposed government house to this level of vulnerability and unpleasant experience. Presence of arms in any section of government house should have been brought to his notice by security agents whose primary duty is to protect the governor. It behooves His Excellency Udom Emmanuel who swore to an oath of office to ensure security of his domain and report to higher authority for assistance.
Immunity is further defined as exemption from penalties, payments, or legal requirements, granted by authorities or statutes. Generally, there are several types of immunity at law:
Amnesty: immunity from past crimes.
Charitable immunity: immunity from liability granted to charities in many countries from the mid-20th century.
Immunity from prosecution: immunity granted to a witness in exchange for testimony.
Immunity from prosecution (international law): exclusion of governments or their officials from prosecution under international law.
Judicial immunity: immunity of a judge or magistrate in the course of their official duties.
Parliamentary immunity: immunity granted to elected officials during their tenure and in the course of their duties.
Qualified immunity: immunity of individuals performing tasks as part of the government's actions
Sovereign immunity: prevention of lawsuits or prosecution against rulers or governments without their given consent.
State immunity: principle of international law that the government of a state is not amenable before the courts of another.
By the legal definition of immunity, the governor is exempted from duties or burden that law generally places upon other citizens. If the governor is exempted from those burdens, he cannot pass through the rigors of investigation or questioning, until he finishes his tenure.
That Ita Enang went as far as casting aspersion on those elders is a degradation of his personality. He talks as if he just arrived from the blues. He now dwells in figment of imagination before a people who have known him over the years. He tried establishing his autobiography as a man who rose from councilor via elections to become senator before this turning point in his life that God saw him through to appointment as Senior Special Assistant to president on legislative matters. But he did not mention how he went about some if not all of his elections that saw him through. He should have also told Akwa Ibom people how he faired during his elections into the National Assembly and how he acquired the nick name "Udo mfoniso".
He should be able to tell his children the truth about his third term in House of Representatives and how he manipulated himself back after he failed attempted nomination bid as a PDP senatorial candidate in Uyo as he was floored by Senator Effiong Bob.
Antecedents of most of our politicians who now claim to be infallible are well known even when they try to please their boss. It is a welcome development if politics should be set aside at this stage to facilitate further developmental projects in the state. It is a shame that one should pride himself on a faulty profile.
Etukudo E. Essien (eetukudo@yahoo.com)sent in this piece from Ikot Ibiok, Eket LGA.