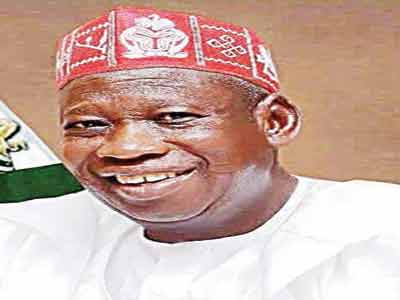 Image: Governor Abdullahi Ganduje of Kano State
Kano State government has approved life jail sentence for any convicted rapist. This piece of news is one that would gladden the hearts of all lovers of human rights. But it's not entirely the first time that good news is coming out of Kano State under the current dispensation whereby virtually all the principal political players are doctorate degree holders in different choice academic fields.  The current government in Kano has taken the education of street children and the disadvantaged to phenomenal heights.
Mr. Socrates, the iconic Greek Philosopher had indeed affirmed rightly that the best way to achieve good governance is to inaugurate a government headed by a philosopher-king. 
By philosopher -King this great thinker who transited to the great World beyond many centuries back, meant a person who is endowed with wisdom to do what is right at every given time as a political leader to improve the living conditions and social conditions of  the greatest percentage of the populace. 
Human Rights Writers Association of Nigeria (HURIWA) has been in the forefront of waging relentless advocacy campaigns for a legal regime that would be tough enough to dissuade 'animals' in human skin who can't control their sickening supersonic libido but are roaring round like hungry lions seeking for young girls and boys to sexually molest and harass to satisfy their irrational sexual desires. 
Kano has done well by instituting these tough legal mechanisms and we hope and pray for a successful enforcement of the legal regime. The Nigeria Police Force charged with the statutory mandate of investigating crime must take up the gauntlet and train their operatives to comprehensively become competent and professionally efficient to handle rape cases in Kano State which in recent times have become very troubling.  The organized civil society groups such as ours (HURIWA) which has registered members on ground in Kano State will monitor the enforcement of this good piece of law.    
 Still on the legal revolutionary approach that Kano state has just kicked off to combat sexual violations of teenage Nigerians the solicitor General of Kano state, Barrister Sani Daniji, who disclosed the new development, told journalists that this review which was submitted by the state Justice Sector Reform Committee has been approved by the government due to increasing cases of rape of minors in recent time.
He reportedly expressed strong displeasure at the current rate of sexual assault and gender-based violence in Kano even as he stressed that the new law would be enforced without fear or favour.
The Kano State  Legal expert who spoke at the Justice for all (J4A) conference on Integrated Response to Sexual and Gender-based Violence, maintained that government efforts through the Justice Sector Reform Committee on sexual assault is currently yielding positive result with significant number of cases being reported for investigation and persecution. We are aware that this claim is accurate. 
The Kano State Solicitor General then stated thus; "We now have reasons to celebrate because of the positive response in the number of reported cases. We are currently investing on media campaign against sexual assault and the need for people to report their case to security agencies or the government for immediate action. Before now many people are being stigmatized in their environment and that is the major reason why people don't report their cases."
The media report quoted the solicitor general as rendering the State Government's assurance to Justice for All and all credible Non-Governmental and civil society platforms of government's unalloyed support to effectively execute its project, calling for civil society groups, media and community leaders to support government to check the ugly trend.
 From available report which emanated from that event we were told that the national Programme Manager J4A, Dr. Bob Arnon, explained that the project, being funded by UK Department of International Development (DFID) was initiated to fight sexual and gender-based violence in Nigeria through its Sexual Assault Referral Centre's (SARCs) in Lagos and Enugu.
Dr. Bob emphasized J4A's collaboration with security apparatus, ministries of justice and civil society organizations to bring justice to rape victims in the country. 
 On the extant difficulty in proving evidence on the part of rape victims before the law court, Bob posited that J4A is strengthening training of medical personnel and security officers on forensic analysis to prove the technicalities against suspected rapists.
"SARCs is being supported and funded to coordinate our civil organizations, ministries of health and justice and other collaborating groups including the security agencies to fight sexual assault. Through these efforts we provide medical and counseling services to almost 1,200 survivors of sexual assault, 800 of whom are under 18 in Enugu and Lagos states."
He noted that the conference was organized to review its activities in Enugu and Lagos as well as draw plans to tackle emerging challenges, adding that J4A is working with Justice Sector Reform Committee in Kano, Jigawa and Niger states ahead of SARCs implementation in those states.
But why is there no committed national effort and legal process for strictly enforcing laws that prohibit sexual violations even when these acts are classified as crime against humanity under the International Criminal Court's Rome statutes which Nigeria is one of the earliest signatories? Professor Joy Ngozi Ezeilo a well-respected human rights scholar and practitioner wrote in her book titled 'Women, Law & Human Rights; global and national perspectives ' that rape and other forms of sexual violence are serious crime against humanity. 
Accordingly, she wrote as follows: "the crime against humanity is defined as such when enumerated acts under Article 7 of the Rome Statute of the International Criminal Court (ICC) are committed as part of a widespread or systematic attack directed against any civilian population, with knowledge of the attack. It includes sex and gender-based crimes such as rape, sexual slavery, enforced prostitution, forced pregnancy, enforced sterilisation, or any other form of sexual violence of Comparative gravity. These sort of crimes have happened repeatedly in much of the North East of Nigeria where Boko Haram terrorists have unleashed sexual violence on an unprecedented scale on thousands of innocent girls and boys but not much has so far happened in the area of prosecution of these offenders both in the Nigerian Court system and the International Criminal Court in The Hague Netherlands.  
The Kano law against rape is therefore coming at a very good time to reawaken our justice sector officials in the North East of Nigeria and the Office of the Federal Attorney General to do the needful to bring perpetrators of sexual atrocities against vulnerable girls and boys to swift justice.  Negotiations of any kind of truce with terrorists who have committed widespread crime against humanity such as rape is unacceptable.  The Chibok girls kidnapped by these terrorists in their hundreds are still facing uncertain but horrendous treatment including sexual violence from their captors. 
There is no doubt that Kano State has set a good example on how best to tackle the ugly social crime of rape and sexual violations of children and it is our expectation that this wouldn't go down in the business-as-usual fashion that most other states approach the disturbing cases of rape.
 Those who commit these heinous crimes must be prosecuted and the law enforcement authority which over the years has come under increasing scrutiny for conspiring with rapists to undermine the rule of law must ensure that in this administration of change mantra that things are done in compliance with the tenets of the law. Rape has a very long lasting adverse psychological injury it inflicts on the victims for life and so if serial rapists are left to wander freely and to persistently recommit same vicious crime then the society has contributed in perpetuating these dastardly crimes against humanity. Kudos to Governor of Kano state for standing up to defend the voiceless.  We are solidly behind you.
*Emmanuel Onwubiko is Head of Human rights Writers association of Nigeria and blogs @www.huriwa.blogspot.com, www.rightsassociationngr.com, www.huriwa.org.