Former Governor of Abia State, Dr. Orji Uzor Kalu has visited Governor Ifeanyi Ugwuanyi of Enugu State in what is seen by observers as attempt to woo him into the ruling All Progressives Congress [APC].
Dr. Uzor Kalu paid a visit to Governor Ugwuanyi at the Government House, Enugu over the weekend.
During the visit, he commended the governor for the respect he has continued to accord President Muhammadu Buhari and other leaders in the country irrespective of political affiliations.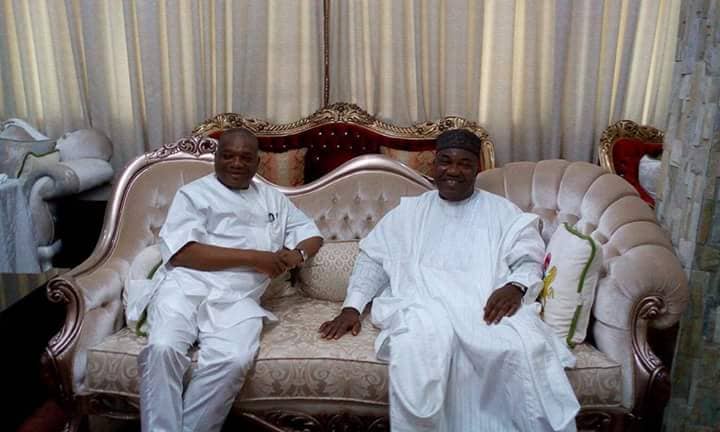 Addressing newsmen after the visit, Dr. Kalu expressed delight at the friendship the governor has maintained with political leaders across the board.
He stressed that such uncommon leadership style has brought peace and development to Enugu State.
On why he chose to visit Ugwuanyi, Kalu said that he is "a very close friend of mine and we are family" irrespective of the fact that they are in different political parties.
"I am in very good terms with the governor of Enugu State, even before he became a governor.
"I look at him (Ugwuanyi) as a family member. So I don't expect him to be in the same political party with me.
"He is of PDP and I am of APC but we maintain the friendship. It is across the board," he stated.
He also disclosed that "President [Muhammadu] Buhari also takes Gov. Ugwuanyi as a family", adding that "we cannot quarrel with anybody who is not quarreling with us".
He also added: "on many occasions I pass through here and I also tell the President and Commander-in-Chief that I am going to him."
"There is no way I can come to Enugu without passing through here, moreover he (Ugwuanyi) is a very close friend of mine".
His words: "This is like a home to all Igbos. This is the headquarters of Igbo land.
"And I am in very good terms with the governor, not just because he is a governor.
"You know MV Neya and MV Sophia Maria; when he was Chairman, House of Representatives Committee on Marine Transport, he commissioned them in Malaysia.
"So people should stop playing little politics of tribe. We also go to the same church. He is a catholic and I am a catholic.
"I wish him well; I hope he is also wishing President Buhari well," he stressed.