Otedola gifts 3 daughters with customised Ferraris, Nigerians react
Billionaire oil Mogul, Mr. Femi Otedola has gifted his three daughters with customised Ferraris setting Nigerians wagging tongues on social media.
See pictures of the Ferraris below according to colours of choice: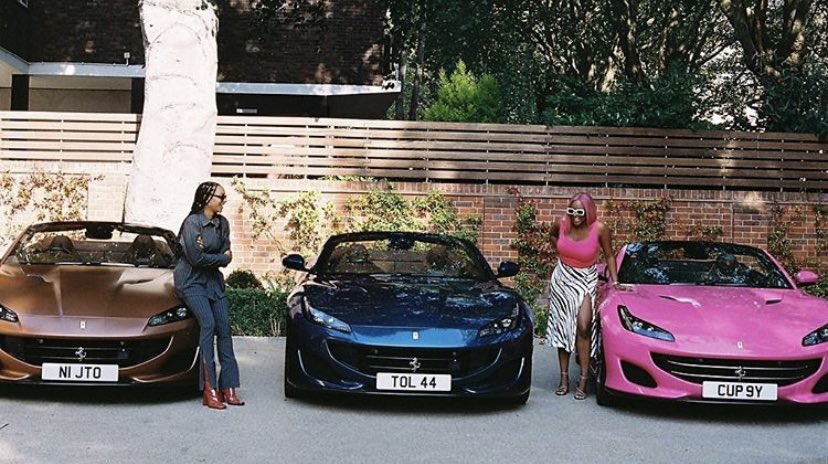 Otedola's first daughter, Tolani, is a singer.
After she was born, he married Nana and had two more daughters—Florence Ifeoluwa and Elizabeth Temi.
He also has a son, Fewa but is not featured in the Ferrari bounty galore.
Florence Otedola, aka DJ Cuppy, is a DJ and music producer, as well as a tourism ambassador for Nigeria.
Nigerians react to Otedola 's Ferrari bounty
A reader with ElombahNews wrote the following:
So apparently Billionare And Oil Mogul, Femi Otedola decided to spoil his three Daughters with Love by gifting them 3 Beautifully Customised Ferrari!!

Hmmm Papa m, I am not Crying ooo, I am just cutting Onions!!
READ ALSO: Comedian Brodashaggi now Otedola's son-in-law
See more reactions via Twitter:
Not Otedola but I got bicycle for my girls. Ferrari loading. pic.twitter.com/YagVZgxtMo

— Oluwadamilare Dauda (@diamond_dre) September 16, 2020
First official Meeting with my Girlfriend's father and he asks "Young man What's your plan for my daughter?"

Me sef I'll ask him "with all due respect sir, Otedola just bought his daughter Cuppy a car, what's your plan for your own daughter"

I don't want anybody to stress me 😑

— Chlorpheniramine 🇳🇬 (@VictorIsrael_) September 16, 2020
Nah! These pictures are too sleek! Hustling now, so I'll to take my kids shopping and buy them Ferrari's one day. God of Otedola 🤲🏾 pic.twitter.com/3rh23270Zt

— Iseunife The First (@Shawnifee) September 16, 2020
The impressive thing about Otedola and his kids for me isn't the gifts he gets for them, anyone with money can do that, it is the fact that he is ever present with them and their interests and that's where most fathers (with money) fall short. They think money is enough.

— JJ. Omojuwa (@Omojuwa) September 16, 2020
I hope my Daddy is seeing what Otedola is doing for his daughters. Because if it is to blame me for not graduating with a first class now, they'll see him there. Mr Man, your mates are buying Ferrari for their children now o 👏 👏 👏

— Fairly used boyfriend 💫 (@brysonadahcole) September 16, 2020
Nov 2019: Femi Otedola gave out N5 billion to the "Save the Children Fund" through DJ Cuppy's Foundation.

April 2020: Otedola donated N1b during the COVID-19 lockdown.

But people still think he's being wasteful because he bought Ferrari for his children. Sigh!!!😨😨

— Obi Of Onitsha🇨🇦 (@Uncle_clique) September 16, 2020
Femi otedola did shopping bought cars for his daughters cuz he could afford to.

Your parents did shopping bought clothes, shoes etc.. cuz it's the best they could..

They can buy you cars too but realities are just different.
The comparison & bants is disrespectful to them.

— YH (@Yemihazan) September 16, 2020
Three Ferrari in one day for Otedola daughters..
God! I still thank you for the small garri my papa de hustle for us to drink daily o.

But make I cry small, na me know wer e de pain me😭😭😭😭😭😭😭 pic.twitter.com/tpTL4y5AAj

— Obong of Calabar🕢🇳🇬 (@johnny_oronboy) September 16, 2020
I love the fact that Femi Otedola is a good father that dotes on his children..A subtle reminder however that IDPs in the North East who he donated N5bn to November last year are currently crying of hunger.They can't be crying so soon if the money was devoted to that cause.

— Umar Sa'ad Hassan🇳🇬 (@Alaye_100) September 16, 2020