OurMumuDonDo: Deji Adeyanju Arrested During Free Zakzaky Sit-Out
During the daily #FreeZakzaky daily sit-out at Unity Fountain, Abuja, one of the protesters, Mr Deji Adeyanju, who also doubles as co-convener of OurMumuDonDo was arrested by Police operatives.
Mr Adeyanju, a hardline critic of the President Muhammadu Buhari administration, was heard on radio on Thursday blasting  the government for incompetence and undemocratic practices.
He recounted several instances where the President Buhari government has failed "woefully", including the recent comment in the United Kingdom that the assailants killing innocent citizens are from Libya, trained by the Late Muammar Gaddafi.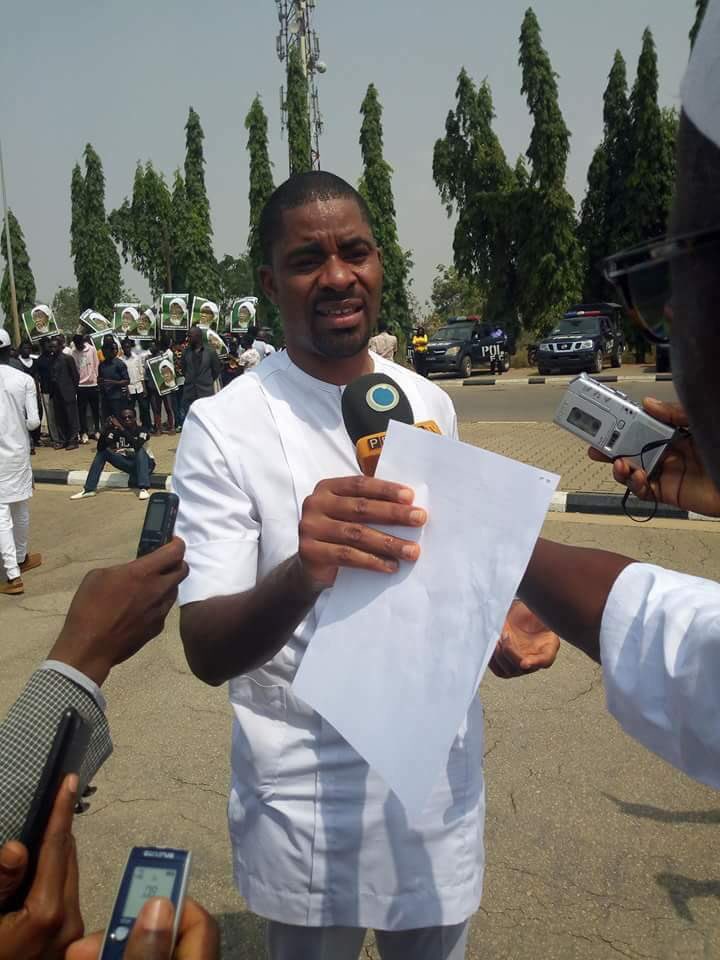 A Source close to the government mused to ElombahNews, under anonymity, that his arrest must be linked to that  outburst on radio in Abuja on Thursday.
He was, however, released after fellow OurMumuDonDo members stormed the police headquarters and demanded for his release.
Speaking after his release, Adeyanju Said:
"Obviously, the NPF is yet to understand what democracy is about. Our country will never progress as long as freedom of speech is merely a phrase."
Another disenchanted Nigerian, Johnson Akinbobola wrote on Twitter:
"Deji has been released, this government needs to understand what's called Human Right Law, Nigerians are not Cow; this government kept making same mistakes again and again, you can dialogue with Boko Harram, Fulani Militias but you can't with LAW ABIDING CITIZENS?. #GETYOURPVC".
In another development, Operatives of the Nigeria Police Force, same day, barricaded members of the BringBackOurGirls (BBOG) group from gathering at their usual protest site, the Unity Fountain.
The group had wanted to gather at the Fountain to commemorate the 4 years of kidnap of the Chibok school girls.
Some of the girls have been released but up to 112 of them are still no n captivity.