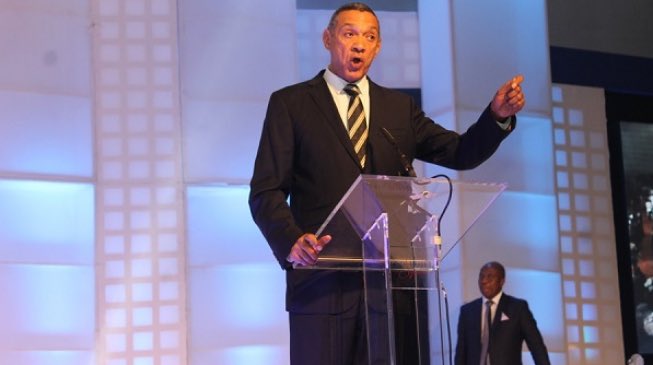 Senator Ben Murray-Bruce has lambasted his Peoples Democratic Party [PDP] members for rejecting the Appeal Court judgement which confirmed Ali Modu Sheriff as the authentic chairman of the party.
Elombah.com had, on Friday, broken the news that the Appellate Court confirmed Ali Modu Sheriff as the authentic chairman of PDP.
Reacting to the judgement, Senator Murray-Bruce chided his party member for rejecting the ruling and vowing to challenge it at Supreme Court.
In a press release issued on Saturday, titled "My position on the Appeal Court's judgement concerning the leadership of the PDP", he stated:
"Concerning the PDP, the current bickering is childish and irrelevant. I am not in support of anymore litigation. 
"We will work with Ali Modu Sheriff and go to a convention. 
"Right now, PDP is on a course towards destruction and abiding by the judgement of the court is the only thing that can save us.
"In the first place, it is never the job of the judiciary to choose the leader of a party. I therefore call an end to the fighting.
"And I am supporting Ali Modu Sheriff because it is the only way to preserve the party. 
"Right now, what Nigeria has is a one-party state – there is no opposition. Enough is enough. 
"The is the time for PDP to unite, we are a formidable force!"
Ben Bruce's statement was sequel to a statement issued by PDP Governors' Forum on Friday rejecting the outcome of the Court of Appeal ruling.
PDP had condemned the ruling, describing it as a rape on the Nation's democracy. 
Addressing news men in Abuja yesterday, the Chairman of the Forum who is also the Ekiti state Governor, Dr Ayodele Fayose said that the Party would challenge the Supreme Court judgment.
Fayose, while still on the Court of Appeal judgment, said:
"If the people truly symbolizes what a party is, then the machinations of our detractors and the anti-democratic organs will not prevail at last." 
Continuing he said: "We commend the minority judgment of the lower court and we believe the truth will prevail."
© Copyright 2017 www.elombah.com; send eyewitness accounts/reports/articles to publisher@elombah.com; follow us on twitter handle @Elombah; like our Facebook page: "Elombah.com"; call us on +447460770987, +2349050382526