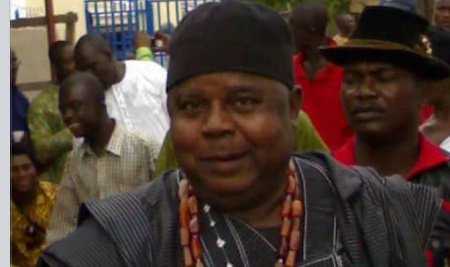 Thursday February 16, 2017 would remain a black Thursday for millions of lovers of African cultural music and indeed all lovers of African tradition because of the news that broke of the transition to the great world beyond of one of Africa's most respected music Icon by name Ichie Pericoma Nwokoye Mezue, the traditional prime minister of Arondizuogu in Imo state.
As someone who is from Arondizuogu, I have come across several non-Igbo speaking Africans who often identify or associate Arondizuogu with this departed ICON of cultural songs. 
In my early days at primary school in Kafanchan, Kaduna State, my non-Igbo speaking teachers often asked me about Ichie Pericoma each time they are informed that yours faithfully hails from that great town found in Ideato-North, Okigwe and Onu-Imo local government area councils of Imo State. 
The popularity and fame of this great cultural ambassador far transcended his immediate Igbo speaking South East of Nigeria just as his over 200 songs are happily played by millions of people from all over the World. 
This Iconic figure was also instrumental to the global fame that the yearly cultural Ikeji Arondizuogu achieved because both Africans and persons from Europe and America often attend the cultural festivals to watch the brilliant and out-of-this World performances of Ichie Pericoma and his delightful team of musical experts who are adept at playing Africa's cultural musical equipment like the gongs, flutes amongst many others.
For me, I believe firmly that this musician whilst alive represented the clearest evidence of a living Ancestor because of the fact that he epitomized the best of the culture and tradition of the people of Arondizuogu and indeed Igbo nation. 
 Ichie Mezuo as he was usually called used the instrumentality of music to drum up support for an ethically responsible society and it remains a delight to listen to his songs because of the inherently deep spiritual inspirations and meanings that they contain.
His many songs were all about the promotion of the time tested and time honored African traditional and cultural values of respect for elders, hospitality, sacredness of life, transparency and honesty. He used his music to project the value system that emphasizes hard work and discourages fast money. 
For the forty years that this genius consistently released his albums of several songs, the millions of his audiences are usually thrilled at the deep philosophical messages that this great man often apply in the delivery of his melodic songs.
Most people from outside the shores of Nigeria who thronged the beautiful town of Arondizuogu every April to witness the yearly Ikeji festival often leaves with the beautiful memory of the high quality entertainment that they receive from this prodigious and highly resourceful musician Ichie Pericoma Okoye.
As kids in school then we were told of an encounter this great man had with some state sponsored thugs in the present day Onitsha who molested  and harassed him over some taxation issues and as soon as one of the thugs carried him up, it became an impossible task for him to be brought down not until some rituals like presentation of white fowl was made to appease this oracle before he could be brought down. 
On many occasions, we were regaled with stories of the great feats that he performed such as invocation of heavy rains to fall even in the driest of seasons.
So in the morning of Thursday February 16, 2017 when the news broke of his departure, my mind went straight to the arena of doubts given that this was a man who can at best be described as a mystery. 
His earthly departure is symbolically a collision of two mysteries. He was resilient, hardworking, deeply talented, deeply creative and spiritual. Some persons saw him as a mere 'Dibia' or Medicine man but I have it on good authority that he abhorred all evils and valued life so much. 
Ichie Pericoma preached and lived a life of purity, peace and the love of his community. He was one of the most successful traditional singers of our time who would inevitably remain the greatest Ambassador of African culture and tradition for eternity.
His death is indeed a phenomenon that should remind us that eternity belongs only to the creator who is the uncaused cause. Ichie Pericoma believed in God and the sanctity of life.
Although in the eyes of the uninitiated the physical disappearance of this iconic traditional musician represents a spectacle of mournfulness, but philosophically this legend has played his part. 
Ichie Pericoma came, he saw and he conquered.  
Pericoma deployed his enormous wealth of talents to conquer despair and hatred. 
He deployed the instrumentality of music to preach for the respect of the human rights of all and sundry. He was an epitome of all that is good of man created by God.
Death, you are cruel but in this instance you have been put to shame because our living ancestor Chief Okoye has only proceeded to the choicest of places in God's kingdom.
Ichie Pericoma, your departure has compelled me to write on the topic of death, which philosophers and theologians believe is the necessary end to man's existence on the planet earth while other scholars see death as a taboo which man hardly remembers to reflect on.
Benedict Spinoza, one of the best-known philosophers in our modern period saw death as a topic which mankind does not cherish to reflect on.
In a celebrated proposition of etica (Ethics), Spinoza affirmed thus: