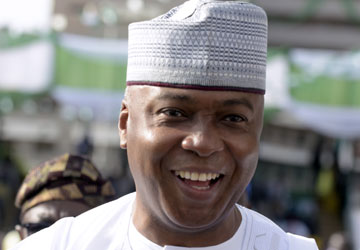 The Nigerian police yesterday said they arrested eight persons
connected to the attack on Senator Bukola Saraki and other personalities at the Ilorin praying ground.
Ironically, this is coming after the Saraki Bukola media team denied attack on their paymaster via a press statement titled "I was not stoned at Eid Prayer ground- Bukola Saraki".
According to the media team, "Nothing can be further from the truth as the Senate President was never attacked nor was there any attempt made on his life to warrant him being 'whisked away' as reported by a section of the media.
 "We however observe that there was a protest allegedly staged by local government employees over purported non-payment of salaries which hoodlums attempted to hijack, but this development was immediately curtailed by security agents.
However, in a contradictory press statement, Police spokesperson, Ajayi Okasanmi, described those that were arrested as "miscreants", adding that there was no record of any civil servant or government official among those arrested.
Said he: "The state police command deployed no fewer than 2000 policemen in synergy with other security agencies to make sure that the Eid-el-Kabir celebration is a huge success. In the course of prayers, there was the insurgence of criminals which we put into consideration while planning our security strategy. We know they normally come to beg for money from well-to-do members of the public.
"So they came as usual, but we noticed they were becoming unruly. We had to come out to prevent them from getting to where the VIPs were seated. We then chased them away and we arrested about eight of them. They are in our custody and we have started investigation.
"We learnt that one or two persons were injured; but there has not been any official reports as to if anyone was injured. The motive of their unruly behaviour is yet to be determined. As far as we are concerned, the people arrested are miscreants.
"From the stories we are hearing, one or two vehicles have been damaged but we have not seen the vehicles. We also heard that one person was injured but we have not seen the person.
"The prayers went as planned and the dignitaries came back to their various destinations without any hitch. Among the people arrested, there was no record of civil or government functionary; the eight arrested are miscreants."
—
© Copyright 2015 www.elombah.com
Send reports/articles/eyewitness accounts to publisher@elombah.com
Follow us on twitter handle @Elombah; Like our Facebook page: "Elombah.com"
Related articles:
Saraki attacked, stoned at Ilorin Prayer Ground
I was not stoned at Eid Prayer ground- Bukola Saraki