Police Block BringBackOurGirls From 4 Years Memorial Of Chibok Kidnap
Operatives of the Nigeria Police Force, on Friday, barricaded members of the BringBackOurGirls (BBOG) group from gathering at their usual protest site, the Unity Fountain.
The group had wanted to gather at the Fountain to commemorate the 4 years of kidnap of the Chibok school girls.
it could be recalled that members of the terrorist organisation, Boko Haram, had struck the school four years ago and abducted over 200 of the girls, some of whom have been freed.
Following the disruption by the police, several Nigerians have reacted angrily, laying various accusations on the government and the police.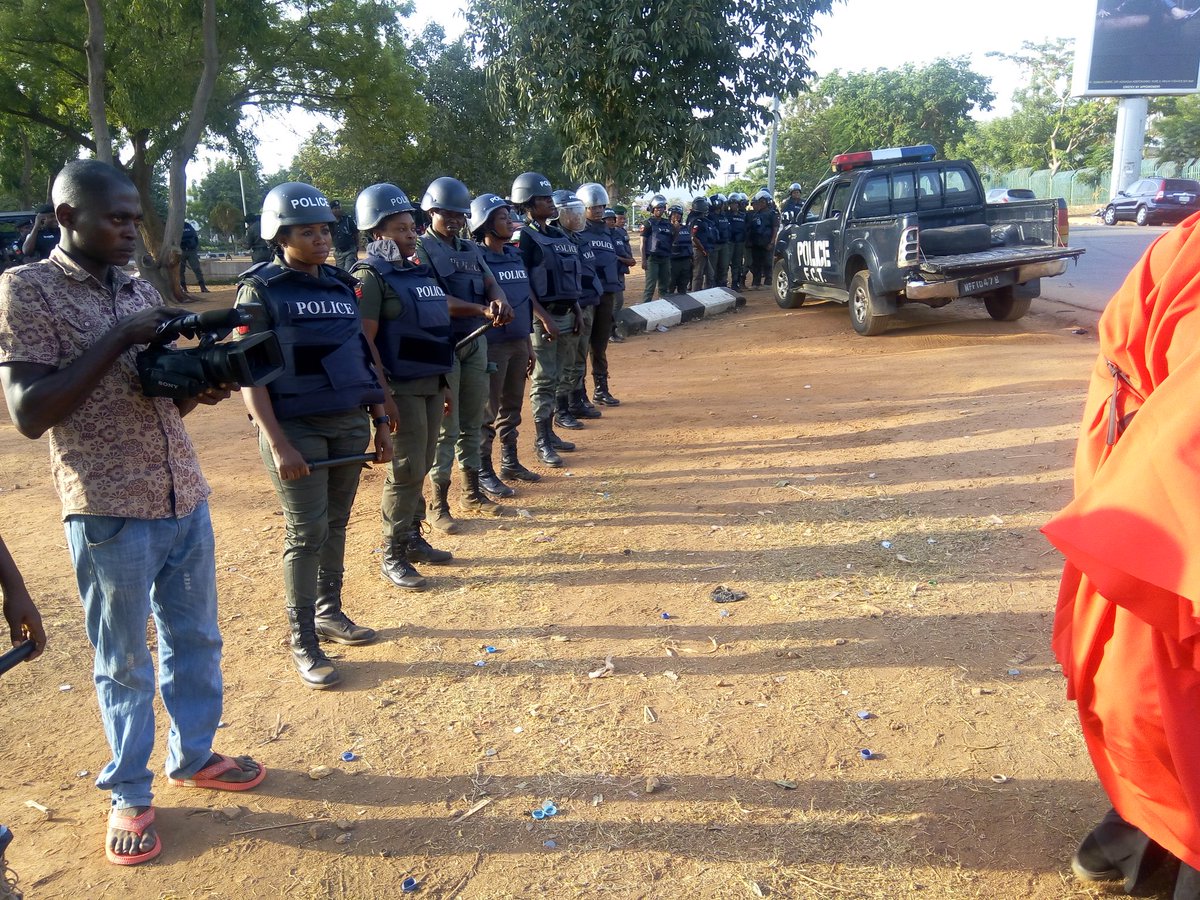 One of the co-conveners of BBOG, Madam Oby Ezekwesili, taking to her Twitter handle, wrote:
"It is UNFORGIVABLE that OUR Movement keeps being HARASSED for advocating for abducted girls who are our fellow citizens even just a few hours to heartbreaking FOUR YEARS of their CAPTIVITY.
"The DUTY @MBuhari as C-in-C owes OUR #Chibokgirls is JUSTICE OF RESCUE. #StopThisNow!!!"
In a separate tweet, she wrote:
"Can the .@AsoRock @NGRPresident @MBuhari please ASK the IG @PoliceNG to please vacate the location of our DAILY SIT OUT for OUR #ChibokGirls?
"ASK the officers of @PoliceNG to immediately RETURN our SEATS that they have carted away."
Another protester wrote:
"#BringBackOurGirls members stopped from holding a regular sit-out on Day 1460 of our #ChibokGirls' abduction.
"Tomorrow is the #4thYearAnniversaryOfChibokGirls! In 1 day 112 #ChibokGirls will have spent 4 years in captivity. Our demand remains #BringBackOurGirls!"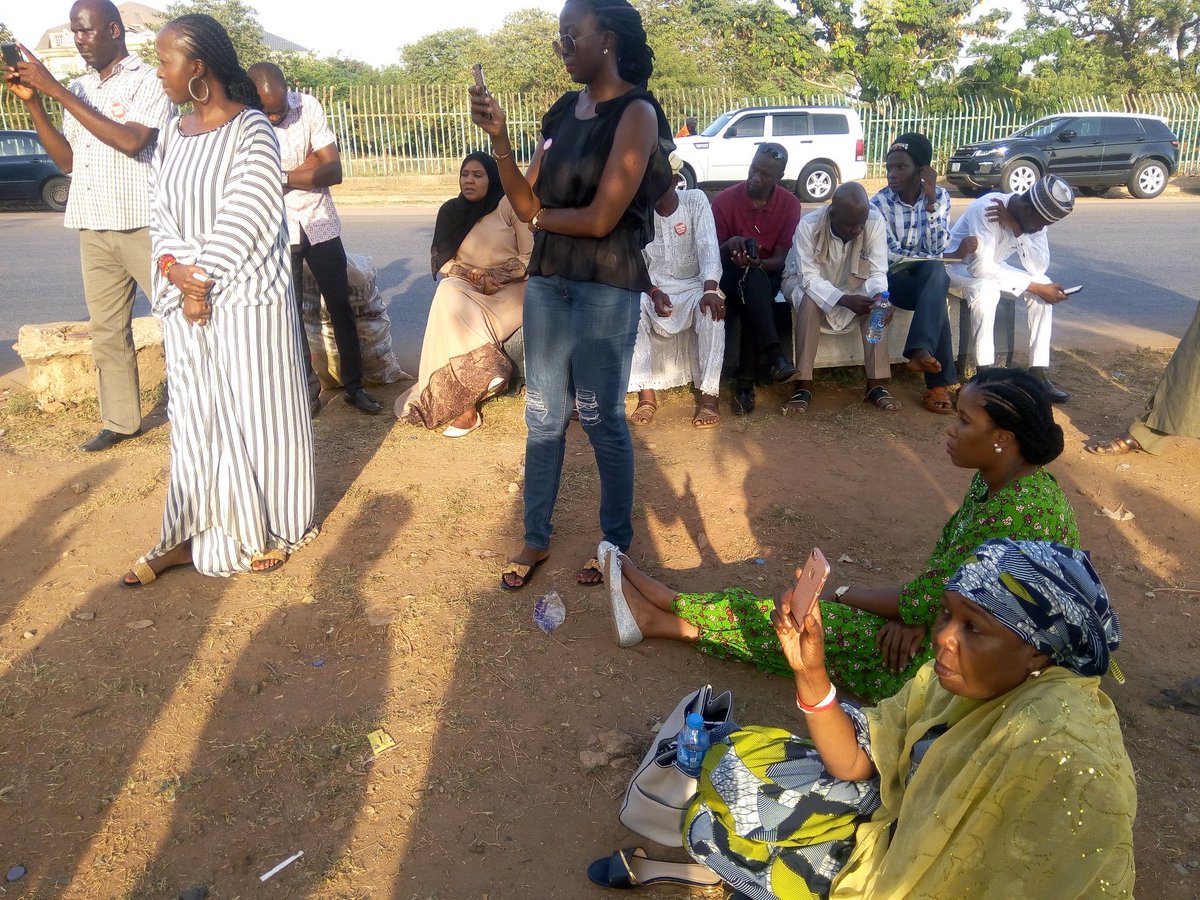 Yet another protester wrote:
"There is a heavy @PoliceNG presence at Unity Fountain, usual meeting grounds in Abuja.
"They claim that no one would be allowed to come in for any gathering. And also they have taken (stolen?) chairs to an unknown place. #BringBackOurGirls".
Jeff Okoroafor @JeffOkoroafor wrote:
"Democracy now have a different meaning under the leadership of President @MBuhari
"Again we are prevented from accessing our daily sit out venue, the Unity Fountain, by members of @PoliceNG
"@BBOG_Nigeria will never be silenced by this govt."
He wrote further:
"Recall that on the 23rd of January this year, members of @PoliceNG harassed us, beat us up, tortured us, arrested and detained us for no just cause.
"Today, they have taken our chairs and prevented us from accessing our meeting venue.
"This is undemocratic. #BringBackOurGirls"
Nwosu Paul @NwosuPaul, replying to Madam Oby Ezekwesili, wrote:
"Goodluck Ebele Jonathan warned you guys but it fell on deaf ears because we all wanted the man out.
"Majority of you that were used by this administration to get into power are now suffering from her dictatorial practices. You people are making us to suffer the unjustly."
ANother commentator, Femi Adefemiwa @Femi_Adefemiwa qualified present day Nigeria with Russia during the heydays of Josef Stalin, saying:
"Is anybody listening? Nigeria is not Josef Stalin's Soviet Gulag."
Pst Adeyanju @angeell007 said:
"Impunity personified is Buhari/APC. Get your PVC is get ready Buhari/APC must go come 2019 in Jesus name. Every weapon fashioned against us Nigerians by Buhari/APC shall not prosper in Jesus name."