Parade of most wanted, vicious and highly notorious kidnap for ransom gang leader Chukwudi Dumeme Onuamadike a.k.a Evans and six (6) of his commanders by CSP Jimoh Moshood, force public relations officer, force headquarters, Abuja at Lagos State Police Command 0n 11th June, 2017.
ARREST OF MOST WANTED, VICIOUS AND HIGHLY NOTORIOUS KIDNAP FOR RANSOM GANG LEADER AND SIX OF HIS COMMANDERS
SUSPECTS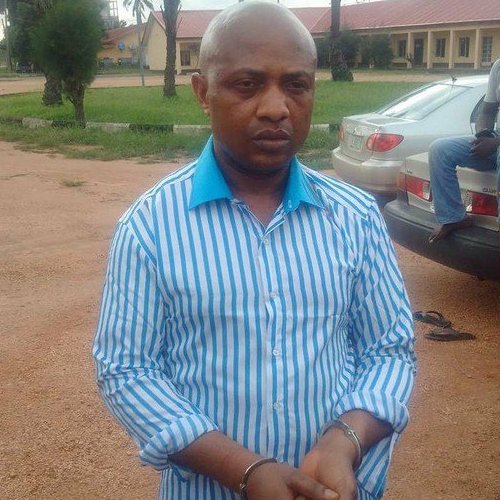 1. CHUKWUDI DUMEME ONUAMADIKE a.k.a EVANS
2. NWOSU CHIKODI CHUKWUMA AKA SUDO 42YRS, 3RD IN COMMAND
3. SUOYO PAUL AKA NWANA 42YRS
4. FELIX CHINEMEREM 36YRS
5. IKENNA EMEKA 28YRS
6. UCHECHUKWU AMADI
7. OGECHI AMADI
ARMS AND AMMUNITIONS RECOVERED
(i) FIVE (5) AK 47 RIFLES
(ii) ONE (1) AK-49 RIFLE
(iii) TWO (2) DOUBLE BARREL LONG
(iv) TWO '2' ENGLISH PISTOLS
(v) FIFTY-NINE (59) AK-47 MAGAZINE WITH AMMUNITION
(vi) ONE THOUSAND TWO HUNDRED AND SEVENTY TWO (1,272) LIVE AMMUNITION OF AK-47 (9mm)
(vii) FIVE (5) DIFFERENT PLATE NUMBERS
(viii) Other weapons are being recovered as I speak with you from different criminal hideouts of the different states.
VICTIMS
1. MBARIKATTA WILLIAM UBOMA
2. PAUL COLE, Director with Ocean Glory Commodities, Apapa,
3. MOHAMMED JAMAL, a Lebanese
4. KINGSLEY NWOKENTA
5. ANTHONY OZOANIDOBI
6. LEO ABRAHAM
7. OJUKWU COSMAS
8. JAMES UDUJI
9. CHIEF RAYMOND OKOYE
10. UCHE OKOROAFOR
11. ELIAS UKACHUKWU
12. FRANCIS UMEH
13. DANATUS DUNU
The Joint Special Forces led by the Intelligence Response Team, the Lagos State Police Command's Anti-Kidnapping Unit and Technical and Intelligent Unit of the Force under the supervision of the Commissioner of Police, Lagos State on the 10th of June, 2017 swooped and raided the criminal fortress of CHUKWUDI DUMEME ONUAMADIKE a.k.a EVANS, a native of Nnewi in Nnewi North Local Government Area of Anambra State who is the vicious leader of a highly organized kidnap for ransom syndicate and criminal gang terrorizing and responsible for several kidnap of notable/prominent Nigerians in Lagos State, including the Western, Eastern, South-South and some Northern States. He has his gangs active and spread across these mentioned states.
After an intense gun battle between that lasted several hours, CHUKWUDI DUMEME ONUAMADIKE and his gang were overpowered by the Superior Fire Power of the Joint Special Forces and he was arrested at MAGODO ESTATE, IKEJA AREA OF LAGOS STATE.
CHUKWUDI DUMEME ONUAMADIKE a.k.a EVANS was first declared wanted in August, 2013 when he masterminded the attempted kidnap of CHIEF VINCENT OBIANUDO, the owner of Young Shall Grow Motors in Festac, Lagos, where a Policeman attached to the victim foiled the attack and killed three '3' of Evans gang members but also lost his life in the process. 
Some of Evans gang members were subsequently arrested, but he regrouped after with several gangs and became more vicious and unleashes terror in the mentioned States of the Federation.