Anybody who still doubts the theory of rape persecution as the reason behind the incessant attacks on the person of Sir Mike Okiro should read this.
After PMB's order for police to recruit 10,000 policemen, at the security summit that took place at the International Conference Centre [ICC], on the date in question, Omoyele Sowore went into action to stop Sir Mike Okiro who prosecuted him of rape while he was a student at University of Lagos, from presiding over the recruitment exercise with malicious publications; with the hope that it will attract the attention of PMB to sack him.
But Sowore has forgotten that PMB who is a veteran of many political battles in Nigeria, knows the colour of blackmail, character assassination and malicious accusations better than him, Sowore.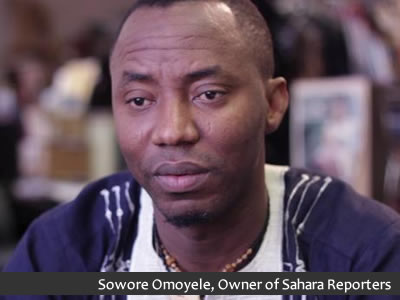 For instance, before and during the 2015 general elections, the government in power lined up many bloggers; print and electronic media in Nigeria to maliciously blackmail and assassinate the character and integrity of the person of the Presidential candidate of All Progressives Congress [APC], Muhammadu Buhari as he then was.
In-fact, a particular electronic media, went as far as airing a documentary purportedly depicting General Muhammadu Buhari as supervising the horse-weeping of Nigerians when he was the head of state of Nigeria from 1983; whereas it was an event that took place in 1978 during Ali-must-go protest.
General Muhammadu Buhari reported this action to Nigerian Broadcasting Commission [NBC] but could not get justice from the outfit. Rational minds have not forgotten the role a section of Nigerian Army played in tarnishing the hard earned integrity and reputation of Muhammadu Buhari; all, in desperation to stop him from contesting the Presidential election in 2015.
So, if a University drop-out like  Sowore thinks he can goad an experienced field marshal like PMB, who has seen it all, into taking action against Sir Mike Okiro, he must be told that he is swimming in a fool's paradise.
Even when some faceless person[s] commissioned Sowore and his SaharaReporters to come out with disparaging report about late Minister of State for Labour and Employment, James Ocholi, with a view to influencing PMB to drop him as minister designate, PMB was not swayed by his antics.
PMB went ahead and presented him for confirmation as minister of the federal republic of Nigeria. In his latest anti- Mike Okiro voyage, Omoyele Sowore left nobody in doubt as to the reason behind his base attacks on Sir Okiro.
Writing in his outfit on April 10, 2016, with the caption: President Buhari Leaves Corrupt Ex-Police IG, Mike Okiro, To Recruit 10,000 Police Officers.
Sowore embarked on fairy tale on how two police officers told him of what he called disenchantment within police ranks that PMB had not removed Sir Mike Okiro from his post as the Chairman of the Police Service Commission [PSC], among other claims.
He also recycled some old trash he wrote in his medium about Sir Mike Okiro.
While Sowore has the right to write whatever he thinks in his outfit, this writer believes more than ever before that what informed his latest write-up is the role Okiro played in prosecuting him for rape.
The reasons for this thinking are very simple.
Even though, Sowore is a drop-out from University of Lagos, on account of his expulsion from the institution for cultism, rape and fraud related issues, the level of education he acquired, was enough for him to know that no Court of competent jurisdiction had pronounced Okiro guilty of corruption in Nigeria.
Secondly, on the 17th of August 2015, at the International Conference Centre, during a National Security Summit, where PMB ordered PSC to recruit 10,000 policemen, Sowore, through his medium, reported PMB's communication to police on recruitment just like other news outfits in Nigeria and abroad.
But when PSC, under the Chairmanship of Sir Mike Okiro, kick-started this historic event of recruitment, whereas all other news outfits both local and international, reported the event.
On account of these facts, no one needs rocket science to know that Sowore is not happy that the man that prosecuted him of rape is still the Chairman of PSC, despite his attempts at hitting back at him.
Another factor responsible for Sowore's incessant attacks on the Police as an institution is the role Police played in bringing him to justice while he was cult installed student union president at the University of Lagos.
The documented patriotic role Frank Odare and Soji Idowu, who was then the PRO of the student union, played in ensuring that Sowore did not go unpunished in his murderous activities at University of Lagos; has continued to hunt him to no end.
This extract from his memoir, published in Nigeriaworld on Monday, February 17, 2003, when he escaped to the United States of America [USA] ostensibly to evade justice, after the police in Lagos, under James Dambaba had declared him wanted for Robbery and Cultism; is in support of this viewpoint:
While living in Nigeria myself, i remember some old advertisements used to refer to the Police as: 'Your friend," but that is not the case in this context. They have equally failed the populace. "
In terms of the Nigerian Police, I need not mention here that they are a let down to all Nigerians. When cult gangs attacked me in March 1994, the fellow who led the attack, Frank Odare, was a police officer.
He worked carefully with the PRO of the student Union, Soji Idowu – also a police officer, sponsored into the students union by the school authorities-to co-ordinate the attack, with active support from the Lagos Commissioner of Police, James Dambaba and the school authorities.
We told the story to the press, detailing the account of the events that happened, they never denied it.
Instead, they went ahead and arrested the rest of the student leaders they could not attack physically and arraigned them for armed robbery, while they declared me wanted on national radio, TV and newspapers.
The complicity of the police was glaring, but nothing was done to fish out my attackers or punish the cult members.
Rather, we were later told that the police officers that carried out my attack were given promotion to the next rank.
Let me say that it is not enough for societies to transit to democracy.
In Nigeria's case, the democracy is a 'bootleg type C democracy.
Except for a few low level thugs like Mustapha, Danbaba, Yakubu and Sgt Rogers, common criminals like IBB, Abubakar, Diya and plenty others, including Obasanjo and Buhari are moving around in Nigeria as freemen, this is the motivation for crime that our society needs to get rid off entirely
Perhaps Omoyele Sowore, having seen that his shady past will never guarantee him an opportunity to be a respected Nigerian, should he decide to come back from USA where he is technically on asylum, he has elected to make unprovoked attacks on the integrity and  reputation of illustrious Nigerians his stock in trade.
His memoir in question says it all.
The question now is: If the USA could regard Edward Joseph Snowden, who is now on asylum in Russia, as a fugitive from law, why are they shielding Omoyele Sowore whom the police authorities in Nigeria have declared wanted, a man who jumped bail while on trial for rape?
If Snowden could be hounded around for leaking classified information without authorization, what stop them from handing over Sowore to the police authorities in Nigeria?
The mind boggling $450,000 said to have been the financial grant SaharaReporters received from a faceless foundation, is actually money he received from those corrupt politicians he is consulting for, in Nigeria.
In fact, it was revealed that Sowore and his customers are just using this amount as bait for more deposits.
Sowore must be reminded of what he said about PMB and other illustrious Nigerian leaders in his memoir, after leaving the country.
There is no way rational Nigerians can take Sowore seriously because he stands for nothing.
Besides, how come Sowore, who said he fought cultism to standstill in University of Lagos has not even done anything in sustaining the so-called fight against cultism?
On fight against cultism, Sowore can only convince his co-travelers in the brotherhood, not, informed Nigerians.
Emeka Oraetoka