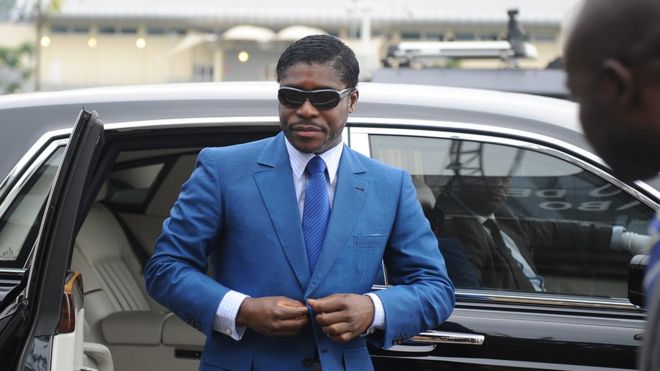 Police in Brazil have seized more than $16m (£12m) worth of cash and luxury watches from a delegation accompanying Teodorin Nguema Obiang, son of Equatorial Guinea's president.
The 48-year-old, known for his lavish taste, is also the vice-president of the oil-rich Central African country.
Brazil limits people from entering the country with more than $2,400 in cash.
About 70% of Equatorial Guinea's 1.2m population live in poverty.
President Teodoro Obiang Nguema, who is Africa's longest-serving leader, and his son, have been accused of misusing the country's oil revenue.
Human rights groups have also accused the president of systematic repression of opponents. They both deny any wrongdoing.
The Equatorial Guinea embassy in Brazil reportedly told police that Mr Obiang was in the country for medical treatment.
The 11-man entourage – travelling on a government plane – landed in Viracopos International Airport in Campinas in Sao Paulo on Friday, according to media reports.
Police found $1.5m in cash and watches worth an estimated $15m in two bags, the other 17 bags had clothes, says local news site Globo.
Global reports that Equatorial Guinea's embassy told the Brazilian police in a statement that the money was for Mr Obiang's use on an onward trip to Singapore, while the watches – engraved with his initials – were for his personal use.
Brazil's foreign ministry told news agency AFP that it was "in permanent coordination with the federal police and the customs service over the case and to decide what measures should be taken".
Mr Obiang was the only member of the delegation who had diplomatic immunity as the group was not on an official mission, Globo reports.
Police searched other delegation members as Mr Obiang waited outside in a car, it added.
Last year The Economist reported on Mr Obiang's flashy lifestyle in a report titled Instagram playboy is also the vice-president of Equatorial Guinea.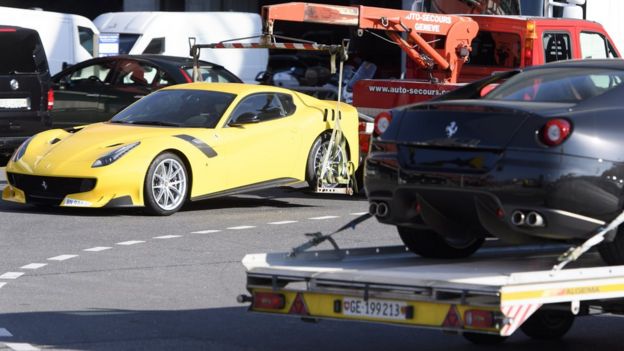 It featured pictures of the vice-president showing off his expensive cars and mansions.In 2017, a French court handed him a three-year suspended jail term for corruption.
The court ruled his assets in France be seized, including a mansion on Avenue Foch in Paris. He also got a suspended fine of 30m euro (£27m; $35m).
In the same year Swiss prosecutors seized 11 luxury cars belonging to Mr Obiang. They said he had plundered his country's oil wealth to buy luxuries, including a private jet and Michael Jackson memorabilia.