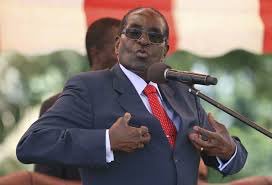 The Zimbabwean military has made true, its threat to resist some strong men of Zimbabwean politics, whom they described as 'saboteurs of the revolution'. Military tanks have been dangerously positioned, and heavy gun fires are reported across Harare, the country's capital, including around the area where President Robert Mugabe lives with his family. The State broadcasting station has also been taken over by the military. This is the clearest pointer that the country is headed for a post-Mugabe era, even though, the military hierarchy strongly denies this, assuring that the President and his family are safe. How did a man who has dominated Zimbabwean political scene for over thirty years come to this seeming inglorious end?
MUGABE DID NOT KNOW WHOM NOT TO TOUCH: In power and politics, you may succeed with hurting everyone, but that is as long you know those whom you should not touch, and stay far from hurting them. Unmistakably, President Mugabe's troubles started the very day he decided to sideline his longtime ally and immediate past Vice-President, Emmerson Mnangagwa, who stood a good chance of succeeding the man who has ruled Zimbabwe as President for 37 years and is 93 years old on his own; factors that clearly shows that his exit from power was already imminent, with or without a military coup. Power is sustained with people, and mostly with fellow powerful people. In power game, one of the first lessons, a power wielder has to keep on his fingertips is that 'no one is powerful on his own'. We have a word in Igbo that clarifies that more easily; IGWEBUIKE. You climb to power on the back of the people, and you can only remain in power, if you keep the people's back bent, so you could remain on top. You do this, either with carrot or with sticks.
A powerful leader must not take loyalty for granted. No matter how loyal any of your lieutenants is to you, you can lose him or her, if you consistently take his or her loyalty for granted. You nurture loyalty in order to keep it. Mr Emmerson Mnangagwa has fought side by side with President Mugabe since the early 70s. With him, Mugabe won the revolution, with him, Mugabe has survived several threats from a formidable opposition for close to four decades. Mnangagwa had held very sensitive offices in government within these four decades, and you cannot take a man whose alias is 'crocodile' for granted. A shrewd political player, who understood and respects the system that has kept him relevant for the past 37 years, is not the type of politician you simply shove aside, because a former typist who inveigled herself into becoming a wife, didn't like his face. Grace Mugabe certainly got head overblown with power, to the point that she suggested that she could kill Mnangagwa. She boasted that the "snake must be hit on the head".
HE FAILED TO CONTROL HIS WIFE: I can be hopelessly romantic as a person, but I do not see it as romance, to allow the woman in my life understand her place in my politics, business and even academic career. Good boundaries build strong relationships. President Mugabe lost grip of his wife, Grace, and the woman- as stupid as she is- began to strike very dangerous angles in the power set-up. Zimbabweans are passionate about the revolution that brought an end to White Minority rule in their country, and every political and leadership setup in that country is structured to compensate veterans of the revolution and their loyalists. It is unthinkable that a Grace Mugabe could want to dislodge some of these veterans. This is actually why the military struck. 
In a speech by the Army Chief, Gen Constantino Chiwenga on Monday, he made it clear that the military was going to act to protect the revolution by "ending the purges within the ruling ZANU-PF". Chiwenga himself is also a veteran of the revolution, just like Mnangagwa. Both men could not and should not understand who Grace Mugabe is, except that she is th
— 
Would you like to be receiving ALL Elombah.com news links 'On The Go' on WhatsApp Or Telegram?  If yes, please provide us your Telephone number via publisher@elombah.com or sms/inbox +2349050382526 and you are ready to go!
© Copyright 2017 www.elombah.com; unless otherwise indicated, all images are courtesy of Twitter; send eyewitness accounts/reports/articles to publisher@elombah.com; follow us on twitter @Elombah; like our Facebook page: Elombah.com; join us on WhatsApp HERE
For adverts & inquiries, call +447460770987, +2349050382526