Pope Francis tests negative for coronavirus
Pope Francis has tested negative for coronavirus
The Pope tested negative as plans to contain coronavirus if it spreads, involving possible school closures, cancelling events and bringing NHS staff out of retirement, are to be set out by the UK government.
Unnecessary travel could be curbed and people urged to work from home, as fears of the virus rages worldwide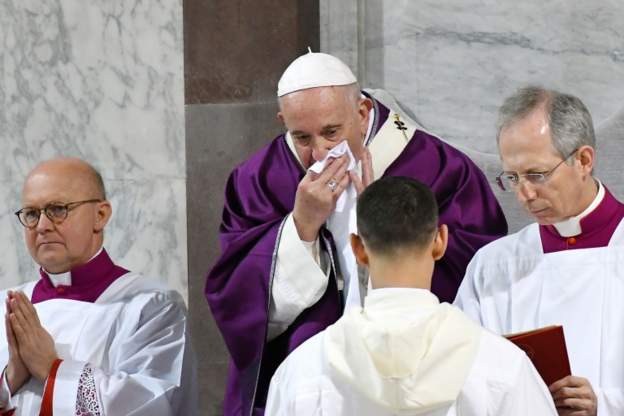 Summary
The Pope, who is ill, tests negative for the virus, says an Italian newspaper
PM Boris Johnson is set to announce UK plans to tackle the threat from the virus
Quarantined foreign diplomats will be allowed to leave Pyongyang
Chinese regions announce restrictions on foreigners coming into their areas
Officials in South Korea say two members of virus-linked church had been to Wuhan
The WHO says the virus is "unique" but stresses it can be contained
Saudi Arabia, Tunisia, Morocco and Senegal confirm their first cases
Australia's central bank cuts interest rates in response to outbreak
Twitter tells staff in Hong Kong, Japan, and South Korea to work from home
As we mentioned earlier, Pope Francis has tested negative for coronavirus.
According to Il Messaggero, he started to have a fever and a sore throat and was swab tested for the virus.
The pope, 83, has been seen coughing and blowing his nose in recent appearances.
His schedule has been lightened and his Lent retreat was cancelled for the first time in his papacy.
Vatican spokesman Matteo Bruni told Reuters news agency he had no immediate comment on the report.
He was taken ill at a time when Italy is battling an outbreak of the virus in the north. On Monday, the death toll there jumped to 52 from 34 the day before.